National Marine Week 2023 – celebrating GenSea
From the 22 July to the 6 August, The Wildlife Trusts (a federation of 46 independent wildlife conservation charities covering the whole of the UK) celebrated #NationalMarineWeek. The theme for this year was GenSea, shining a spotlight on young ocean defenders across the UK. On Sunday 6 August, we were thrilled to offer a marine policy event for young people aged between 16-30 years old.
Our event partners were the Marine Directorate of the Scottish Government (who also acted as an event sponsor), the Scottish Seabird Centre and Young Sea Changers Scotland. Together, our four organisations worked tirelessly in the build up to the event and on the day to make it such a success!
Why a youth marine policy event?
Important policy decisions made now have the potential to fundamentally influence young peoples' futures. However despite this impact, and the determination many young people express to be a part of decision-making processes, it's often not easy for young people to get involved in these conversations.
This event provided a platform to amplify and unite diverse youth voices. By offering events like this, we hope to:
1. empower more young people to get involved in the marine planning process, at both local and national scales, by building confidence, skills and awareness in how to engage in this sphere.
2. demonstrate to the wider marine and environmental sectors the value of youth engagement in shaping policy frameworks. Young people who took part in this event were speaking directly with the Marine Directorate at the Scottish Government, informing the development of Scotland's new National Marine Plan 2 (NMP2).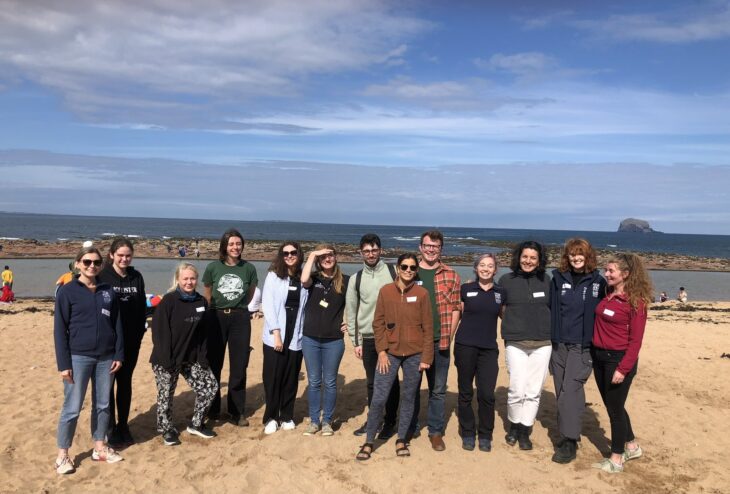 What did the event involve?
The event took place at the fantastic Scottish Seabird Centre in North Berwick. We began in the Wildlife Theatre with a marine policy jargon-buster session led by Dr Rowan Gard, lecturer at King's College London and co-founder of Young Sea Changers Scotland. A barrier to joining marine policy conversations in the first place can be the use of confusing jargon… what's the difference between a policy and a framework? What does it mean when we say statutory? What does sustainable marine development actually entail? Rowan warmed discussions up really quickly as together we broke down these terms into plain English and debated their uses.
Next Emily Breedon, Stakeholder Engagement Officer within the Scottish Government's Marine Directorate, explained what the NMP2 will achieve, how it is being developed and the importance of young people being a part of this process. From Rowan to Emily, these sessions set the scene for the day and sparked a lot of interesting thoughts, questions and conversation. It was clear we had a really pro-active group of young people there on the day who wanted to learn more!
This led us on nicely to focussing on the importance of community and youth voices in marine decision-making. This workshop was led by Jessica Jones and Elouise Cartner from our Living Seas team at the Scottish Wildlife Trust. The group watched Oceans of Value film reels and reflected on the points raised, with young people sharing thoughts on the key issues they believe Scotland's seas face and their hopes for the future. Many believed that more significance and support needs to be directed towards addressing impacts of the climate emergency that our seas are experiencing. Young people stated doing so could in turn affect other marine issues positively such as sustainable fishing and pollution. The vision expressed by young people was of a future where the level of human activities at sea were not to the detriment of a healthy marine environment. Young people shared that a big barrier to getting involved in marine planning conversations was a perceived lack of knowledge, as well as not seeing other young people represented in those spaces.
We then ran fun seafari sessions, where young people had the chance to go seabird spotting, rockpooling and do a marine mammal survey. Looking out onto Bass Rock, home to the world's largest population of Northern gannets, is a really special sight; Charlotte Foster, the Marine Engagement Officer at the Scottish Seabird Centre talked passionately about the importance of seabirds, their sad decline and threats faced. It was also a stunning day to rockpool on Miley Bay, with lots of marine treasures spotted in plain sight such as crabs, anemones and many different seaweed species. However, it's fair to say that a pod of bottlenose dolphins stole the show in this session! This hands-on citizen-science focus was brilliant in emphasizing connections between science and policy.
Thank you to NB Eats from providing such a delicious vegetarian and vegan lunch spread for us all. After this, we took some time to focus on blue health with a mindful moment on the beach sketching soundscapes. We then dove in to part 1 of the marine forum; we deliberately kept the content and format of this very similar to the forum ran by the Marine Directorate, so young people could experience what this is like in reality. We talked about opportunities and issues associated with ecosystem health, climate change, sustainable development and social-cultural wellbeing.
Young people then visited the incredible Discovery Experience, exploring the diverse marine life Scotland's seas support through an interactive adventure of exhibits and games. Finally, part 2 of the marine forum was enjoyed on the beach in the sun, where we talked about the concept of co-existence in terms of marine planning, discussing how different interests may or may not exist in harmony.
Thank you so much to everyone who took part in this event. We hope you enjoyed it as much as we did! Thank you also to our Scottish Wildlife Trust Young Leaders members, who continue to support our Living Seas project work with such an inspiring amount of passion. Youth feedback is helping to shape NMP2, an important policy framework, and we really hope to see many more young people at future events and marine planning conversations. Remember, your voice matters!
If you're interested in learning more about future marine activities from the Living Seas Team, you can sign up to the Living Seas project's mailing list here.
Help protect Scotland's wildlife
Our work to save Scotland's wildlife is made possible thanks to the generosity of our members and supporters.
Join today from just £3 a month to help protect the species you love.
---
Preface
From the 22 July to the 6 August, The Wildlife Trusts (a federation of 46 independent wildlife conservation charities covering the whole of the UK) celebrated #NationalMarineWeek. The theme for …