Easter Egg Surprises- The Arrival of the Third Egg and an Unwanted Guest
It was another beautiful morning on the Loch for the arrival of egg number three. Right on cue, almost 72 hours since her previous egg NC0 began to show the tell tale signs of laying. The contractions were clear to see as she flattened her back and gave out a series of grunts and squeaks, before standing up to reveal her third egg.
This egg is easy to spot, being much paler than the others. It is quite common in a clutch of eggs to have paler eggs at the end of the laying sequence. Pigmentation is one of the last processes to occur before the egg is laid, and a paler third egg almost gives the impression of pigment running low in the 'spray shop'. Since there are many complex factors that can influence the egg laying process, scientists can't definitively give one reason why eggs from same clutch can differ so greatly in patterning and colouration.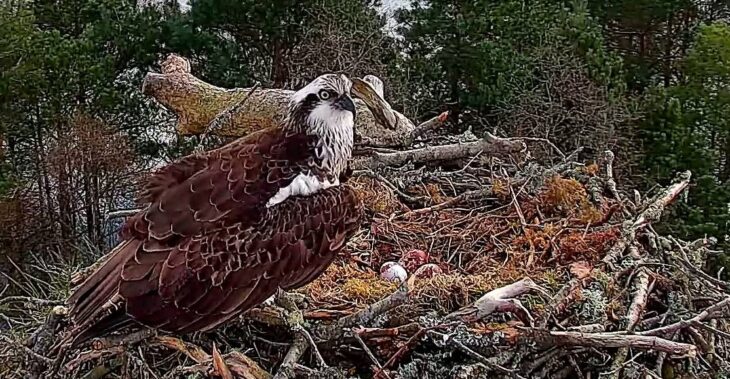 Later in the day at 13:52, whilst male osprey LM12 was away fishing for a spot of lunch, a ringed intruding osprey landed on the nest. NC0 held firm and after some heavy wing flapping and 'chipping' alarm calls, the female intruder flew off. The blue colour ring on her right leg denotes that this is an English or Welsh bird. The camera clearly picked up the code '8C', indicating that this is an osprey already known to us, since she intruded on the nest on the 12th May last year. The fact she is again intruding on another osprey nest suggests that she is still looking for a territory and mate of her own.
We know from other sightings and ringing data that Blue 8C is the youngest of three osprey that hatched from the Glaslyn reserve in Wales in 2014. As well as being sighted last year, she has been sighted in Senegal, Dorset and Hampshire during her migratory period, and landed on a webcam nest at Poole Harbour in August 2021 and March 2022.
If you happen to spot a ringed osprey be sure to report to the Roy Dennis Foundation so that the dispersal, breeding ranges and recovery of osprey as a species in the UK can be studied.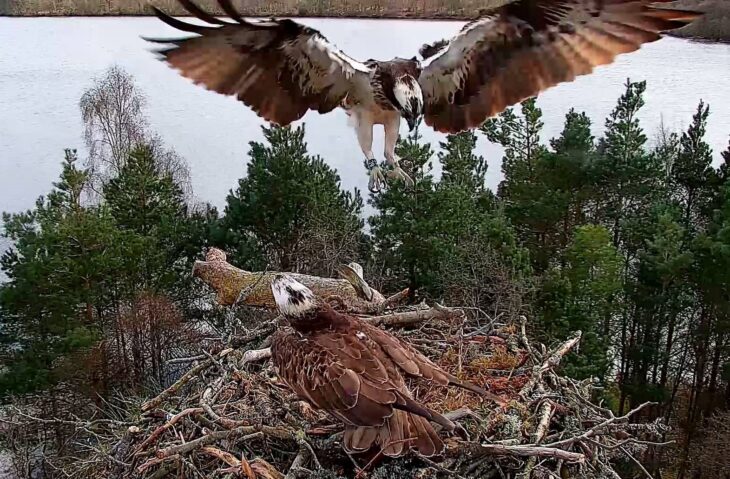 Now begins the long incubation period of around 37 days per egg, before the wee 'bobblehead' osprey chicks begin to hatch in mid-May. Be sure to tune into the webcam to follow all the excitement and day to day lives of NC0 and LM12.
Raz Rasmussen
Perthshire Ranger
Help protect Scotland's wildlife
Our work to save Scotland's wildlife is made possible thanks to the generosity of our members and supporters.
Join today from just £3 a month to help protect the species you love.
---
Preface
It was another beautiful morning on the Loch for the arrival of egg number three. Right on cue, almost 72 hours since her previous egg NC0 began to show the …