Osprey Diary at Loch of the Lowes – Week 8 (Chick-tastic and a Celebrity Guest!)
Another eventful week has gone by here at Loch of the Lowes! Our third chick successfully hatched on Monday 23rd May and resident female NC0 has been especially attentive, providing plenty of food to the youngest chick which is getting stronger every day!
We were a bit worried for NC0's partner LM12 this week, as on Monday (23rd) he appeared on the nest unable to open his right eye, an injury potentially been caused by diving into water or being hit by a 'flappy' fish when his third, protective eyelid wasn't closed. This could have impacted his ability to fish, but even with this injury he was able to provide for his family, but as of Tuesday (24th), his eye appeared to be back to normal!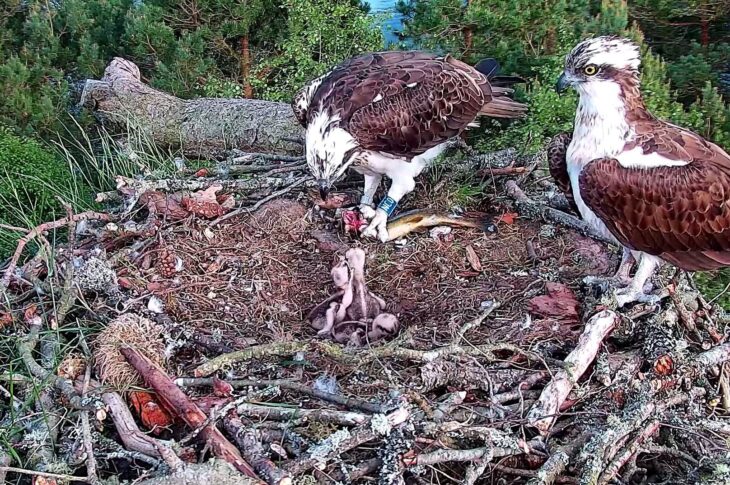 Members of staff were starstruck this week, when osprey celebrity Blue AE, also known as 'Rothiemurchus' – who you can read more about here – landed on the nest whilst NC0 was brooding her three chicks. She defended her territory magnificently and saw him off, though we're sure she was just as impressed by his presence as we were.
Another unexpected visitor to Loch of the Lowes was a lone whooper swan (Cygnus cygnus) which was spotted midday on Wednesday 25th in front of one of our hides. Usually a winter visitor that is only in the area from December-March, its presence was unexpected and a bit of a head-scratcher. Most likely, this individual was left behind or got lost during the whoopers' group migration to their breeding grounds in tundra and taiga environments (Iceland and Northern Scandinavia).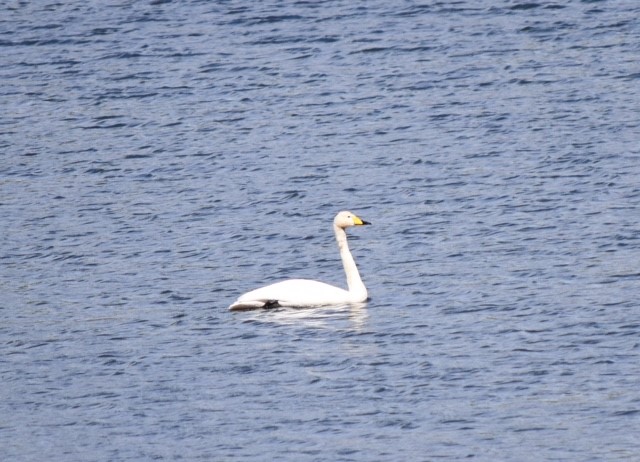 There's still plenty of other action around the reserve to enjoy, including Canada geese goslings, gooseander chicks, swallows nesting under the crannog hide, juvenile great spotted woodpecker at the feeders and the ongoing 'will they, won't they' great crested grebes drama!
You can also stay tuned to the activities of LM12 and NC0 as they continue to brood their rapidly growing young by watching our live webcam here. Follow us on Twitter or Facebook for regular updates.
Charlotte Needham
Species Protection Officer
The Trust's Osprey Protection Programme at Loch of the Lowes is supported by players of People's Postcode Lottery.
Help protect Scotland's wildlife
Our work to save Scotland's wildlife is made possible thanks to the generosity of our members and supporters.
Join today from just £3 a month to help protect the species you love.
---
Preface
Another eventful week has gone by here at Loch of the Lowes! Our third chick successfully hatched on Monday 23rd May and resident female NC0 has been especially attentive, providing …