Heading into Winter at Lowes
What a difference a day makes!
On Friday, 19th Nov, the temperature at Lowes was around 15C degrees, with thick drifting mist obscuring everything beyond a hundred or so feet from the bank. Trying to focus the telescopes in the Top Hide became laughable because everything appeared mysteriously veiled and the air hummed with 'invisible' geese and whistling wigeon. Luckily, the mist burned off after a few hours. On Saturday, we came in to a sparkling, sunny day without a breath of wind, making it very easy to focus on and identify distant water birds.
Today, 21st Nov, it's down to 5-6 C degrees with intermittent stiff breezes swirling the last of the falling leaves through the woodland until suddenly dropping away to leave the loch as smooth as a mirror.
One thing for sure, it's feeling very cold and much more as it should feel for Scotland at the end of November.
Recently, an otter was seen fishing in the middle of the day where water lilies grow not far from the Double Hide and a pair of Egyptian geese seem to have taken up residence here, making for an unusual sighting beside the tufties, goldeneye, wigeon and greylag.
If you would like to enjoy winter wildlife watching you can hire our Hide for your personal use, dawn to dusk. This is available on Mondays, or by arrangement, may be available on a Tuesday, Wednesday or Thursday. Please book HERE
We are on Winter Opening hours, 10.30am-4pm, Friday Saturday and Sunday and with hot drinks (the hot choc is the favourite today!) visitors are enjoying watching the red squirrels, great spotted woodpeckers and nuthatch amongst the other woodland birds and browsing our shop for gift ideas. This year's beautiful Scottish Wildlife Trust Christmas cards and calendars are in stock along with wildlife themed gifts (e.g. bird feeders, bird houses, hedgehog house) and bamboo socks with a red squirrel design, colourful jute bags, Teemill clothes and a host of attractive items.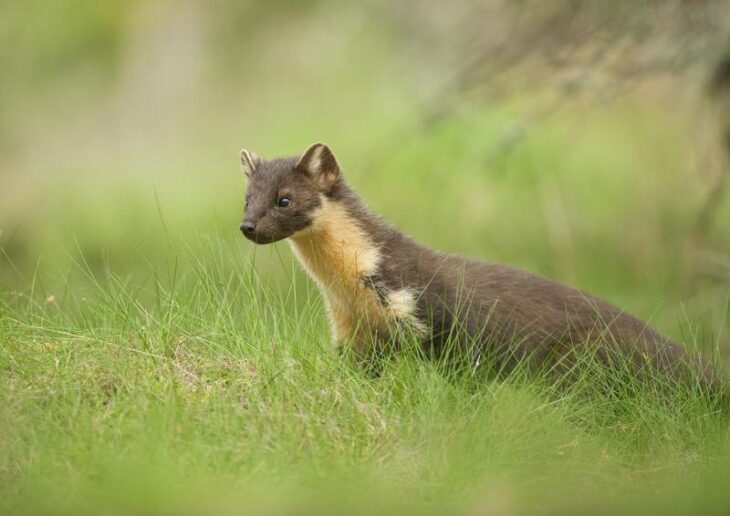 Several of you reading this may recall Loch of the Lowes Pine Marten Watches? These were very popular evening events in the winter months when visitors sat comfortably in the warmth of the centre with a hot drink while viewing pine martens scampering around and eating in the feeding station. Unfortunately, about ten or so years ago, pine martens stopped their regular appearances which made such magical evenings impractical. However, we know there are still pine martens on the reserve from personal sightings and trail cameras so, who knows, maybe we will be able to do this again one day.
There's still time to book a place for our online Pine Marten Talk with Adrian Davis from Wild Outdoor Scotland, Thursday 25th November 19:00 GMT. As well as learning about Scotland's most elusive mammal, there will be an opportunity to ask Adrian questions. Book your place here 
There's only a month until mid-winter arrives on the Winter Solstice, 21st December, so we can look forward to silvery frosts and sparkling spiders' webs in the coming weeks.
Stay safe and keep cosy!
Cherry
Help protect Scotland's wildlife
Our work to save Scotland's wildlife is made possible thanks to the generosity of our members and supporters.
Join today from just £3 a month to help protect the species you love.
---
Preface
What a difference a day makes! On Friday, 19th Nov, the temperature at Lowes was around 15C degrees, with thick drifting mist obscuring everything beyond a hundred or so feet …