#RespectProtectEnjoy – responsible access in the outdoors
The last 12 months have been a challenging year like no other in memory. So, with buds bursting and the birds in full song, this spring comes with an even greater sense of optimism than usual. With the Scottish Government easing lockdown restrictions travel for non-essential purposes becoming permitted, there is even more to look forward to in the months to come.
Spring is in full flow with red squirrels scampering about the woodland, woodpeckers drumming on trees, great crested grebes beginning their mating dance, beavers swimming back and forth at dawn and dusk, and – of course – our resident breeding ospreys incubating three eggs.
The Visitor Centre team at Loch of the Lowes are looking forward to being able to welcome back people to the reserve and into the hides to reconnect with all our wonderful wildlife from 1 May. Bookings can be made here.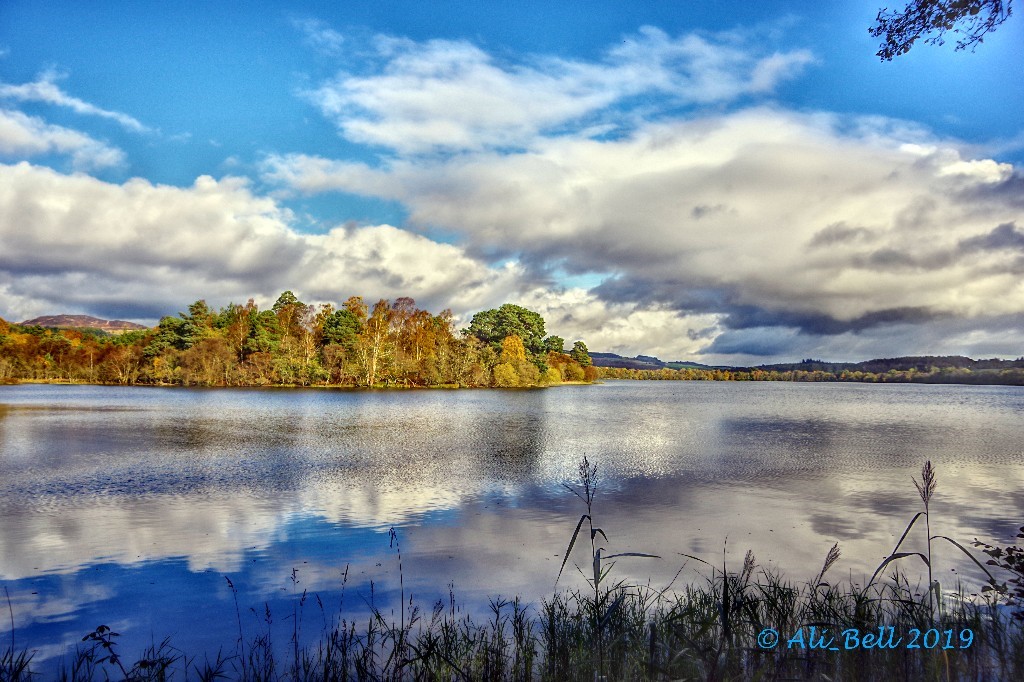 Naturally people will be keen to get back to exploring and spending time in the great outdoors. It has been fantastic to see how many people re-discovered the restorative benefits of spending time in and around Scotland's hills, lochs, rivers, beaches and woods last year. Nature truly is the best medicine.
With an anticipated sudden increase in people being able to travel to the countryside and keen to plan a Scottish 'staycation' during the summer holidays, it is important to discuss about how best to access the countryside in a positive and responsible manner.
We are fortunate in Scotland to we have the right to access the countryside for leisure, so long as access is undertaken responsibly. But what does responsible access look like?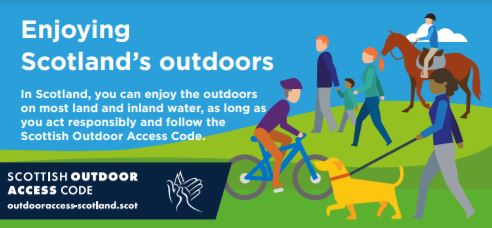 The Scottish Outdoor Access Code is based on three principles;
• Respect the interests of others.
• Care for the environment.
• Take responsibility for your own actions.
It is understandable that post-lockdown the outdoors will be busier than usual, especially as visitor centres, hotels and other amenities in rural areas work towards reopening. It is advisable to try and be flexible with your plans. If you find that a place is busy, be willing to go elsewhere. Be prepared to slow down, give each other more room than usual and allow people to pass.
If you are coming by car please park in a responsible manner that does not block gates and exits, or prevent larger vehicles such as tractors, or emergency services from passing on the road.
Those working in the outdoors and managing the land may ask you to take a different route in order not to disrupt for instance lambing, forestry work or to ensure sensitive species are not disturbed. When walking through farmland and areas such as moorland where there are likely to be ground nesting birds, please shut gates behind you and keep your dog on a lead at all times.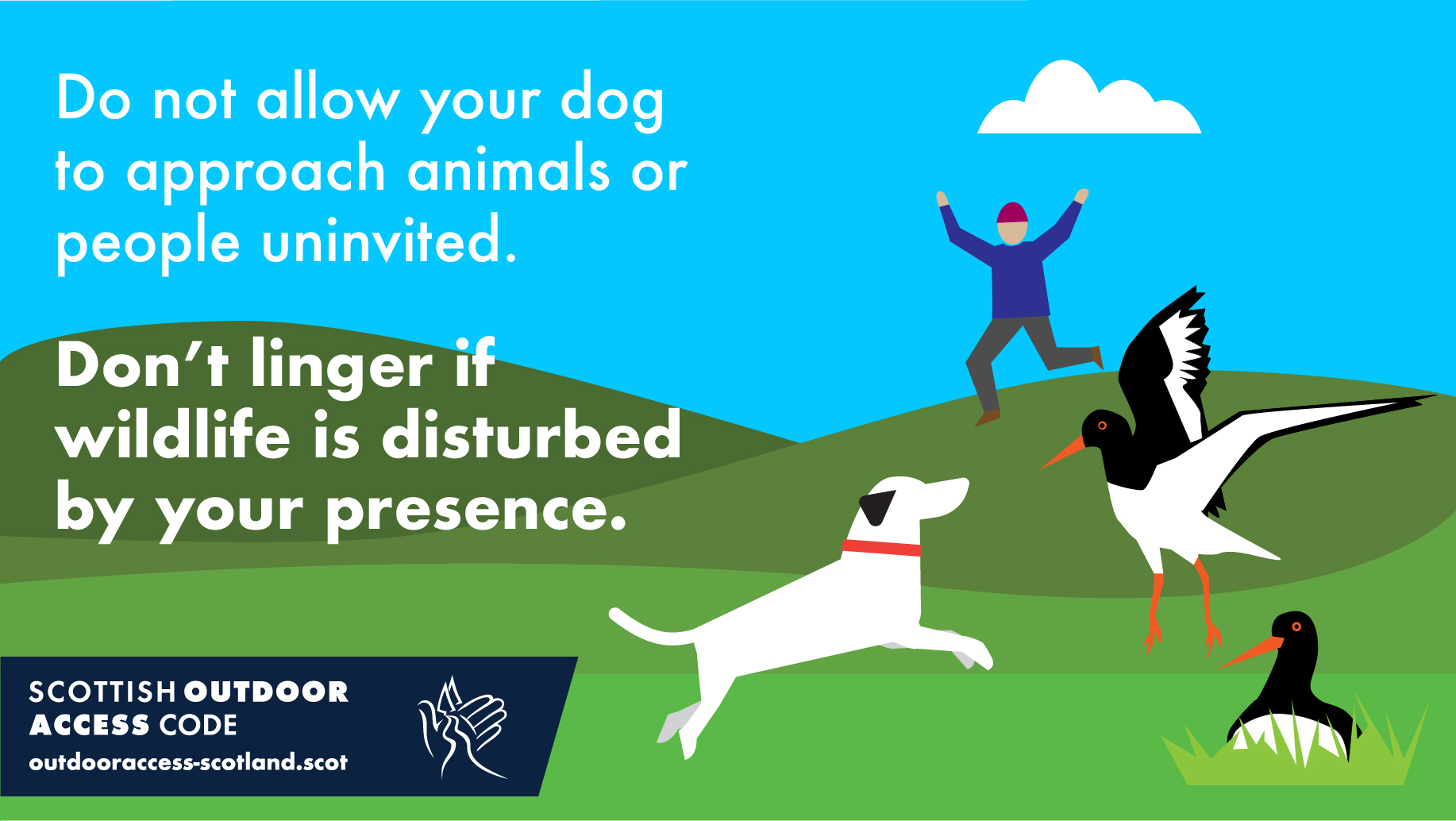 At Loch of the Lowes we have a pair of breeding ospreys, which are a legally protected Schedule 1 species – this is the highest level of protection afforded to wildlife due to its particular sensitivity to disturbance and status as a recovering species from near extinction. This means that during the breeding season (March – September), activities that would normally be allowed under the access code, such as canoeing, walking off the paths and camping are not permitted on the reserve.
In other locations, where camping is allowed and unlikely to cause disturbance, the Access Code advises against lighting open fires and BBQs. This is due to the damage they can cause to the ground and the ease in which underground fires, particularly on peaty ground can spread. Should you need to cook food, careful use of a stove is recommended.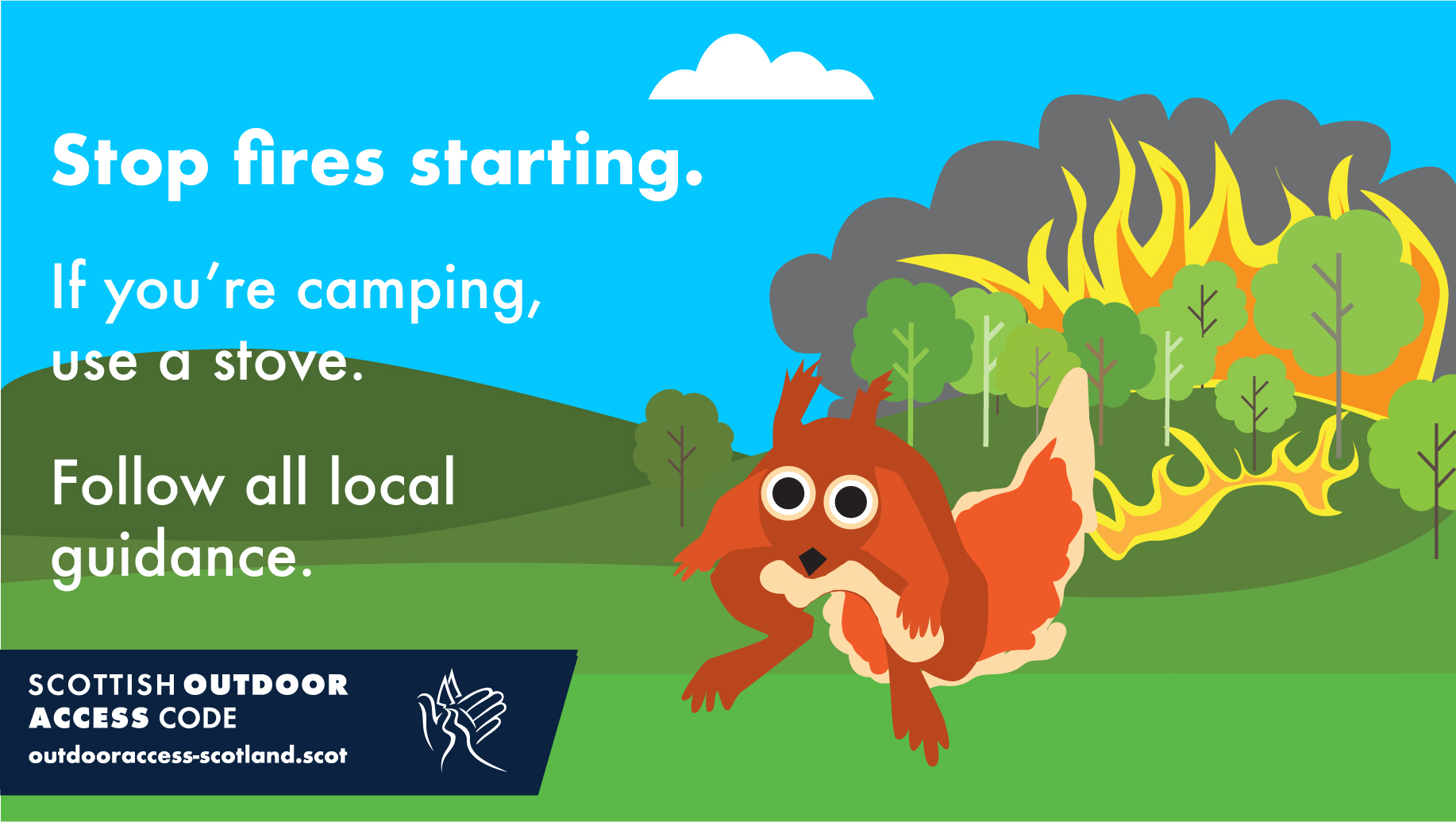 Toileting has become a real issue for rangers and other land managers to deal with in the last year, especially as many facilities have been shut due to Covid-19 restrictions. It should go without saying to pick up your dog's waste and dispose of it in a bin.
When it comes to human waste please ensure you are at least 30 metres from the nearest water source and should you anticipate needing to go for a No. 2, use a trowel to dig a hole that is at least 15 cm deep to do your business in and then bury your 'deposit'.
Please bag up and carry out all toilet paper, sanitary wear and and wet wipes, which will not biodegrade. Further advice about how to 'go' in the great outdoors can be found here.
Finally, please ensure that you take home all your rubbish and dispose of it in a responsible manner. Not only is rubbish unsightly and costly for land managers to deal with, but it is a real danger to wildlife.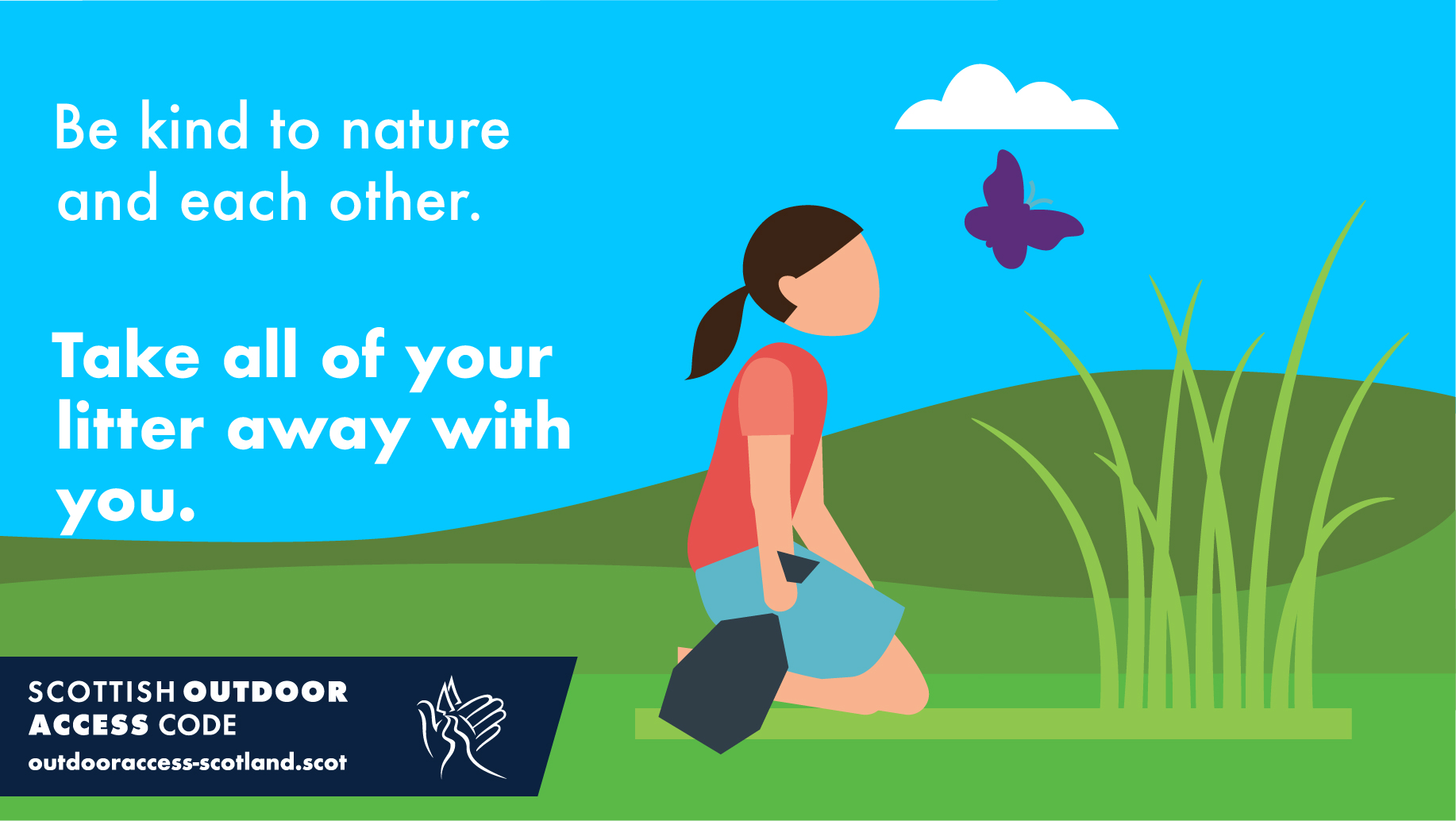 If you want more information about enjoying Scotland's outdoors responsibly visit outdooraccess-scotland.scot. Let's look after the great outdoors, the wildlife and each other as we enjoy exploring the wild places we love.
#RespectProtectEnjoy
Sara 'Raz' Rasmussen
Perthshire Ranger
Help protect Scotland's wildlife
Our work to save Scotland's wildlife is made possible thanks to the generosity of our members and supporters.
Join today from just £3 a month to help protect the species you love.
---
Preface
The last 12 months have been a challenging year like no other in memory. So, with buds bursting and the birds in full song, this spring comes with an even …