Intruding ospreys (part two)
It has been such a busy time for intruding ospreys here at Loch of the Lowes that we need to do a follow up from last week's blog to keep you up to date with the ongoing drama!
To start the week, we had a brief encounter with a few un-ringed birds. These were likely females, as they all had quite a large brown chest band or 'necklace' (in males this is much less pronounced). Its hard to tell if this is the same female intruder, or if it is in fact all different birds.
One thing is for sure, NC0 our resident female, was not happy. At the end of this video you can hear her increase the volume and also speed of her alarm call. I'd advise turning the volume down at the end – it's almost deafening!
Most of the intruders we see are not ringed which makes it very difficult to identify them. However, on the odd occasion, we do get a ringed bird turn up and we all get a bit excited to find out who it is. So far this year we have been lucky enough to have seen two ringed birds on our camera.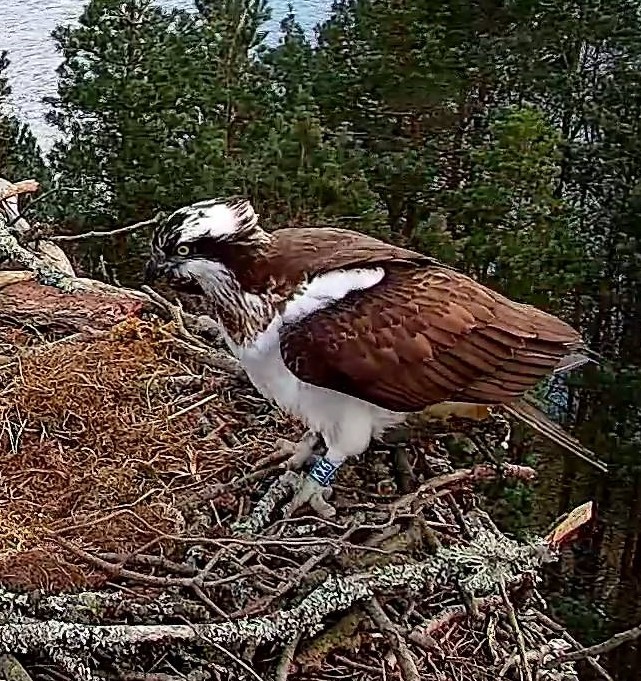 On 9 April year we had an intruding osprey with a blue/white ring and number KX6. With the combination of these ring colours and unique letters and numbers, we are able to report these birds and identify them to an individual level. Hatched in 2017, Blue KX6 turned out to be a four-year-old female from a brood of two. She was ringed at a nest south of Tain in Ross-shire.
Interestingly this is the first sighting of Blue KX6 in the UK since she migrated to Africa as a youngster- she's most likely looking for a site to start breeding. Check back on last week's blog to watch the video of Blue KX6 intruding on the nest.
On 25 April, we had our second confirmed ringed osprey visit the nest, which NC0 and LM12 were less than happy about. Blue KN8 dropped in on the nest to unwelcoming alarm calls from NC0 and LM12. Undeterred, Blue KN8 lands on the branch next to the nest before being promptly booted off by LM12. Blue KN8 is a five-year-old female that was ringed at Loch Tay, Perthshire.
Ospreys will often return to the area where they hatched in order to look for a prospective for nest of their own, so its good to see Blue KN8 back in town. Males tend to stick quite closely to their natal area if they can, whereas females are more likely to scope out nest sites further afield. As it is often the males that arrive first, and build nests this can make ospreys a little slow to spread out over a larger region.
Of course, NC0, our resident female, is also ringed. She was ringed in 2016 at a nest near Loch Ness, so she was four years old when she first started breeding here at Lowes. The ringed intruders we've seen are probably looking to do the same.
Perhaps the most interesting 'intruder' we've had recently turned out to not be an intruder at all.
Maybe NC0 got a fright and did not recognise this particular 'intruder' as her mate LM12 harmlessly bringing her a fish. Or perhaps she was so hungry that she intentionally had a go for making her wait so long. Unfortunately we will never know but what an interesting interaction nonetheless!
We look forward to welcoming our visitors back in May so they can enjoy watching these events unfold in person. Booking is highly recommended so visit our website to book your tickets. Keep up to date with our blog to find out more about ospreys in general and follow the action as it happens on the Trust's live osprey webcam.
Hollie
Species Protection Officer
The Trust's Osprey Protection Programme at Loch of the Lowes is supported by players of People's Postcode Lottery
Help protect Scotland's wildlife
Our work to save Scotland's wildlife is made possible thanks to the generosity of our members and supporters.
Join today from just £3 a month to help protect the species you love.
---
Preface
It has been such a busy time for intruding ospreys here at Loch of the Lowes that we need to do a follow up from last week's blog to keep …