50 Years of Lowes Part 3 1984-2000
This blog continues the story of how the Scottish Wildlife Trust created the Loch of the Lowes Wildlife Reserve & Visitor Centre as we know it today.
Follow this link to read Parts 1 and 2 of the history of Lowes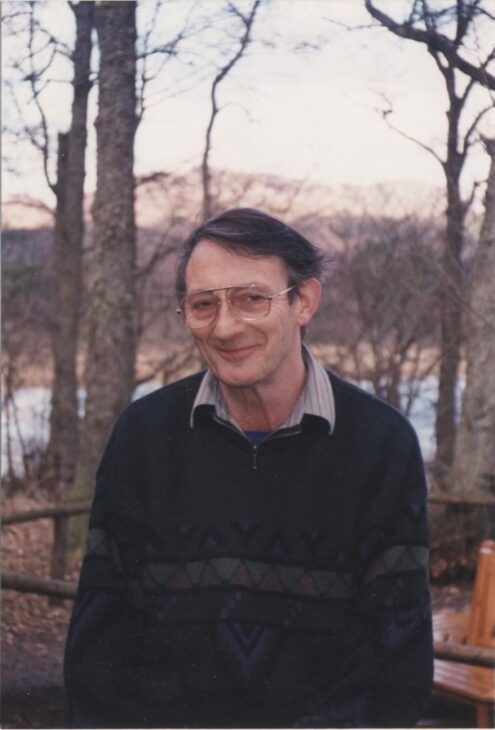 In the last weeks of April and early May during the 1980s, Warden Alan Barclay and his team of volunteers could be found watching the sky above Lowes for the first sight of a returning osprey.
Sure enough, by May each year a pair of osprey would be in residence. It is interesting to note that osprey have been returning from migration slightly earlier every year since then, until in the last two years LM12 has arrived at Lowes on 15 March.
The individual ospreys were not always the same pair each year and attempts at breeding had varying degrees of success. Due to the nest's position, 80 feet above the ground, it was extremely difficult to judge if any or how many eggs were laid but some years saw new fledglings join the slowly growing population of this rare species.
A hidden gem
Surveying the land, water's edge and underwater continued to deliver surprises. The rare underwater pond weed slender naiad was discovered. Although this delicate plant lies far below the surface and cannot be seen, it is known as an efficient oxygenator of water. Another example of how every species works with and relies upon others and needs to be allowed to find their balance. It was no mere chance that ospreys chose to breed at Lowes. A wealth of tall trees for a nest, a freshwater loch holding healthy fish to eat and the bonus of clear, relatively shallow waters to aid their fishing.
In 1990/91, winter storms severely damaged the Scots pine which held the precious eyrie, the third tree to be used since 1969. Ospreys choose to nest in trees which allow a high, unblocked view in all directions. In an effort to salvage the situation, Alan Barclay and his team chose a taller, stronger Scots pine and with Keith Brockie's help, a potato basket was used to form a sturdy base in the upper branches. Then a few large twigs were arranged as a 'nest' to hopefully attract the attention of a passing osprey.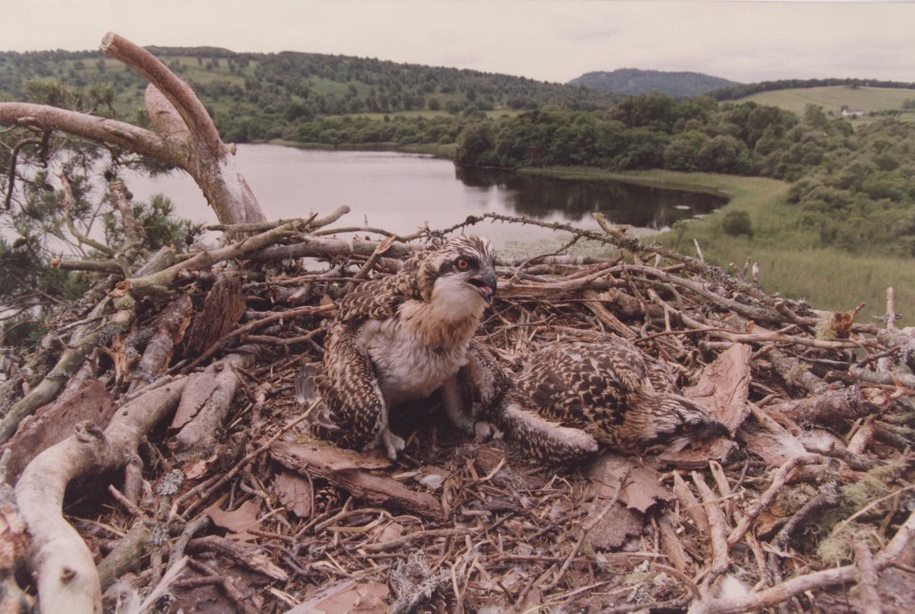 The plan worked. In May 1991, a large female osprey flew into Lowes and took up residence, to be joined by a male within days. For the first time, volunteers now had a much closer eyrie to watch, making their task of protecting the birds a little easier.
This was just as well! In May 1991, a total of four egg theft attempts were thwarted and support was given by the 92nd Gordon Highlanders who volunteered their efforts to Osprey Watch. They used night scopes and walkie talkies borrowed from Pitlochry Theatre.
Happily, despite the criminal activity, two chicks were successfully raised that year. They were ringed: Orange U and Orange V. To everyone's delight, the same large female osprey returned the following year (two chicks, ringed Light Green SL and SM) and the year after that (three chicks, ringed Orange SP, SR, ST).  Affectionately named 'Lady', this strong, feisty female chose Loch of the Lowes to raise her young for a total of 24 years.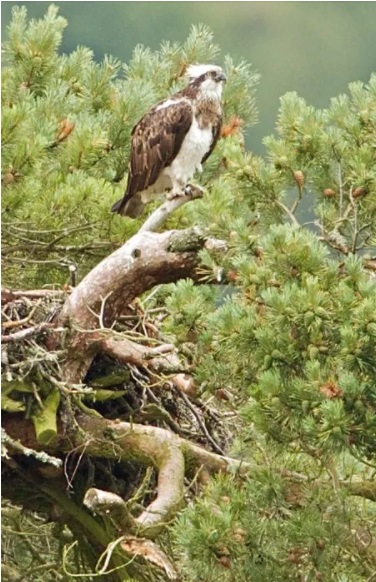 In 1992, the first computer was installed at Lowes: a step into the technological age! Then in 1993 a microphone was fitted to the osprey tree but it wasn't until 1999 that a colour camera with a zoom lens was added to the top of the double-storey hide. Over the years, with public awareness for wildlife growing, grants and generous donations allowed the Trust to enrich the visitors' experience. For example, one anonymous donation was used to purchase a telescope and tripod to give close up views of the osprey and other wildlife on the loch, as well as a projector to facilitate wildlife talks to the public in the visitor centre.
For the thousands of people who respect and understand the importance of wildlife, there are always those who are out to destroy it for selfish personal gain. In May 1993, two men were arrested at Lowes for attempted egg theft, but released without charge. Egg collecting is, in 2021, still a very real threat to the survival of endangered species: indeed to all wild birds.
In the early days, to give the impression of a much larger task force, osprey watch volunteers were given whistles and instructed to 'run around and blow them' if security was breached. Nowadays, our Perthshire Ranger and a team of trained volunteers can call on the latest technology to aid 'boots on the ground' protection.
Becoming Established
When the world celebrated the start of the 21st Century, Loch of the Lowes was an established reserve known for its spectacular views of breeding osprey, (Lady's 10th year) and a stunning, peaceful setting with knowledgeable volunteers. It was becoming a 'must visit' reserve to watch majestic displaying great crested grebe, goldeneye and other water birds, with a woodland where great spotted woodpeckers, tree creepers and siskins could be photographed. It had also earned a great reputation for being one of the top places in Scotland to see red squirrels – which continues today.
The next blog in this series will continue Lowes' story through its fourth decade.
Cherry
Help protect Scotland's wildlife
Our work to save Scotland's wildlife is made possible thanks to the generosity of our members and supporters.
Join today from just £3 a month to help protect the species you love.
---
Preface
This blog continues the story of how the Scottish Wildlife Trust created the Loch of the Lowes Wildlife Reserve & Visitor Centre as we know it today. Follow this link to …