The Migration of the Montrose Basin Ospreys
As the autumn days are drawing in and as the first pink-footed geese have started to arrive, views of ospreys fishing over Montrose Basin, ones we've become so accustomed to in the last 5 months, are starting to become more sporadic. Could the final osprey sighting of the year be close at hand? With the last sighting of 2018 recorded on 20th September, the answer would invariably seem to be 'yes'.
You might have a number of questions about the ospreys at Montrose Basin, after hearing that they make a 5,000 mile journey at the end of summer to their over-wintering grounds.
• Where do the ospreys go?
• How long does it take them to get there?
• Where have the Montrose Basin ospreys traveled from?
• How do the young ospreys know where to go?
In this brief musing about osprey migration, we hope to answer these questions.
An Osprey a Day
We saw the first osprey this year on the 8th April and, since that date, we've seen at least one every day, usually at low-tide. In August, sighting numbers of fishing ospreys peak. This year 5 ospreys were seen all at once and the year before (2018), the record was 8. The reason for this abundance in the late summer is due to a number of reasons. Adult female ospreys start the long haul flight back to West Africa first. They leave the nest soon after their brood have fledged and pass the responsibility of teaching the fledglings to fish to the males. So, at the beginning of August the ospreys that we see are probably a mixture of adult females calorie loading before their long journey, in addition to the males and juveniles. After the females have left, numbers of ospreys begin to decrease and at the beginning of autumn we often see pairs of ospreys sitting in close proximity on the sandbanks. These are most likely the males and their juveniles who, in just a few short weeks, are being taught the valuable fishing skills needed to keep them sustained on their first migration south.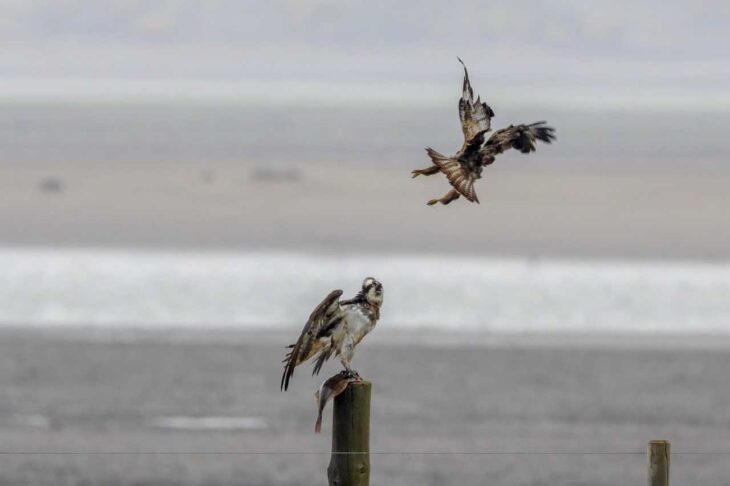 Where do they go?
Ospreys migrate to West Africa, to the Gambia, Senegal and Mauritania. A journey which starts in a south-westerly direction and takes them over England, over western France, then Spain or Portugal. The route sees ospreys cross near the coasts of Gibraltar and north Africa.
We know most UK ospreys travel south via a route that takes them over England (though some go west over Ireland) and then usually over western France, then Spain or Portugal. They often cross near Gibraltar, then hug the African coast to their eventual destination, as too inland means crossing desert.
Recent research and satellite tracking data has revealed that some ospreys are 'short stopping', cutting their migration short in Portugal and Spain, rather than travelling onto West Africa. This could be in response to climate change or, a behaviour that used to occur in the Mediterranean where ospreys were previously extinct.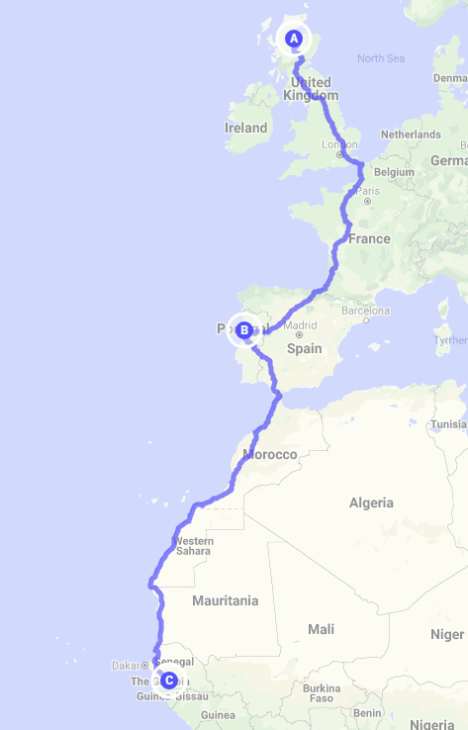 How long does it take?
We know most ospreys take 4-6 weeks to make the journey in autumn, but are considerably faster on the way up in spring (the breeding instinct is strong and they must get to the nest first!).
Young birds make more stops and wander more before settling down to a habitual yearly pattern. Most birds go to the same over-wintering area each year routinely.
They stop many times en-route and can spend up to a week, or more, on a particularly good estuary or river, especially if weather is unfavourable. They can fly at considerable heights, at up to 100 km a day and can even fly up for 48 hours non-stop!
Most miraculously of all, we still do not know exactly how they navigate – probably some combination of visual clues (we know they fly more in good clear weather) and certainly genetic instinct, and probably some form of geomagnetic perception we do not yet understand.
Montrose Basin – A Meeting Point for Ospreys
Visitors to the Basin often ask us where the ospreys have traveled from and if they are nesting nearby. The simple answer is we don't, unfortunately, know exactly. However, we can make an educated guess based on our current knowledge of osprey nesting sites and migration routes. Osprey nesting sites north of Montrose Basin include Inverness, Nairn, the Black Isle and Bonar Bridge to name a few. Their migration route south takes these ospreys over the Basin and many stop for a few weeks to take advantage of its rich fishing grounds.
The few ringed ospreys we have seen have shown that Montrose Basin has become a favoured fishing spot over the last 2 years, both for recently returned juveniles and the ospreys at our closest nesting site (and Scottish Wildlife Trust reserve); Balgavies Loch.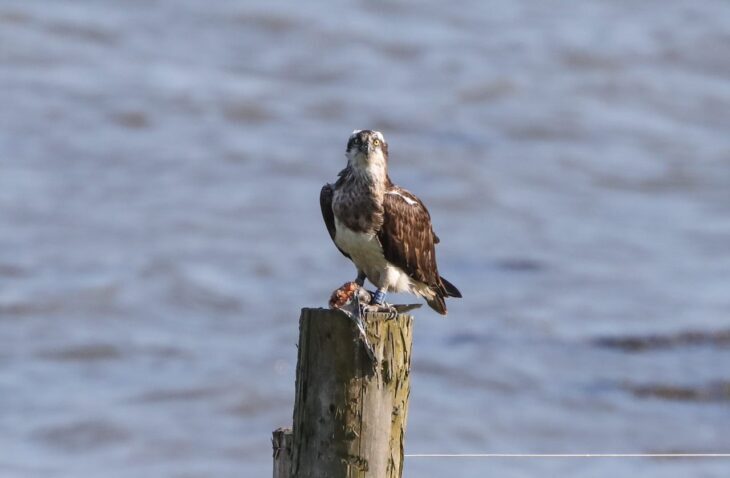 FC6 is a female that was ringed as a nestling in July 2015 at Monadh Mor on the Black Isle and has been visiting us since 2018. She clearly decided she was too young to settle down and have chicks, as she visited us regularly for the whole summer, sometimes catching up to 4 fish a day.
You are on your own, kid!
After both adults have left to start their migration, the juveniles are deserted! It's not understood how young ospreys know what route to take, but it is thought that they follow inherited genetic programming which tells them where to head on their first migration and a combination of visual clues and geomagnetic perception helps them navigate. The route is incredibly perilous for juvenile ospreys and, unfortunately, the mortality rate is between 40 – 60 %.
Young ospreys will remain there for the first 3 summers, however once their hormones kick in and they are old enough to breed, they start their return journey.
If you're wanting to catch a glimpse of, what could be, the last osprey of 2019 and wondering how to plan your trip to Montrose Basin Visitor Centre, we recommend visiting at low tide. You can keep an eye on tide times at Montrose here. Once you're here, our staff and volunteers will be more than happy to point out well-used osprey perches, or (fingers crossed!) ospreys hovering over the basin.
Rachel Mackay-Austin
Seasonal Visitor Centre Assistant / Teacher Naturalist
Help protect Scotland's wildlife
Our work to save Scotland's wildlife is made possible thanks to the generosity of our members and supporters.
Join today from just £3 a month to help protect the species you love.
---
Preface
As the autumn days are drawing in and as the first pink-footed geese have started to arrive, views of ospreys fishing over Montrose Basin, ones we've become so accustomed to …