Ranger round-up: So long and thanks for all the cake
Our time as Assistant Rangers is drawing to an end. The balsam has been pulled and the bracken has been bashed. In the last few weeks of our internship we have been able to explore further afield to learn about how other land managers are approaching their work. It's been a really fun way to round off our time here at Loch of the Lowes.
A few weekends ago we visited the Cairngorms National Park. We hiked on foot to several bothies, observing the rich diversity of vegetation and natural tree regeneration on the way, undertook some practical conservation work to help protect capercaillie and met with various land managers, including Tors Hamilton from Cairngorms Connect to learn about some of the conservation work being undertaken in the area.
Cairngorms Connect is a partnership between neighbouring land managers, who are working cooperatively to create the biggest habitat restoration project in Britain. Covering 600 square km of contingous land, the partnership comprises of 13% of the Cairngorms National Park.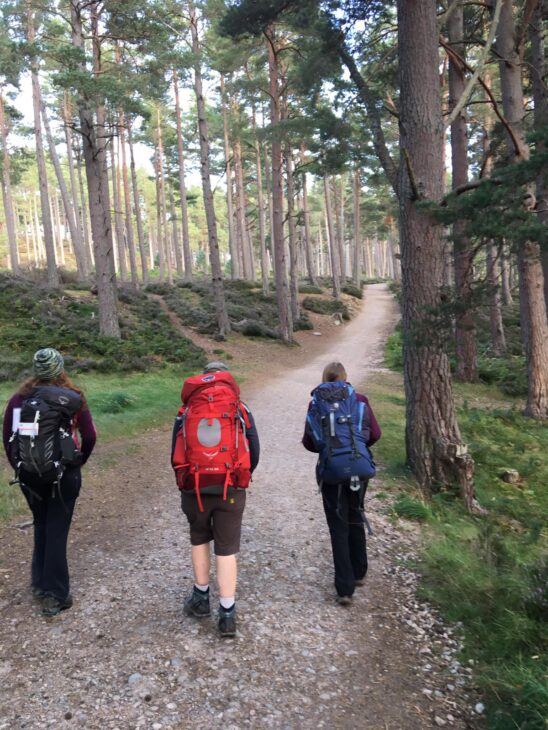 After visiting RSPB Insh Marshes, we met up with Tors, the Communications and Involvement Manager for Cairngorms Connect to talk about the work of the partnership. It was really interesting to walk from Loch an Eilein, talking about how the partnership of Scottish Natural Heritage, Forest and Land Scotland, RSPB Scotland, and Wild Lands work in collaboration to manage a connected piece of land for people and wildlife.
It also gave us the opportunity to draw parallels and make comparisons with our local Heart of Scotland Forest Partnership, of which the Scottish Wildlife Trust is an active member. Like Cairngorms Connect, the Heart of Scotland also works across different sectors; private land owners, governmental bodies and charities, so it was both interesting and inspiring to observe similar habitat restoration on much larger scale.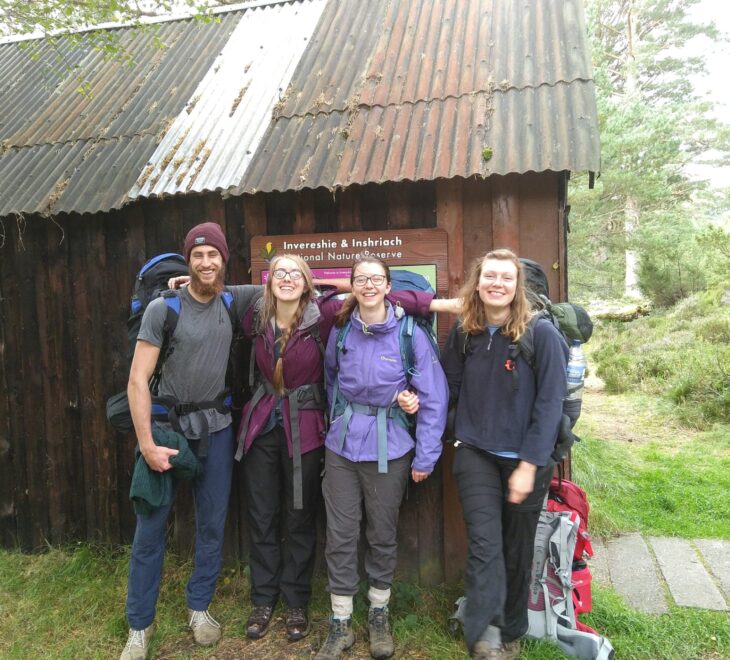 The next day we met up with Emma Rawling, Carrbridge Community Ranger for the Cairngorms Capercaillie Project and helped put up some netting on deer fencing, therefore making it more visible to flying capercaillie. The strong winds that day made it tough work, but it was rewarding to know that we were helping the small number of breeding capercaillie that are left in Scotland.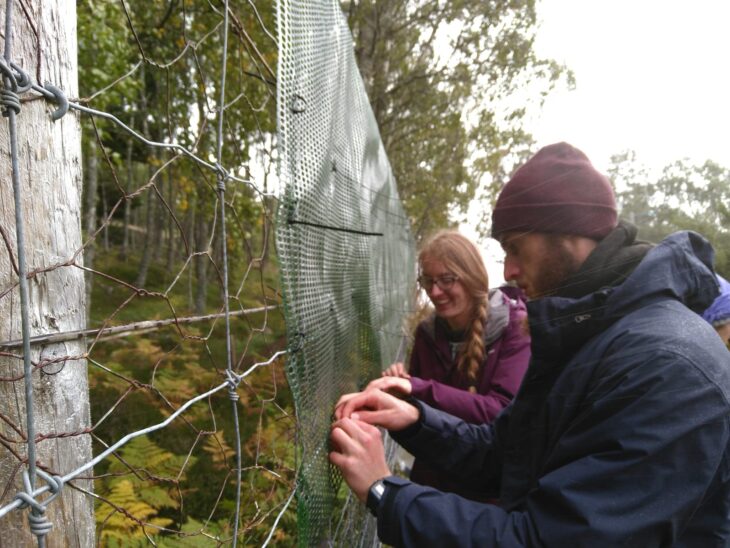 That night we stayed in the Ruigh Aiteachain bothy which was absolute luxury! Recently renovated by Anders Povlsen of Wildland Limited and Glen Feshie Estate, the bothy has two floors and wood burning stoves and was not surprisingly, very busy.
We met retired custodian of the bothy Lindsay, who has volunteered for the Mountain Bothy Association for decades, giving up his time to welcome walkers and undertake maintenance around the site. His love and passion for the place was humbling to witness and we were really honoured to be invited to transplant a young Scots pine to connect us to this special landscape.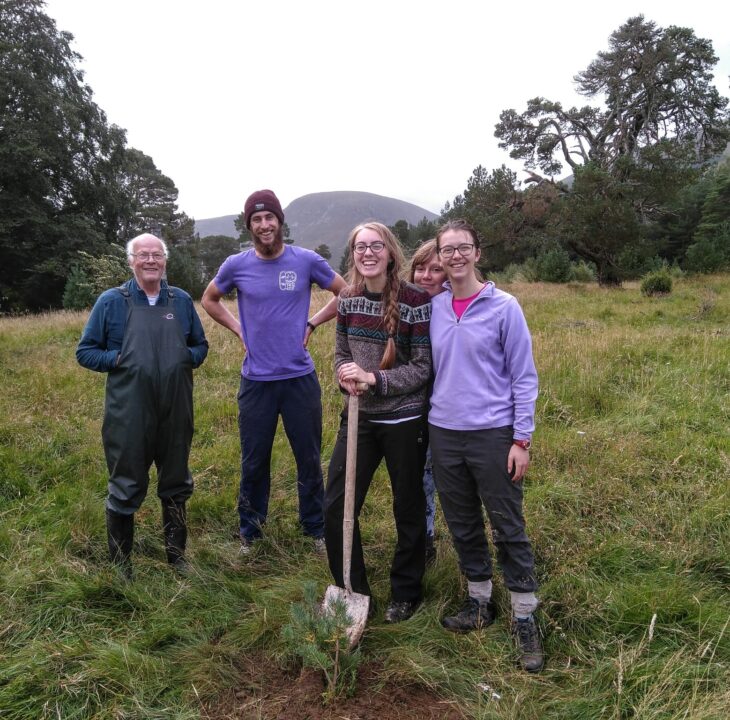 As well as our Cairngorms trip, we visited one of the Scottish Wildlife Trust's flagship reserves; Montrose Basin, which was also a great day. The visitor centre there is amazing! You could sit at the window watching the shifting tidal estuary and wetland birds all day! There are so many different species to see and it was amazing to see the incredible spectacle of migratory pink footed geese, which numbered in their thousands.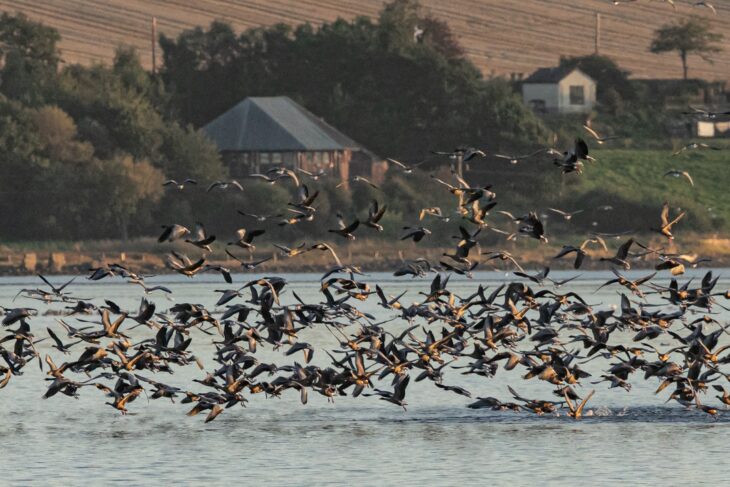 Last Friday we all took part in the global climate strike to highlight how urgent it is to take action to mitigate for climate change. It was so amazing and inspiring to see how many young people in Edinburgh are passionate about getting the message of climate change across to our politicians.
The climate crisis is a pressing issue which needs urgent action if we are to stay below a global average temperature increase of 1.5˚C, and avert catastrophe for our future generations. It was so important for us to be able to march with 20,000 others on Parliament and be part of such an historic day.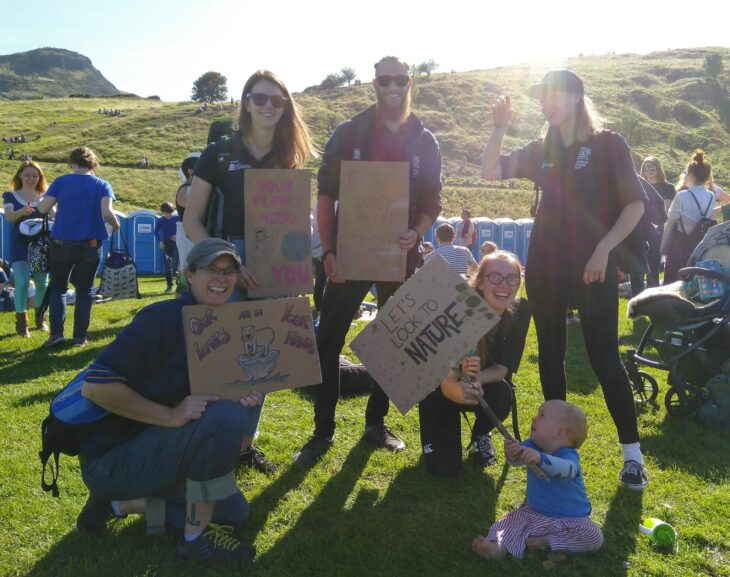 Not ones to shirk some hard graft, we managed to squeeze in some fencing work back at Schiehallion with the John Muir Trust, one of the key members of the Heart of Scotland partnership. Later that day we spoke with project member Jez Robinson of Dalchosnie & Kynachan Estate, to learn about how he is introducing Highland cattle, both for produce and to graze the land in a more sustainable manner.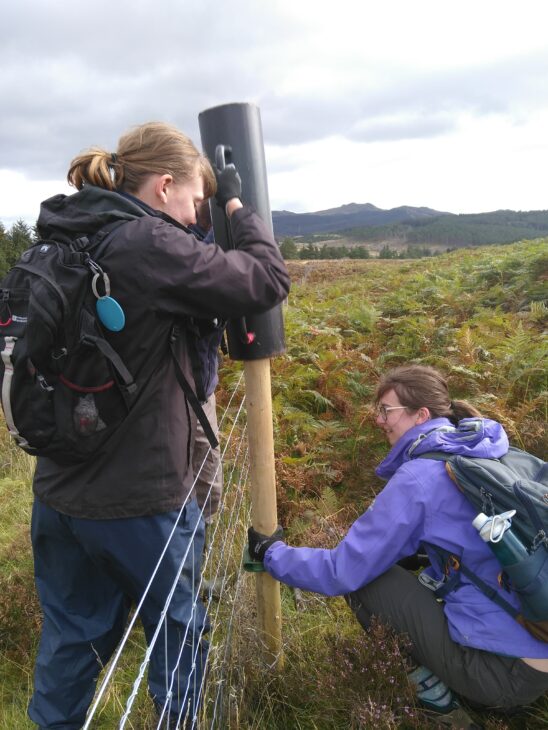 We've also got to grips with dyking and begun repairing a collapsed wall at our Keltneyburn reserve. It's tough work having to lift heavy rocks and working out how to fit them together like a jigsaw puzzle, but it's pretty satisfying when you do find that perfect stone. It's a slow process though and it's going to take multiple days to get the wall finished.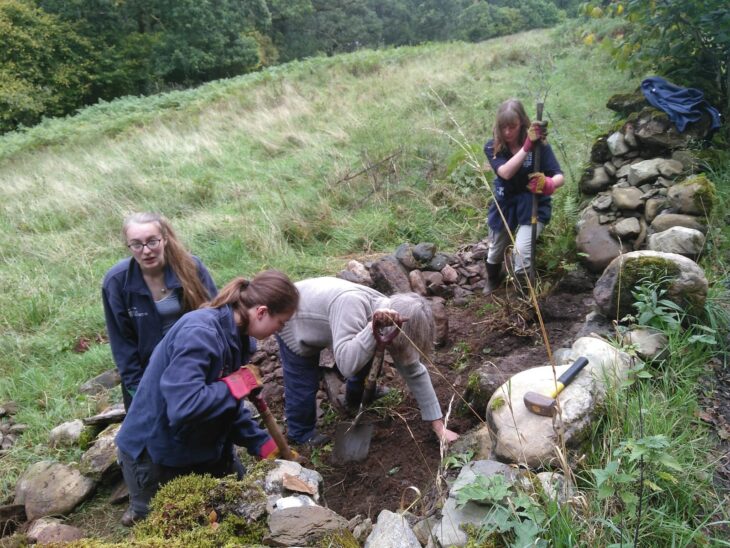 These last 3 months have been such a great experience. We've learnt something new every day and met so many interesting people who all share our passion for conservation. It will be sad to leave the bothy and this wonderful reserve we've called home over the last 3 months. It's been a tiring summer season but we've loved every minute of it!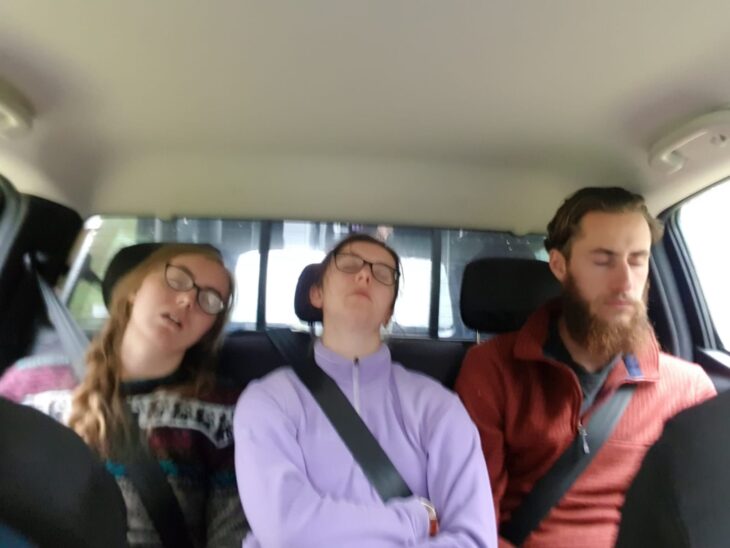 Huge thanks to all the partner agencies and land managers who have hosted us and added to our journey of learning. And to the visitors centre staff and volunteers at Lowes, so long, and thanks for all the cake… (and biscuits… and tea… and more biscuits, and er, did we mention the cake)?
The 2019 Assistant Ranger Team
Help protect Scotland's wildlife
Our work to save Scotland's wildlife is made possible thanks to the generosity of our members and supporters.
Join today from just £3 a month to help protect the species you love.
---
Preface
Our time as Assistant Rangers is drawing to an end. The balsam has been pulled and the bracken has been bashed. In the last few weeks of our internship we …