New Bug Hotel at the Falls of Clyde
Although it might seem like we've seen plenty of insects this summer (what with the sudden influx of butterflies!) scientists are reporting an alarming decline in insect populations across the globe through the last few decades. As many will already know, bugs are the unseen heroes of the natural world; pollinating our plants and providing food for many other species. Without them we could see the collapse of whole ecosystems.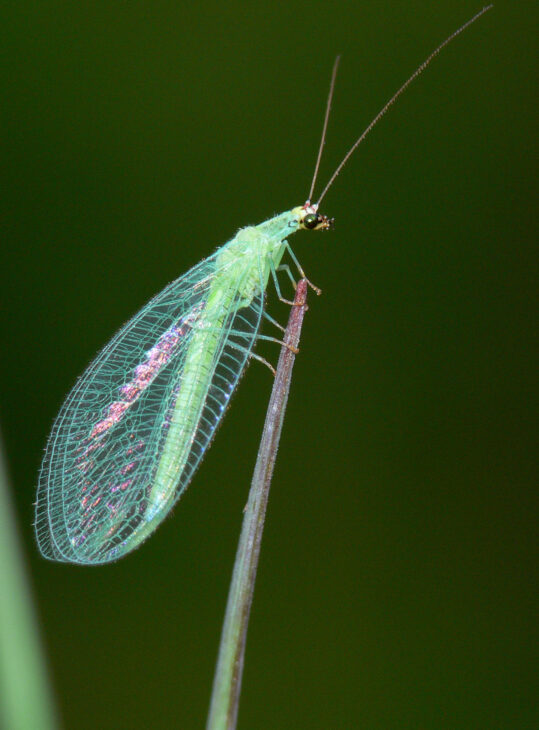 Lacewings are one of the more beautiful garden insects. They are brilliant at helping to control pests, such as aphids. Photo © Brad Smith https://bit.ly/2Ntr7Us
The staggering reduction in insect numbers has many causes; one of them being lack of habitat and food. If you have a back garden or any kind of outdoor space, there are things you can do to help.
Here at the Falls of Clyde we've done our bit by making a mini-mansion; perfect for all of the local invertebrates. With some hands-on help from Enable Scotland, we brought a group together to build and fill our bug hotel. Each section provides habitat for different groups of insects, and we stuffed it full of old pipes, dried out reeds, rotting wood, stones, wood with pre-drilled holes (for solitary bees) and egg cartons (for butterflies and lacewings.) To top it off we also made a roof to keep it a little drier and make it last longer. The whole structure is made out of untreated, upcycled wood from the reserve!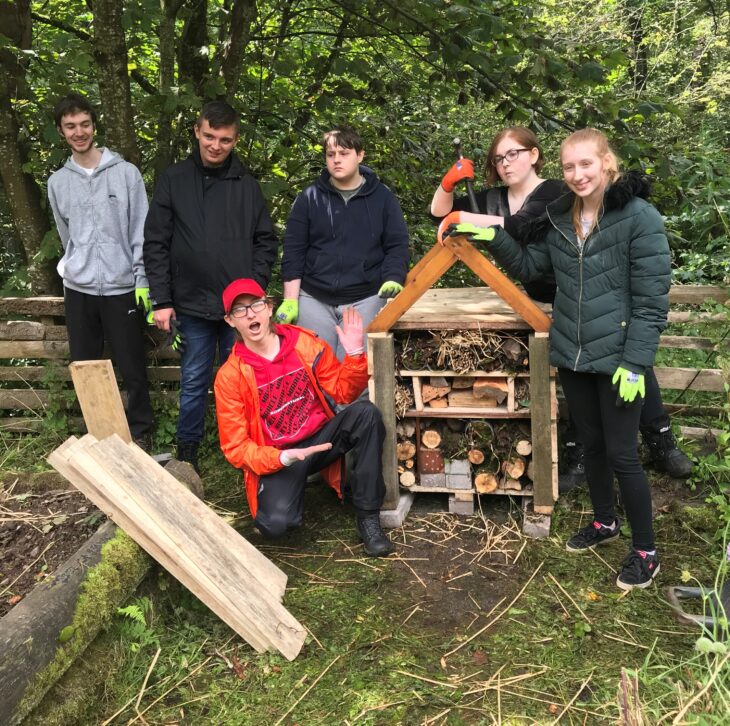 The new bug hotel under construction, with our helpful group from Enable. Stay tuned for pictures of the final structure! Photo © Scottish Wildlife Trust
If you've got some spare bits of wood lying around, or maybe can get hold of some old pallets, making a bug hotel is a great thing to do for your local wildlife. It's also a fantastic activity to get the kids outside and doing something hands-on.  Bug hotels and habitat piles don't need to be huge, and they will attract vast amounts of different insects, many of which will actually be very beneficial for your garden. For more detailed instructions on how to build a bug hotel check out this page.
Becca Wilson (Falls of Clyde Seasonal Ranger) 
Help protect Scotland's wildlife
Our work to save Scotland's wildlife is made possible thanks to the generosity of our members and supporters.
Join today from just £3 a month to help protect the species you love.
---
Preface
Although it might seem like we've seen plenty of insects this summer (what with the sudden influx of butterflies!) scientists are reporting an alarming decline in insect populations across the …