Shining a Light on Iridescence in Nature
As many will already know, iridescence refers to a bright colour which seems to change depending on the angle that you look at it. This is something which can be seen in many groups throughout the animal kingdom. Unlike normal colours on fur, feathers or skin (which are displayed through pigmentation and the consistent absorption/ reflection of certain wavelengths of light) iridescence is produced by the way that light responds to tiny structures on animal tissues (for instance, the tiny scales on butterfly wings.) This means that as the viewer's perspective changes, light wavelengths can either combine or cancel each other out, creating a very snazzy light show.
But what's the point in having such a complicated way of displaying colour? Well, fit turns out there might be a few very good reasons for it.  
Avoiding being eaten is a top priority for most animals, and camouflage is a great way to underpin that. It might seem counter-intuitive that being brightly coloured helps to hide you, but this has been known to work for many animals particularly when being viewed from a long distance. This is when the previously mentioned scattering of light can confuse the onlooker into thinking they're seeing part of a shiny leaf (like the moth pictured below), or perhaps a droplet of water. Once the animal is disturbed, it's also possible that iridescent colours will befuddle predators and (hopefully) allow escape.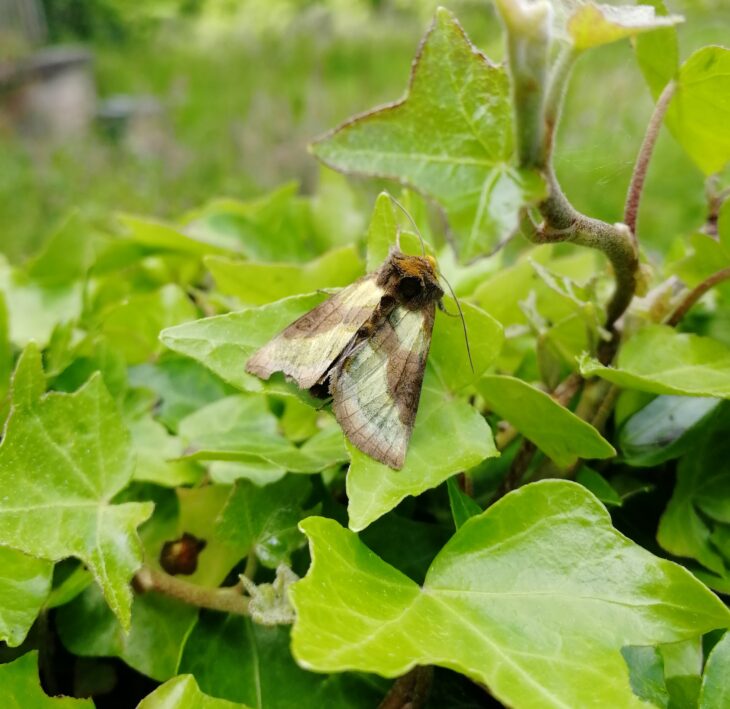 A Burnished Brass moth found at the Falls of Clyde. These moths have a yellow/ green metallic sheen to their wings, hence the name © Becca Wilson
Iridescence also seems quite important for communication between animals of the same species. A great example of this comes from the humble duck. Ducks have a very colourful patch of iridescent feathers close to the base of their wings, which can only be fully seen in flight or when stretching, these are called speculum feathers. The likely purpose of these feathers is to draw the attention of other ducks during flight, basically a light show which shouts "come with me and stick together!"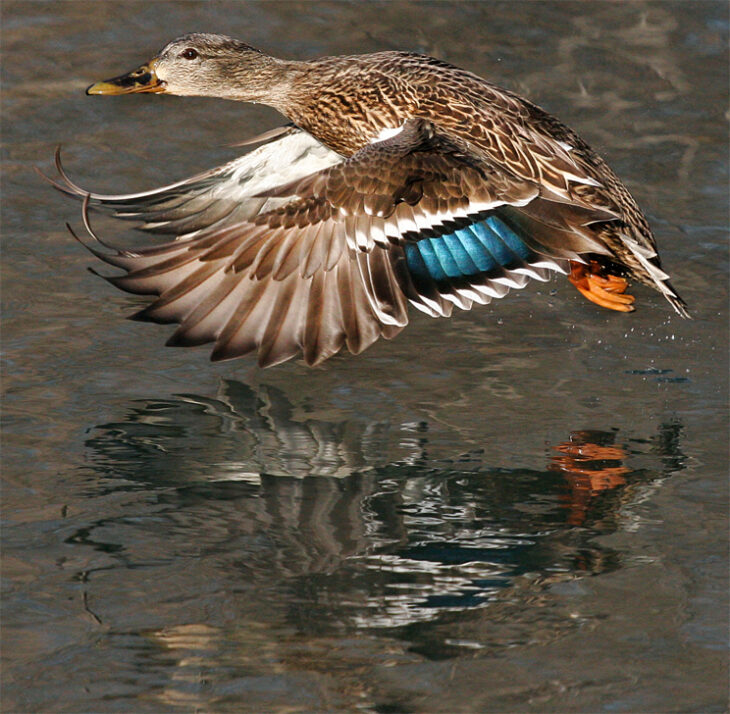 Here you can see the speculum feathers on the otherwise drab female Mallard. These feathers are different colours depending on the species of duck. Photo © Stuart Williams https://bit.ly/2LHQKQJ
Of course for some animals iridescence is also a good way to find a mate, as they can use it in attractive displays. Normally when this is the case, these bright colours will only be seen in the male. 
By Becca Wilson (Falls of Clyde Seasonal Ranger)
Help protect Scotland's wildlife
Our work to save Scotland's wildlife is made possible thanks to the generosity of our members and supporters.
Join today from just £3 a month to help protect the species you love.
---
Preface
As many will already know, iridescence refers to a bright colour which seems to change depending on the angle that you look at it. This is something which can be …