We have a second chick at Loch of the Lowes!
What an exciting 24 hours for the ospreys at Loch of the Lowes reserve!
One day after the first osprey chick hatched out on Saturday, a second chick emerged yesterday evening.
While the first chick appeared to hatch in only an hour, its sibling took a little more time to come out of its shell.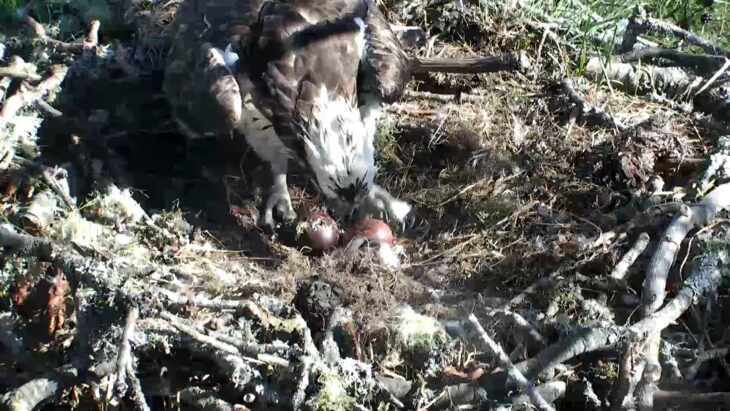 At 7.57am on Sunday morning, only 13 hours after the first chick hatched, a small hole or 'pip' appeared in another egg.
However, the hatchling was slow to make any more progress and even by 6pm the egg still appeared to be intact. Finally, at 7.18pm, we were able to confirm that it had hatched.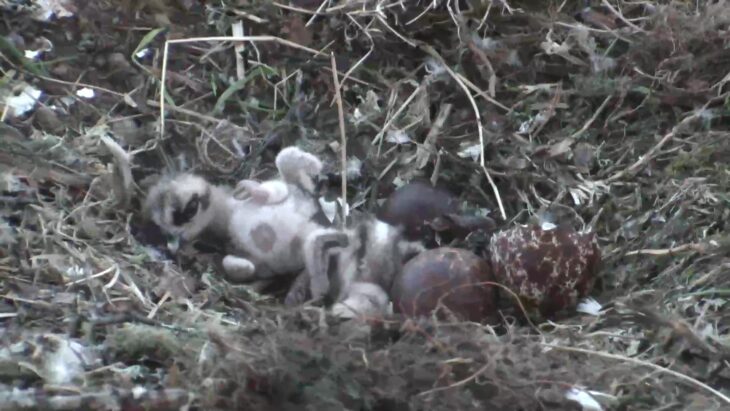 Even without the second chick hatching, yesterday was an eventful day for the ospreys. LM12 outdid himself delivering a total of four fish, including two sizable pike.
The first chick was able to get its first feed at 10.57am and had a total of three meals, although this proved to be a little challenging at times.
LF15 spent most of yesterday on the nest, only taking breaks from incubation to feed herself and the older chick. While the chicks are very small they aren't able to maintain their own body temperature. So it is important that the parents incubate consistently.
LM12 has only incubated briefly since the first egg hatched, taking over for about 25 minutes on Sunday evening. He seemed a little nervous at first, dithering about on the edge of the nest for five minutes before snuggling down to incubate his two new chicks.
Why have the eggs hatched so closely together?
Osprey eggs hatch around 35-40 days after they are laid. As they are generally laid at 2-3 days intervals, the eggs often hatch a couple of days apart. It therefore seems likely that these chicks are from the first and second eggs – the first having hatched 37 days after the first egg was laid and the second 35 days after the second was laid.
The slightly longer incubation period for the first egg could be due to a two-hour gap in incubation on 7 April (see our previous blog). This exposure event happened on a fairly chilly night and may have caused a delay in the development of the embryo. Thankfully, it seems that the embryo survived the cold and has grown into a healthy chick!
Could we have three chicks this year?
In both 2017 and 2018, LM12 and LF15 successfully fledged two chicks while one egg unfortunately failed to hatch. If all goes well, it seems there could be a chance of a third chick this year! It has now been 33 days since the third egg was laid, so there is every possibility that another little addition could join the osprey family in the next few days.
Keep an eye on our live webcam to see the chicks' progress!
Jane Hamilton
Species Protection Officer
Help protect Scotland's wildlife
Our work to save Scotland's wildlife is made possible thanks to the generosity of our members and supporters.
Join today from just £3 a month to help protect the species you love.
---
Preface
What an exciting 24 hours for the ospreys at Loch of the Lowes reserve! One day after the first osprey chick hatched out on Saturday, a second chick emerged yesterday …