Night time drama at the osprey nest
Following the laying of LF15's first egg of the season on the 4th of April, the local volunteers and Species Protection Team have been keeping a close 24/7 eye on the proceedings. All significant behaviour such as mating attempts, change overs in incubation, fish deliveries and any aerial intruders have been recorded.
Last night proved to present some rather unusual behaviour at the nest. LM12 the resident breeding male was particularly late at bringing in his main catch of the day, arriving with a whopping fish (most likely a brown trout) at 19:35.
LF15, clearly hungry, tussled and wrestled with the fish, with both birds getting in the way of each other before she flew off to the usual feeding perch on the opposite side of the loch. So far nothing unusual to report with the male hunkering down to incubate.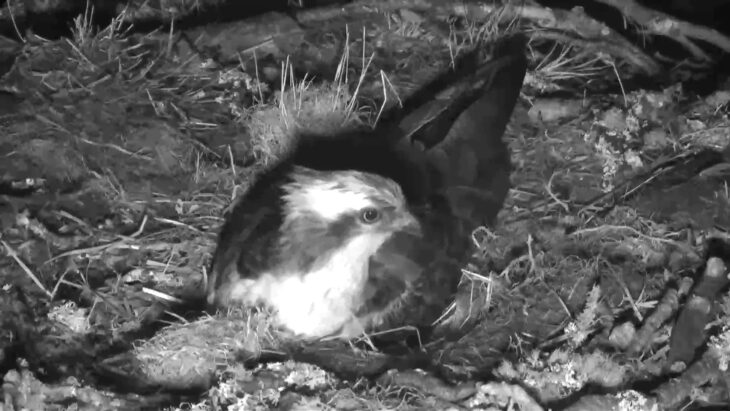 Over the years LM12 has shown a particular fondness for incubating and can often be seen attempting to 'encourage' the female off the egg so he can have his turn. This in itself is a little unusual as generally females prefer to do the bulk of the incubating. It seems that things are a little more egalitarian in this pair's relationship.
However, as the night wore on the team became increasingly concerned about LF15's continued absence, particularly so when the male got up off the egg and after a period of wing flapping took off at 3:05am. There were no apparent signs of disturbance which was encouraging, however it was a further 2 hours 20 minutes before (much to everyone's relief) the female returned to incubate the egg.
It is very unusual for the female to be away from the nest for such a lengthy period, especially at night, as her instinct is to sleep on the nest, with the male acting as a sentinel guard nearby.
For now we are relieved that nothing untoward happened to her and she is back on the nest, although we are concerned that the egg will not have survived such a long period uncovered on a cold, wet night.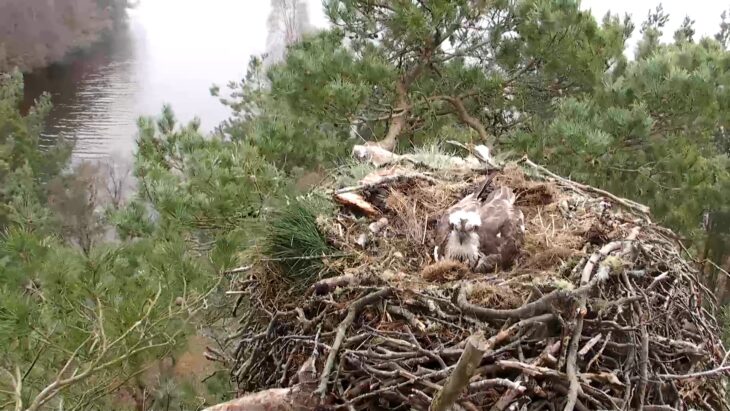 Eggs can typically chill within 20-40 minutes of being exposed especially on a cold, wet day, although instances of eggs surviving longer exposure in warm weather have been recorded. We'll just have to sit it out and see what happens.
Hopefully we will see egg no. 2 being laid later today or by tomorrow, if the usual laying pattern of 2-3 days apart is followed.
It's all part of the roller coaster ride of watching these beautiful feathered beasties!
We will keep you updated.
Sara Rasmussen
Perthshire Ranger
Help protect Scotland's wildlife
Our work to save Scotland's wildlife is made possible thanks to the generosity of our members and supporters.
Join today from just £3 a month to help protect the species you love.
---
Preface
Following the laying of LF15's first egg of the season on the 4th of April, the local volunteers and Species Protection Team have been keeping a close 24/7 eye on …