My internship with the Scottish Wildlife Trust in Ayrshire
Well, time sure does fly when you're having fun!
Since November last year, I have been working alongside Harry Richards, the Trust's Community Engagement Officer in Ayrshire, as part of a six month internship.
My time has been spent working on the Connecting Communities to Nature project, funded by the National Lottery Heritage Fund Scotland. I thought I would dedicate this blog to a few of my favourite moments.
I really enjoyed being involved in the recent clean-up project at Bourtreehill Park in Irvine. It was very successful and demonstrated a three-way partnership between Scottish Wildlife Trust, Irvine Clean-up Crew and the local Men's Shed.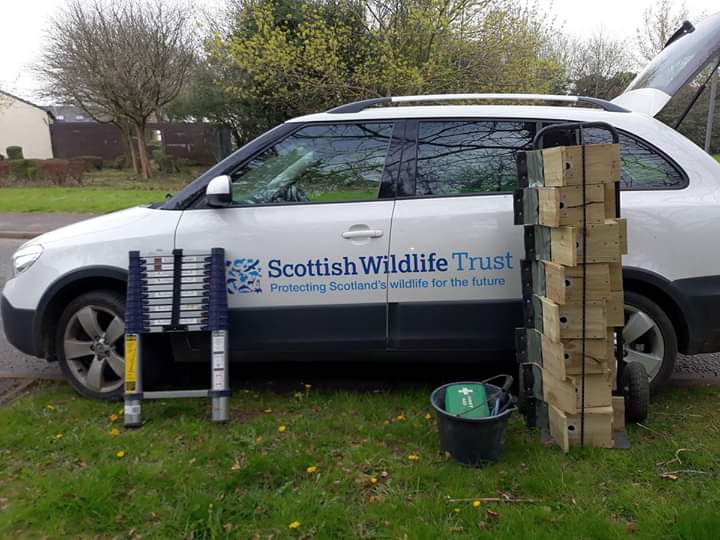 A substantial amount of litter was removed from the park and it's now looking much tidier! The local Men's Shed also made bird boxes which we subsequently erected in the woods, and a family friendly woodland walk is being offered in the summer.
It has been very rewarding seeing members of the community coming together, getting involved in various ways in order to tidy up and look after our wildlife-rich local greenspaces.
Adder surveys enable regular monitoring of populations within the reserves, and provide data to strengthen the case for better conservation and protection. To get the chance to set up an adder survey of my very own was incredible, especially when I was lucky enough to spot a male adder basking in the sunshine one afternoon!
This was such a stand out moment as it was the very first time I had seen this type of reptile in its natural habitat.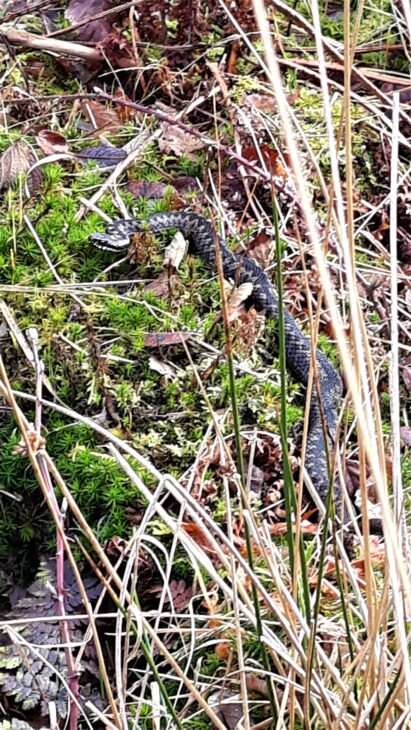 Discovering an active badger sett was another highlight for me. Seeing signs of this mammal's presence – fresh digging, prints, hairs in the spoil heap, was an exciting sight!
Another favourite moment was when I led a very successful volunteer session at Stevenston Beach Local Nature Reserve, when F.R.I.E.N.D.S of Stevenston (a local conservation group), requested our help. Tasks included creating a sandy patch on a section of Beach Park (all part of an experiment in attracting pollinators), dune heath scrub removal and a quick litter pick.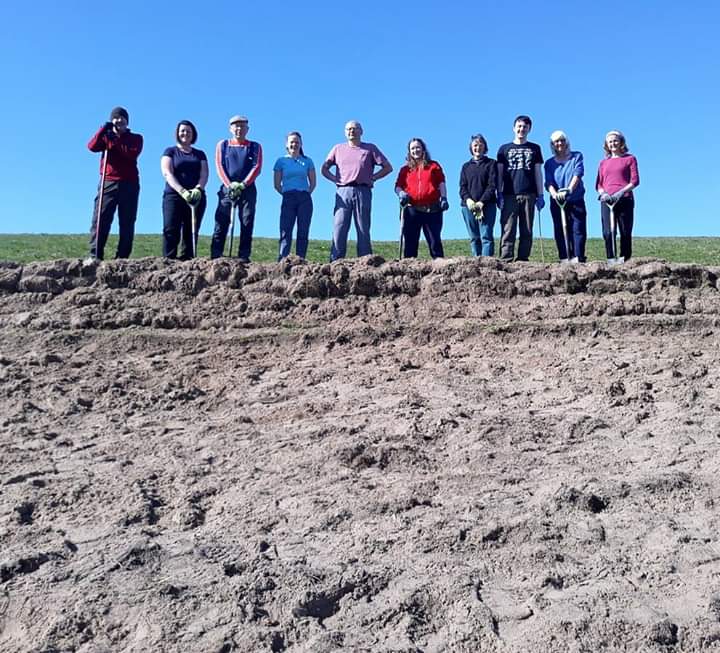 The sun shone on us for the duration of the day, but the most enjoyable part was working with such a great team of volunteers. I'm pleased to say that the task went smoothly and it was great to see the complete task through – from initial planning and organising, to then leading the session. I'll admit I enjoyed stepping out of my comfort zone a bit. It has helped me to improve my teamwork, leadership, problem solving and people skills massively.
Carrying out practical conservation tasks on the reserves has been very enjoyable too. From tree tube maintenance, hedge-laying, maintaining footpaths, planting trees, repairing fences, removing invasive species, and carrying out workshop tasks too – using, cleaning and maintaining hand tools, there has always been new skills to learn!
I have assisted with so many volunteer days, but if I had to pick out one day that I particularly enjoyed, it would be the day when we launched the upcycled floating platform at Oldhall Ponds Wildlife Reserve in Irvine.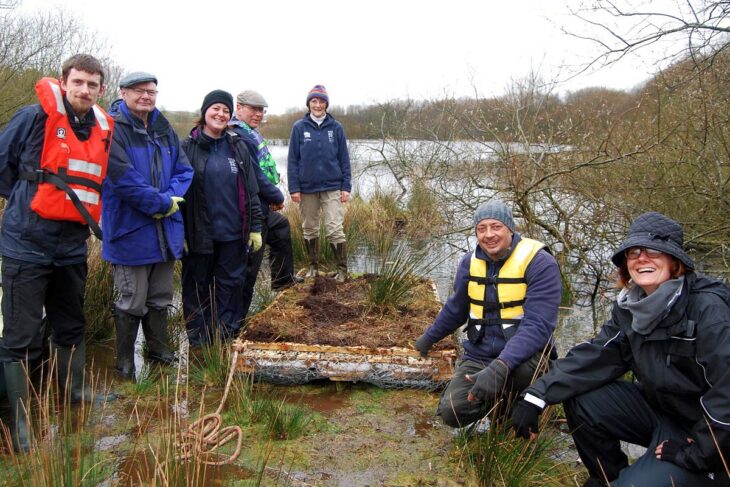 This island was constructed by our Wednesday Weekday Volunteer Group using 100 plastic bottles, a discarded pallet and an old fishing net, and is designed to provide a safe roost for ducks and other water birds at the reserve. I was involved in this project from the very start, so it was great to see the platform finally being launched out onto the water. The icing on the cake was seeing a swan resting on it shortly afterwards.
I am ever so thankful to Scottish Wildlife Trust for giving me the opportunity to gain such hands-on experience working within wildlife conservation. Many thanks to the Scottish Wildlife Trust staff in Ayrshire, particularly Harry and his amazing group of volunteers. I've learned so much over the past few months and I'm now even more inspired to pursue a career within this area..
My internship may have come to end, however, I happily continue to volunteer regularly with Scottish Wildlife Trust. I love volunteering as it's not what you give, but what you get in return – in spades!
Christine McGovern
Christine completed her internship in Ayrshire thanks to the National Lottery Heritage Fund. Learn more about the latest volunteering and internship opportunities with the Scottish Wildlife Trust
Help protect Scotland's wildlife
Our work to save Scotland's wildlife is made possible thanks to the generosity of our members and supporters.
Join today from just £3 a month to help protect the species you love.
---
Preface
Well, time sure does fly when you're having fun! Since November last year, I have been working alongside Harry Richards, the Trust's Community Engagement Officer in Ayrshire, as part of …