Bringing beavers back – a brief history
It's hard to explain the sense of anticipation, the mix of excitement and fear of disappointment, as you scan the water, looking and listening for the signs that beavers are active. Through the stillness of the hours of dawn or dusk your senses feel heightened and then, there it is. The tell-tale ripple in the water, the unmistakable sound of plants being munched at the water's edge, or the noise of an alarm tail slap on the water. Beavers are about.
"The return of beavers will do more to create the right conditions for our wetland habitats, wildlife and ecosystems to thrive than most other management interventions we might take."

Susan Davies 
What makes this extra special, is the knowledge that you have played a part, albeit a tiny one, in bringing back a mammal that was lost from our landscape 400 years ago when it was hunted to extinction by our ancestors. The first ever mammal reintroduction in the United Kingdom – a project that took 23 years to achieve its goal.
If I'm honest I have to admit to not being entirely convinced at the outset that it was right to allocate significant people and financial resources to bringing beavers back; especially when much of our remaining wildlife and habitats are still under so much pressure from climate change, intensive land-use practices, urban sprawl and industrial activities. My view changed and I am now unequivocal about it being the right thing to do.
Beavers are a keystone species, which means that they have an extraordinary ability to modify their immediate habitats and landscapes.They are known as "natural engineers" for good reason.
The return of beavers will do more to create the right conditions for our wetland habitats, wildlife and ecosystems to thrive than most other management interventions we might take. It is not only the morally responsible thing to do, it is a cost-effective approach to restoring our impoverished environment.
A brief history of beavers in Scotland
Let's look back for a moment. Beaver populations were once widespread across the UK and the rest of Europe but were hunted to near extinction in the 16th century (and to extinction in the UK).
Three discrete western European populations survived – in southern Norway, on the Elbe in Germany, and the Rhone in France. Gradually there were signs that beavers were starting to recover across mainland Europe from these relict populations.
This recovery was accelerated by the underpinning legal basis created through the EU Habitats Directive, which required EU Members States to consider the desirability of reintroducing species where they had become extinct.
By the 1990s more than 200 separate beaver translocation projects across 25 European countries had taken place, but the UK was at the bottom of the league table with no actions being taken.
Step forward Scottish Natural Heritage (SNH), who were prepared to take on the challenge of building the case for a reintroduction of beavers to Scotland.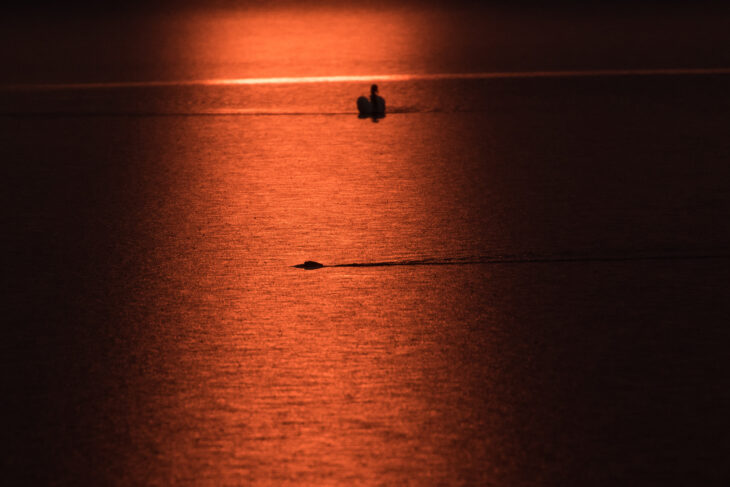 Over a 10-year period between 1995 and 2005, SNH undertook reviews and commissioned studies to assess the historical evidence of beavers in Scotland. They identified the most appropriate sources of beavers, mapped potential beaver habitats, modelled beaver movements, and gathered knowledge on their impacts – both negative and positive.
After integrating and assessing this information SNH decided there was a strong case to bring beavers back to Scotland and submitted, in 2005, the first licence application was made for a trial reintroduction of beavers in Knapdale, Mid-Argyll.
The application was, however, turned down by then Deputy Environment & Rural Development Minister Rhona Brankin MSP. Her grounds were that the impacts on the important, nationally and internationally protected woodland habitats in Knapdale, and the ultimate lethal control option to remove beavers should the trial fail, were unacceptable.
At this point the Scottish Wildlife Trust (the Trust) became much more active behind the scenes with Ministers and worked hard to advocate the case for a trial reintroduction of beavers.
Thankfully, the Scottish National Party and the Green Party appeared to share the vision that it was right to do something bold for biodiversity in Scotland. In 2005 a new, formal partnership was formed between the Trust and the Royal Zoological Society for Scotland (RZSS) giving considerable impetus to the efforts to build the case for a trial reintroduction.
The Scottish Beaver Trial
In 2008, a new licence application was submitted for the release of Norwegian beavers in Scotland. This time it was quickly approved by Scottish Ministers and the Scottish Beaver Trial, at Knapdale, was born. The first wild beavers in Scotland were released in 2009 by Roseanna Cunningham MSP -the Scottish Government's Environment Minister and Allan Bantick, the founding chair of the Scottish Beaver Trial.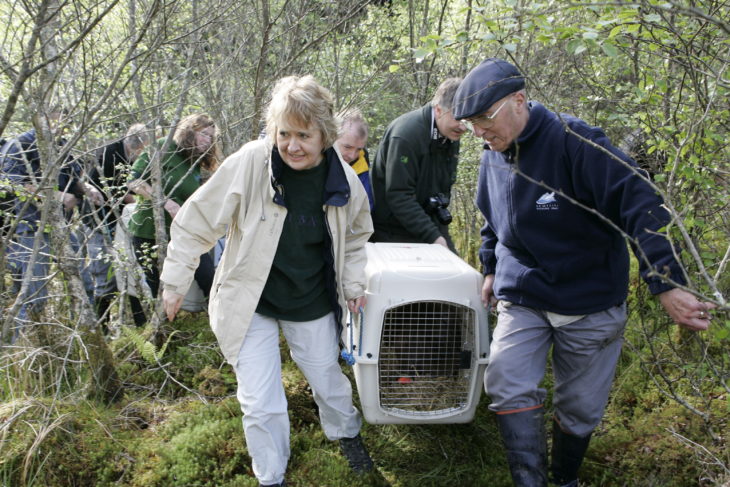 Undertaking a trial reintroduction takes a lot of planning, consultation and research. The Trial followed best international practice – IUCN Guidelines for Reintroductions and Conservation Translocations and stands as an exemplar of the application of the Scottish Code on Conservation Translocations.
Together, these set the standard for conservation translocations and guide best practice. Sixteen beavers from Norway were released at Knapdale during the trial in five family groupings. The original Knapdale trial objectives included studying beaver ecology and biology, assessing their environmental, social and economic impacts and exploring educational opportunities.
The establishment of the Scottish Beaver Trial partnership allowed SNH to step back and assume the role of an independent monitor and adviser to Scottish Ministers on the project. Drawing on the evidence gathered during the Trial, and from other European studies, SNH set out its assessment on beaver interactions with the human and natural environment, legal issues, and management considerations to Scottish Ministers in the Beavers in Scotland: A report to the Scottish Government, published in 2015.
This report presented four future scenarios – removal, restricted range, widespread 'natural' re-colonisation, and an accelerated re-colonisation where additional sites would be identified for release.
The publication of the Beavers in Scotland report firmly put the next steps back into the hands of Scottish Ministers to take a decision. The picture had, however, become more complicated with the emergence of an un-managed population of beavers in Tayside, which had come either through accidental escapes or illegal releases.
Between 2012 and 2017, surveys commissioned by SNH showed that beaver territories increased over time from 40 to 114 and the total population increased in size from around 150 to around 433 beavers.
The report highlighted that beavers were naturally dispersing into other catchments. Worryingly, the report also highlighted areas where beavers were once present in Tayside but had disappeared. Those conducting the survey indicated the evidence pointed to those gaps being mainly due to culls carried out by land managers.
The presence of the Tayside beavers, their rise in numbers and lack of management triggered a lot of debate with many calls for their removal. Some commentators over-dramatised the issues to try to polarise views. For example, the National Farmers Union for Scotland (NFUS) President Andrew McCornick claimed during their annual conference in February 2018 that "to the people affected this is far bigger than Brexit".
Meanwhile, the Trust worked hard to develop with NFUS, Scottish Land and Estates (SLE) and RZSS a joint agreement on the principles of how beavers should be managed in our landscapes. That agreement took the stance that beavers causing significant negative impacts to prime agricultural land or national infrastructure would be lethally controlled, but only as a last resort measure.
A conservation charity openly signing up to the need for lethal control may have been unpalatable for some, but it was also accepted by others as a pragmatic standpoint that acknowledges that wildlife needs to be managed.
This agreement helped unlock the decision, at the end of 2016, from Roseanna Cunningham MSP – now the Cabinet Secretary for the Environment, Climate Change and Land Reform – that the Scottish Government was minded that beavers should remain in Scotland and would be allowed to spread naturally.
This decision also gave the green-light for the Scottish Beavers partnership to begin a three-year project to boost, under licence from SNH, the original Scottish Beaver Trial population in Knapdale Forest which numbered eight individuals in 2017. This project continues to progress well – you can keep up to date here.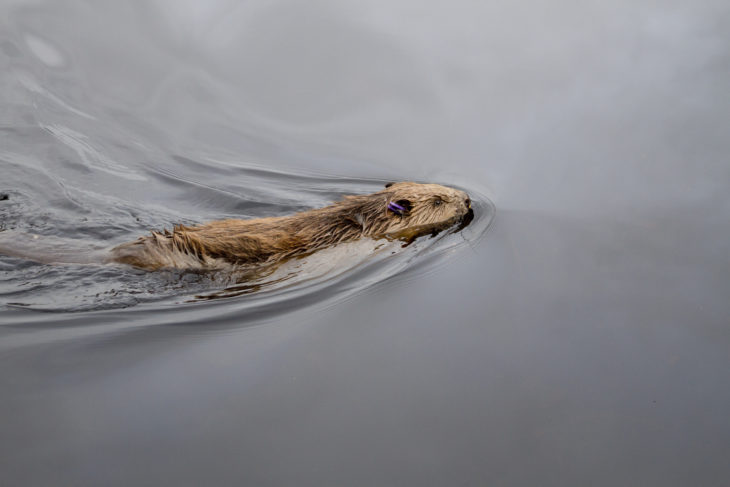 The Cabinet Secretary's announcement triggered the formal steps Scottish Government had to progress – a Habitat Regulations Assessment and a Strategic Environmental Assessment – before the necessary Statutory Instrument to afford beavers legal protection could be made. The process seemed, however, to take an inordinate length of time, and for a further two years beavers were being killed without any checks and balances in place.
Towards the end of 2018, the Trust decided to increase pressure on the political process by sending an open letter to the First Minister Nicola Sturgeon calling for a firm commitment to grant beavers protected species status in Scotland.
Interest in what was happening, or not happening, in Scotland was also growing both south of the border and internationally. The charity Client Earth, which employs lawyers with expertise in protecting nature and the environment, sent a letter to the First Minister reminding the Scottish Government of their legal responsibilities for beaver under the EU Habitats Directive.
A milestone moment for conservation
Finally, in February 2019, the Scottish Government confirmed the necessary legal steps would be taken to secure legal protection for beavers in Scotland. That protection came into effect on 1 May 2019. It means that beavers can only be killed when damage is proven and there is no other management alternative available.
The Scottish Wildlife Trust and many others warmly welcomed the Cabinet Secretary's statement that accompanied this news, which states: "There are few species that have such a significant and, largely positive, influence on the health and function of our ecosystems. The importance of beavers to Scotland's biodiversity is huge".
Well done to all involved. This is indeed a significant moment in Scotland's history, and one that I am proud to have played a tiny part in.
Susan Davies
Former Director of Conservation (2016-18), Scottish Wildlife Trust
Help protect Scotland's wildlife
Our work to save Scotland's wildlife is made possible thanks to the generosity of our members and supporters.
Join today from just £3 a month to help protect the species you love.
---
Preface
It's hard to explain the sense of anticipation, the mix of excitement and fear of disappointment, as you scan the water, looking and listening for the signs that beavers are …