Scotland's precious wetlands are under threat
We recently celebrated World Wetlands Day, when we're encouraged to take stock of not just beautiful landscapes, but of unique places of biodiversity that home rare and diverse species, as well as provide us with a host of essential systems we simply can't live without. Wetlands cover a vast array of ecosystem types, from the otherworldly Arctic tundra to the sprawling Okavango Delta; and from peatlands to fens and marsh lands.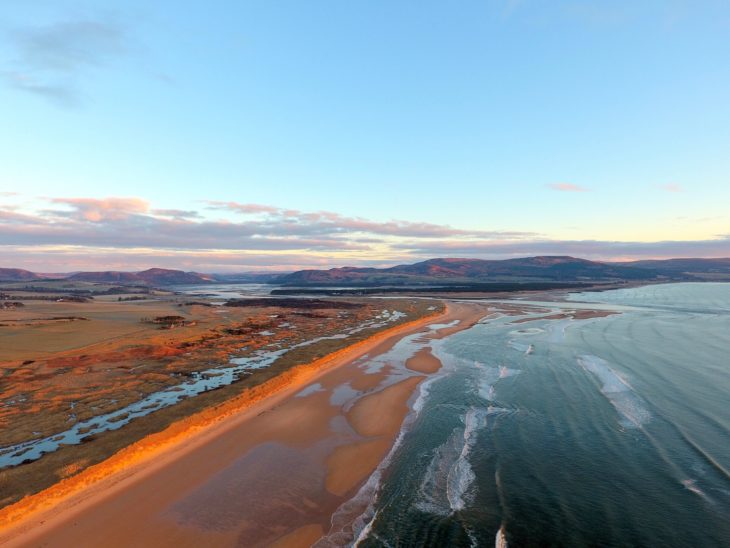 They contribute enormously to storing vast quantities of carbon, to filtering our drinking water and mitigating flood risks, to hosting a staggering 40% of the world's biodiversity. Forested watersheds and wetlands supply almost 75% of the world's fresh water. In the UK alone, wetlands comprise just 3% of land cover, but 10% of biodiversity, including some of the rarest species.
It's easy to see why wetlands enjoy their own global conservation framework, the Ramsar convention, and special mention in the UN Sustainable Development Goals (SDGs) – so much of what we take for granted worldwide relies on them. What's harder to comprehend is why we would risk these protections in Scotland for such essential ecosystems.
What's the risk?
The Scottish Government has recently confirmed the level of protection it gives to the nation's 51 Ramsar sites. On the surface, the clarification doesn't look like much – but it effectively sets the level of protection so that Scotland's sites are less protected than the rest of the UK's – a situation that we have long asked clarity over since reports indicated Ramsar protections were stricter south of the border. The recent move seems to contradict assurances given in parliament just last year on this issue by Cabinet Secretary Roseanna Cunningham MSP:
"I can clarify and confirm that it continues to be Scottish Government policy to apply the same level of protection to Ramsar sites as that which is afforded to designated Natura sites. That provides Ramsar sites in Scotland with the same level of protection as Ramsar sites throughout the rest of the UK." Wetlands (Protection of Wildlife) parliamentary debate, 18 April 2018.
Ramsar sites, in the Scottish Government's new note, have only the protection granted to underlying designations: either Sites of Special Scientific Interest (SSSI), or Natura 2000 sites. But SSSIs are not sufficiently protected – Donald Trump's Aberdeenshire golf course infamously proved so.
Wetlands are recognised as internationally important areas of action: they form part of the indicators used in the Sustainable Development Goals (Goals 6 and 15). The Scottish Government has pledged to lead by example as one of the first governments to sign up to the SDGs, committing to these indicators, and just recently reinforcing this pledge at the United Nations Climate Conference (COP24).
So, it's especially worrying to see it confirmed that this move, without consultation or precedent, was taken with the proposed Coul Links golf course in mind, which risks disturbing the Dornoch Firth and Loch Fleet Ramsar site. Reported in by Rob Edwards in The Ferret, a Government spokesperson has said: "While not specifically related to the case, the Ramsar guidance on our policy was published in response to questions arising at the reporters' preliminary hearing for the current Coul Links golf course case".
The Scottish Ministers called in this controversial development 'of national importance' last year. Environmental and wildlife organisations were happy to see the government taking the  development seriously. Finally, we thought, the government is going beyond the rhetoric.
But the Scottish Government undermines its avowed environmental leadership by seeming to change the level of protection off-the-cuff. As Jonny Hughes, CEO of the Scottish Wildlife Trust, points out: "This whole business should be deeply concerning for anyone who cares about transparent, inclusive and fair policy making and due process in planning in Scotland."
Scotland sets the wrong example if it allows the proposed golf course to be developed at Coul Links. The Ramsar site here, Dornoch Firth and Loch Fleet, sits on the Ramsar Convention's List of Wetlands of International Importance where its status is awaiting update pending the 'planned golf course development'. We expect others, around the world, to protect their vital spaces for biodiversity: the least we can do is show these principles in practice.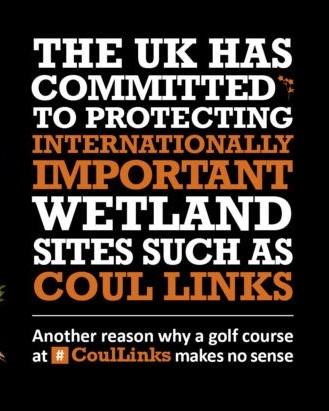 UK wetlands are all important, but Dornoch Firth and Loch Fleet is an exemplary site for undisturbed rare habitat types, including four priority habitats under the EU Habitats Directive, and rare species. Enjoying three different protected statuses (Ramsar, Special Protected Area, and Site of Special Scientific Interest), the area should be among the best protected in the UK. Instead, it risks being turned over to a declining industry; irreparably damaged despite the oversaturated golf market – the Golf Participation Report for Europe 2017 showed nineteen courses in Scotland closed in 2015 alone. 2017 saw golf membership decline by nearly 5,000.
If an internationally-important site for wetlands is considered fair game for developers, we risk seeing a domino-effect across our Ramsar sites and other protected areas. It's hard not to draw parallels with this development and the false promises made of Donald Trump's Aberdeenshire development that the Trust strongly objected to.
What can we do?
We've been here before, and we've won, too. The Coul Links development has been called in by Scottish Ministers – what follows is a public inquiry opening on Tuesday 26 February. Working with our partners in the Conservation Coalition, the Trust has been fighting this from the beginning, and we'll continue to do so. Our Chief Executive Jonny Hughes is giving oral evidence at the inquiry, and we've worked closely with our partners to ensure that Coul Links' unique ecological importance is recognised through evidence.
Following the announcement of plans to build an 18-hole golf course over in an internatioally important, triple-protected area near Dornoch, environmental and wildlife organisations came together to oppose the development. The Coalition comprises: The Scottish Wildlife Trust, RSPB Scotland, National Trust for Scotland, Plantlife Scotland, Marine Conservation Scotland, Buglife Scotland, and Butterfly Conservation Scotland.
Ultimately, the Scottish Government will have the final say over this development – to set a precedent for protection by showing it has more than just words for the environment or declaring open season for Scotland's Ramsar sites and other protected areas.
Beyond Coul Links, we need assurances from Scottish Ministers that the Ramsar sites will continue to enjoy the same protections as the rest of the UK. Numerous environmental and wildlife organisations are urging government to clarify its stance.
But people's voices are the most important
Thousands of you have already made your voice heard.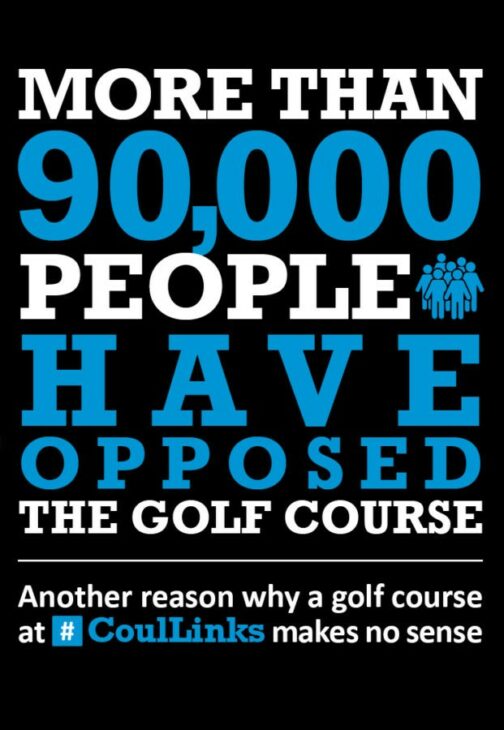 The Scottish Government will have the final say on the proposed golf course development, as well as responsibility for how Scotland's 51 Ramsar sites are protected. There's still time to write to the responsible Scottish minister to let them know your views:
Kevin Stewart, Minister for Local Government, Housing and Planning
Scottish Government
St. Andrew's House
Regent Road
Edinburgh
EH1 3DG
Or email scottish.ministers@gov.scot, (address FAO Kevin Stewart).
Wetlands aren't just nice to have – they're essential to life, including ours. Scotland's remaining wetlands must be conserved, especially those that remain relatively undisturbed. Scotland is committed to leading by example – exploiting Ramsar sites cannot be the example we set. At this critical time, let them know that.
Please share, shout, tweet, write and email, and keep an eye out for news on our Coul Links campaign in the following days and weeks.
Scott Leatham, Policy Specialist & Coul Links Campaigner
Help protect Scotland's wildlife
Our work to save Scotland's wildlife is made possible thanks to the generosity of our members and supporters.
Join today from just £3 a month to help protect the species you love.
---
Preface
We recently celebrated World Wetlands Day, when we're encouraged to take stock of not just beautiful landscapes, but of unique places of biodiversity that home rare and diverse species, as …