Thinking back to my time on Handa, there are a lot of things that come to mind. The first thing I often think of is the drive up towards the island. I left Edinburgh at five in the morning, well equipped with a playlist full of road trip favourites for the long drive ahead. I remember the feeling of excitement that joined me on my way as I belted out, in cat-like fashion, karaoke classics the length of the A9. I was going on an adventure!! And more importantly, I was doing it on my own – no back up or safety net included!!
See, the thing about doing things on your own, is that sure, it can be scary at first and hard work at times, but really you have an opportunity to embrace an experience that is entirely catered to you, to manufacture and mould it as you like, and to derive benefit from it that is unique and meaningful and thus so much more valuable. Now sure, there's a huge amount of value in shared experiences too! Truth be told, I had planned to volunteer on the island with a friend; but alas, when work commitments didn't quite work out, here's what I took away from my solo experience with the Scottish Wildlife Trust on the island of Handa…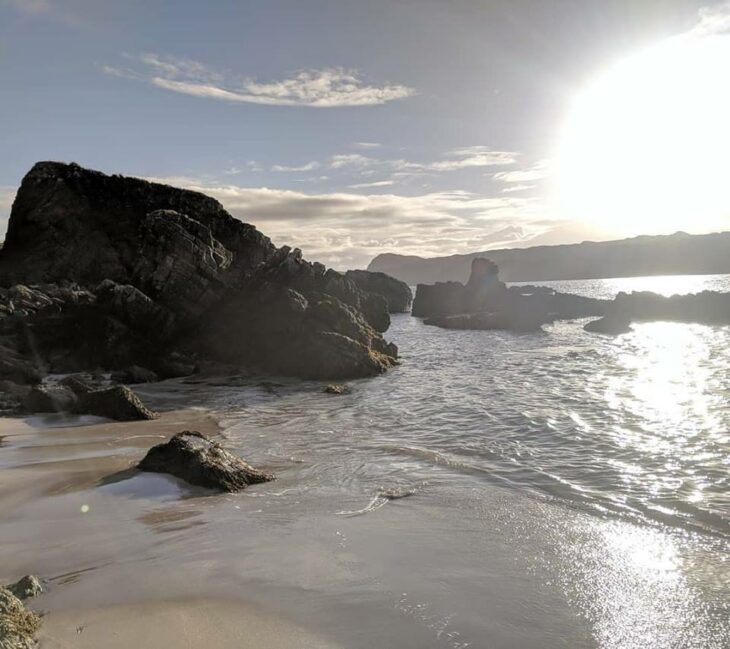 The people
No, I didn't take any people from the island, at least not in the physical sense – that would be weird right?! I did however, take away many fond memories of the people that I had met whilst I was there, memories of who they were, where they had been and what they had taught me. Take Rachael and Dickie for example; they had just returned from the inhospitable island of South Georgia in the Atlantic. On Handa, they had regaled us with stories of their time on the island, fascinating us with accounts of its climate, their work and the island's extraordinary wildlife – its seals and penguins and reindeer!
Similarly, Andy joined us during our time, to conduct a survey of ocean plastic on the island. Throughout his time in the bothy, and whilst we helped him on the beach, he would teach us of the impacts of plastic pollution, and the means by which plastic is transported through ocean currents to inevitably end up on our shores. I was very grateful for the things that Andy taught us; like how to determine the use of certain plastics and how to identify where in the world they had come from. In the evenings, after our time on the beach and at the cliffs, Andy would often host after-dinner pop quizzes or encourage our curiosity with show and tell.
Finally, David and David, Fran and Craig, shared their immense knowledge of…well pretty much everything!! As walking encyclopaedias, their passion for wildlife was truly infectious!! So much so that each of us, if not already, became avid birdwatchers with one eye ever on the skies and the other firmly fixed on the sea – to the point whereby walking in a straight line on the island proved nigh-on impossible!! And to top it off, there was rarely a question that couldn't be answered by these four, and for that reason, I also took away with me…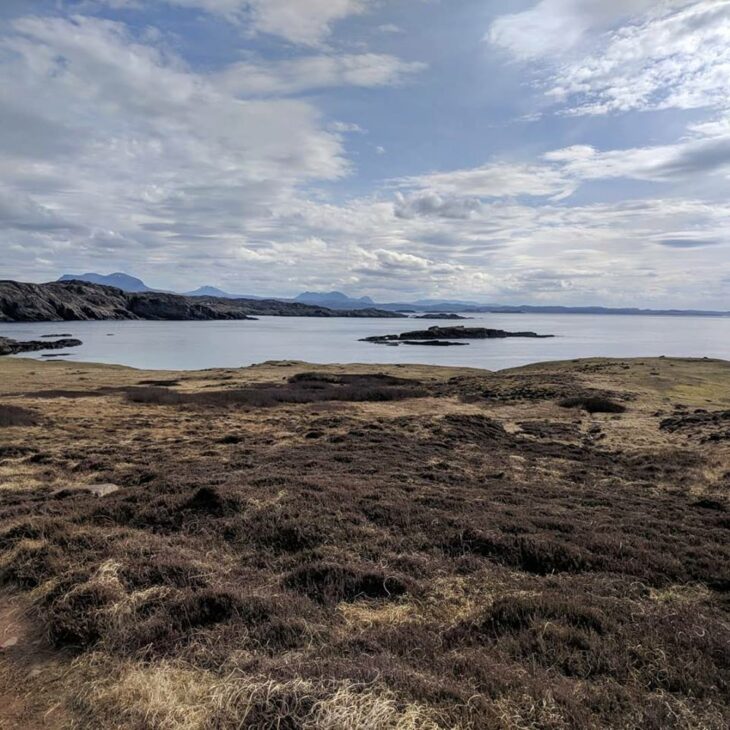 An understanding of Scottish wildlife
Of course, this is what I had hoped for when I applied to volunteer on Handa, and boy, did it not disappoint!! I was lucky enough to see all sorts of flora and fauna, including many of the island's seabirds – Arctic terns, guillemots, great skuas and razorbills!! Unfortunately, I think I might be the only person to ever visit Handa and not see a puffin, but then there's always next year!!
As well as having the opportunity to see the island's variety of plants and animals, I also learned about many more. For instance, when we spotted a seal one day, with the help of the rangers and other volunteers I learned how to identify the species of seal that it was. Moreover, I came away from the island with an understanding of the variety of seals that inhabit our seas and oceans too. Indeed, the same can be said of skates and rays. With the help of Andy and his enthusiastic teachings, it became somewhat of a competition to find and identify as many varieties of mermaid purses as possible, and then to return to the bothy at the end of each day to present them, measure them and pop them into water to see how much they'd grow!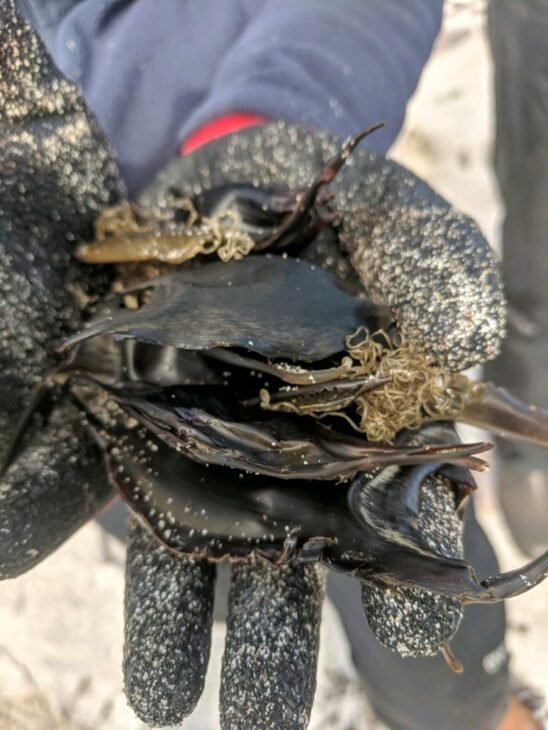 A passion prompted by heightened awareness
I gained a lot from my time on Handa. I met amazing people who I shared a truly insightful and enjoyable experience with; one that I will cherish forever. With that being said, even enjoyable experiences such as this can be hard at times. Indeed, it was hard in the physical sense, in that it takes a lot of time, energy and a great deal of agility to trail and scale the island, particularly when carrying large bags and barrels of plastic from the cliffs and beaches. It's also hard to brace the ice-cold wind and water whilst picking up millions of pieces of micro-plastic, notwithstanding the many layers of waterproofs. But more difficult than that, is knowing that despite that, you've only made the most infinitesimal dent in what is, not only for Handa, but for Scotland and beyond, a much larger environmental issue; one which will be evident so clearly come next year, when the small collection of cliffs and beaches on that beautiful island will again be littered with plastic. And yet, for that difficulty I am very grateful; grateful to have been exposed to an issue in such a way as to truly comprehend its magnitude, grateful to have enjoyed an experience which has filled me with such love and passion for the environment that I have become embroidered into the tapestry of its conservation, and grateful even more-so for the knowledge that organisations like the Scottish Wildlife Trust continue to work to protect the environment and wildlife every day, both now and in the future – for that, I am very grateful.
Help protect Scotland's wildlife
Our work to save Scotland's wildlife is made possible thanks to the generosity of our members and supporters.
Join today from just £3 a month to help protect the species you love.
---
Preface
Thinking back to my time on Handa, there are a lot of things that come to mind. The first thing I often think of is the drive up towards the …