A Safe Space for Wildlife
Sadly, over the past two weeks during my reserve patrols I have come across abandoned bonfire pits. These fires have been made using wood from the reserve, and were both constructed within a woodland adjacent to the area where we hold our Badger Watches.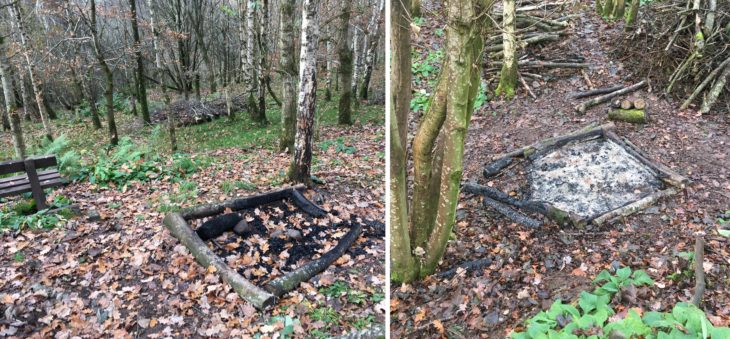 Clearly starting a bonfire within a woodland creates a risk of a larger wildfire and widespread damage. It can also cause extreme stress and disturbance to the wildlife living on the reserve. For these reasons we do not condone members of the public lighting uncontrolled fires at Falls of Clyde Wildlife Reserve. I love spending time outdoors, camping and sitting by the fireside – however I always strive to do these things in a responsible manner and with the utmost respect for wildlife and the environment.
Within Scotland our land access rights allow us freedom to roam the vast majority of our countryside, however this right is given with the understanding you use land in a responsible manner. These responsibilities extend to the use of fires, and the Scottish Outdoor Access Code provides advice on lighting fires outdoors. Scottish Natural Heritage has also created a guide on How to Camp Responsibly, to help you get the most from nature while enjoying the outdoors in a safe and responsible way.
A great motto to go by when spending time outdoors is 'leave no trace'. This means, remember to pick up your litter and keep the area as natural as possible. Campfires can be made in a safe and responsible manner, but it's best to seek the landowners permission first.
To prevent any damage or disturbance to wildlife keep the fire as small as possible, avoid lining the edge of the pit with wood (this might seem like common sense but you'd be surprised!) and always ensure the fire is extinguished before leaving it unsupervised. Finally, when you pack up camp remember to dismantle the fire and clear the area so its looks exactly as it did before you arrived.
We love to see people spending time at Falls of Clyde, and we welcome people using the reserve for recreation. However, when visiting our reserve, or any wild place, remember that these are important havens for wildlife and that insensitive actions can cause damage and disturbance.
Jenny Mann, Falls of Clyde Assistant Ranger
Help support our vital work and join us today!
Help protect Scotland's wildlife
Our work to save Scotland's wildlife is made possible thanks to the generosity of our members and supporters.
Join today from just £3 a month to help protect the species you love.
---
Preface
Sadly, over the past two weeks during my reserve patrols I have come across abandoned bonfire pits. These fires have been made using wood from the reserve, and were both …