Are you an Otter Spotter?
Otters are often seen at the Falls of Clyde particularly from autumn to spring. This week at dipper watch we saw something that instantly made me think otter, as it swam along the river, playfully scampered up the water's edge and disappeared into the thick vegetation of the river bank.
Having wanted to see an otter in the wild for ages it was an amazing sight, however, we also have mink on the site. Mink are slightly smaller, darker and have a fluffier tail. Which makes me question whether I actually saw an otter at all.
Otters, Lutra lutra are part of the Mustelid family. This is the same as your pet ferret, stoats, weasels and mink. Otters have had a tough history with huge decline leaving them predominantly restricted to Scotland in the 1970's. This was mainly due to habitat degradation and use of organochlorine pesticides such as PBC's. These can cause organ failure in otters as well as potentially affecting their reproductive systems. They are now banned in the UK although traces of chemical may still persist in the environment. Since then though the population has been growing and spreading back along many more rivers.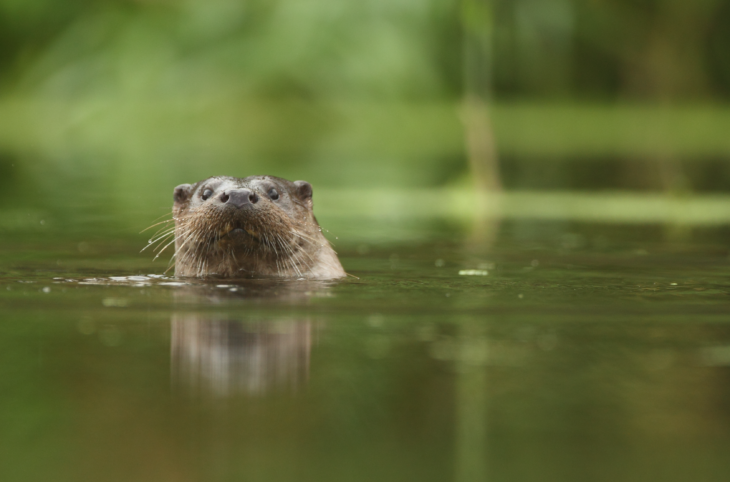 Spotting signs of an otter are often far easier than seeing an otter. Some key ones to look out for are otter spraints. This is their poops which are 2-7cm long and often in very prominent places such as on top of rocks. These have been spotted by some enthusiastic visitors at dipper watch through binoculars. Apparently, they smell like jasmine tea. I think I'll stick to smelling the tea though. Another easily identifiable sign is their footprints. If you have a muddy or silty river bed like we do at the moment due to all the rain you may be able to see five oval toes and a splodge shaped palm pad. If you're lucky enough to spot one you can also have a look to see if you can see a little line where it has been dragging its tail.
I mentioned that we also have mink on site. The mink we have here is the American mink, Neovison vison. This is an invasive species that was released from fur farms from the 1950's and are now spread across most of Britain. They are classed as a threat to our native water vole population, which is hugely declining, as well as seabird colonies. Here at the reserve, the mink numbers seem to be kept in control by the otters. However in other areas of Scotland mink have been removed completely with projects like the Scottish Mink Initiative which ran from 2011. By 2013 they declared 15 of the 24 river catchments they were clearing breeding mink free.
I'm still hoping what I saw was an otter and not a mink but I may have to take a better look next time just to be sure.
Cait McCauley, Falls of Clyde Assistant Ranger Intern
Help support our vital work and join us today!
Help protect Scotland's wildlife
Our work to save Scotland's wildlife is made possible thanks to the generosity of our members and supporters.
Join today from just £3 a month to help protect the species you love.
---
Preface
Otters are often seen at the Falls of Clyde particularly from autumn to spring. This week at dipper watch we saw something that instantly made me think otter, as it …