It has been a rather interesting week for us here at the Falls of Clyde. On Sunday afternoon Darran, our Assistant Ranger, heard fireworks on the reserve. That would be a concern for us at any time of year, not only for the safety of wildlife but also for visitors to the reserve. After further investigation, Darran found where the fireworks has been set off, it wasn't too hard to find as all he had to do was follow the trail of smoke. Unfortunately some people had decided to set off some fireworks at the main Corra Linn viewpoint and by doing that had inadvertently started a fire which was quickly becoming out of control. Due to a diligent visitor (thank you whoever you are), the fire brigade were already on their way and they arrived very quickly to bring the fire under control.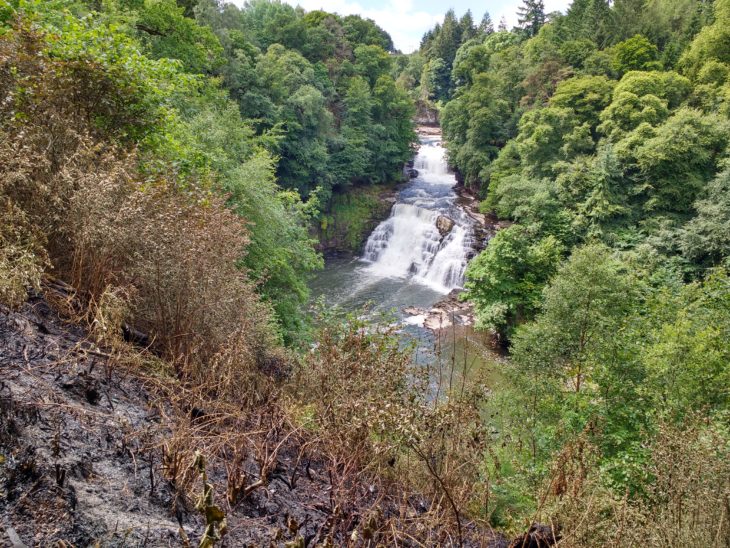 We have been incredibly lucky that more damage had not been caused. The most important area on the reserve in terms of wildlife is the area designated as a Site of Special Scientific Interest (SSSI). This is a national designation which represents areas that are considered to be the best of our natural heritage, they can be designated for their flora, fauna, geology or geomorphology. On the reserve this area is generally everything on the right hand side of the footpath, as you walk up the river to see the waterfalls. The SSSI at the Falls of Clyde is designated for its geomorphology (the gorge) and its upland ash mixed woodland, part of which, has been damaged by the fire.
Sadly for visitors to the Falls of Clyde, our view of Corra Linn has been marred by the remains of the fire down the banking in front of the viewpoint. It is disappointing to think that one of Scotland's finest views has been affected by the irresponsible behaviour of a few people.
Laura Preston, Falls of Clyde Ranger
Help support our vital work and join us today!
Help protect Scotland's wildlife
Our work to save Scotland's wildlife is made possible thanks to the generosity of our members and supporters.
Join today from just £3 a month to help protect the species you love.
---
Preface
It has been a rather interesting week for us here at the Falls of Clyde. On Sunday afternoon Darran, our Assistant Ranger, heard fireworks on the reserve. That would be …