What is nectar robbing and why do only some bumblebees do it?
I was out admiring my garden early one morning last week and as I watched the bumblebees on my aquilegia, I noticed some rather odd behaviour. The bumblebee was visiting the outside of each of the flowers but not going into them. My first thought was that the bumblebee was a bit sleepy and kept missing the flowers but after closer inspection I had one of those light bulb moments.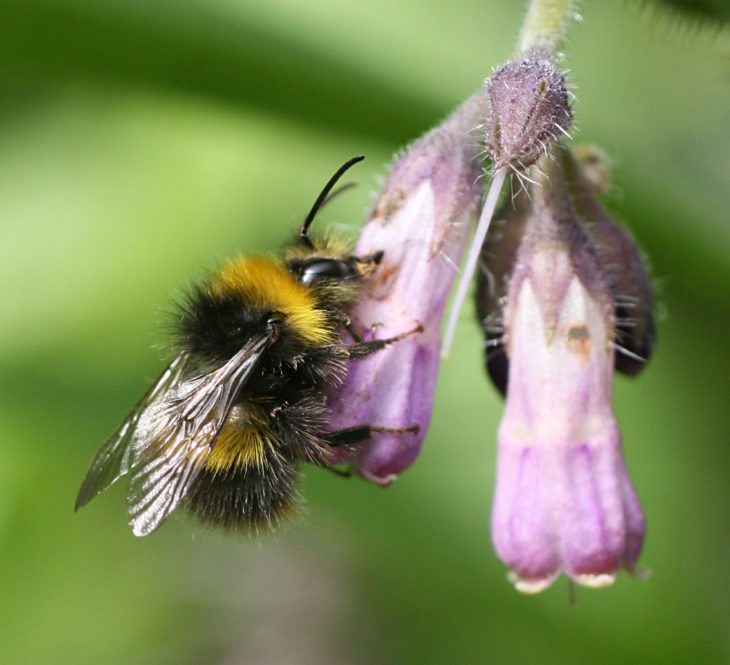 This bee was nectar robbing. It happens when a short-tongued bee (in my case it was a white-tailed bumblebee) – wants to get the nectar from a flower with a long corolla. Their tongue is too short, but they have strong mandibles so they can instead bite a hole in the base of the flower. This means they can then reach the nectaries with their short tongue. The only downside to this is that the flowers aren't pollinated in this process.
Nectar robbing is quite a common occurrence and often after the primary robber has made its exit, other bees and insects will come along to 'take their piece of the pie' so to speak. This can include other bumblebees but also hoverflies and honey bees. Interestingly, it seems that bees are more likely to rob if there is competition for nectar. If there aren't many suitable flowers with short corollas, the short-tongued bees will have to rob the flowers with long corollas, otherwise they wouldn't be able to get enough nectar.
Next time you are out, have a look to see what the bumblebees are doing, common plants that are robbed include comfrey, aquilegia, delphinium and foxglove. After inspecting the other flowers in my garden, I noticed many if not all had been robbed. That makes me think I should be planting other flowers with short corollas in order to provide an equal amount of food for all my bumblebee visitors.
Laura Preston, Falls of Clyde Ranger
Help support our vital work and join us today!
Help protect Scotland's wildlife
Our work to save Scotland's wildlife is made possible thanks to the generosity of our members and supporters.
Join today from just £3 a month to help protect the species you love.
---
Preface
I was out admiring my garden early one morning last week and as I watched the bumblebees on my aquilegia, I noticed some rather odd behaviour. The bumblebee was visiting …