What's this 30 Days Wild everyone keeps talking about?
Can you make room for nature this June? No matter how busy your life or where you are – make June the month to do something wild every day! The Scottish Wildlife Trust are part of a campaign called 30 Days Wild. Think of it as a nature challenge that can take as much or as little time as you want and can be done anywhere. The best part is that it is free and if you sign up on our website you will receive a FREE digital pack of encouragement with a wall chart to track your progress and loads of great ideas for things to do.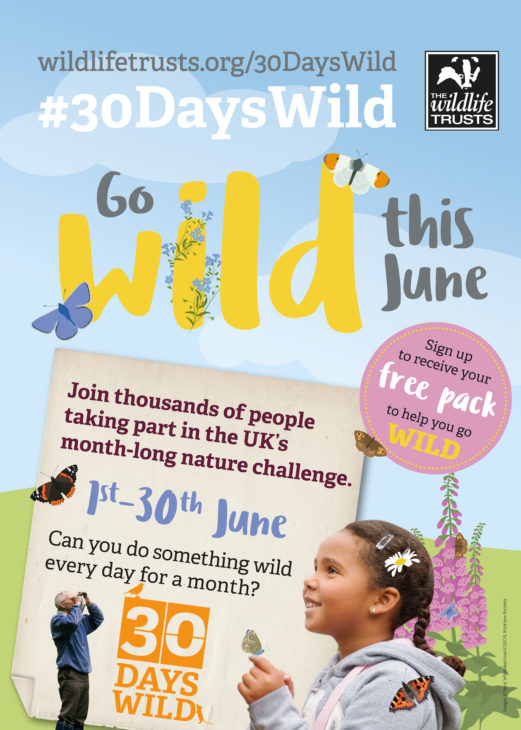 I can see the cogs whirring in your mind at this point and these cogs are saying things like – 'but that's for kids' and 'I spend time outside anyway'. I want you to brush off those doubts for a moment and just open your mind to the possibilities. For starters – it is not just for children, anyone can take part and I for one do it every year. Things that I like to do as part of the challenge that I might not usually make time for include – having breakfast outside, visiting a nature reserve I haven't been to before or just taking the time to watch the swallows as they fly over my garden. There are hundreds of different things you can do but sometimes it can be difficult to get into the right mind-set, which is where signing up to 30 Days Wild can help!
All of the ideas are summer themed, but they can be adapted to any time of the year. They're also easy to do no matter where you live – urban places are full of wild opportunities, so no excuses! Join in on social media using #30DaysWild, sharing your pictures, ideas and nature adventures. We also have lots of events and activities happening in your area, too. To sign up visit – www.scottishwildlifetrust.org.uk/things-to-do/30-days-wild.
Laura Preston, Falls of Clyde Ranger
Help support our vital work and join us today!
Help protect Scotland's wildlife
Our work to save Scotland's wildlife is made possible thanks to the generosity of our members and supporters.
Join today from just £3 a month to help protect the species you love.
---
Preface
Can you make room for nature this June? No matter how busy your life or where you are – make June the month to do something wild every day! The …