A new fungi find for the Falls of Clyde and southern Scotland!
A few weeks ago Elaine Rainey the Badgers in the Landscape Project Officer with the charity Scottish Badgers, was out on the reserve with a group of volunteers. They were checking a few of the trail cameras that are currently at some of our badger setts on the reserve. While they were out on site they happened to come across a rather uninspiring looking fungi (Gyromitra ancilis), I would personally describe it as an unassuming brown splat! It is really not the prettiest fungi I have ever seen but nonetheless it is a rather interesting find. Firstly it is a new record for the reserve, but even more exciting is the fact that it is (as far as we've been able to discern) a new record for southern Scotland.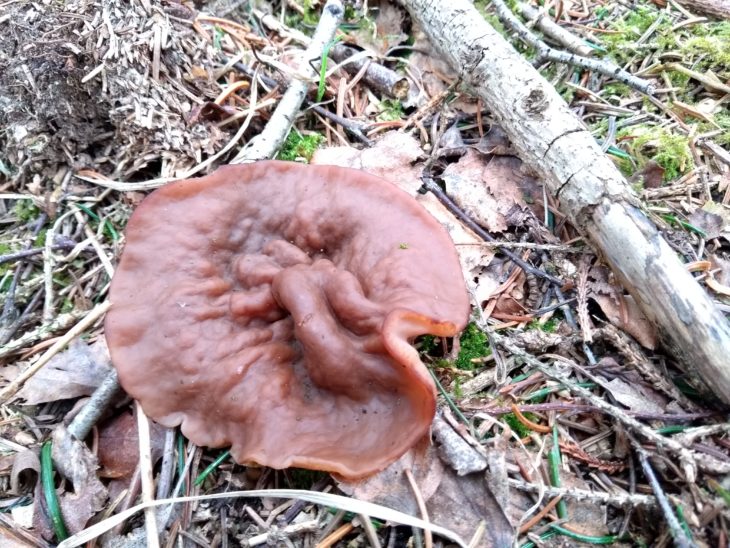 It is highly likely that this fungi is actually more widespread than the records indicate. Its fruiting body (the bit we see above ground) appears in spring which is not a prime time for fungi recording. It is associated with coniferous trees, growing on or nearby the dead wood and it can sometimes be found in the soil around large conifer stumps. As of 2011, there were only 23 records of this species found in Scotland and they were all above the central belt, primarily in the highlands.
Often when out looking at wildlife whether it be flora or fauna – it is easy to think that someone has already seen it and has already recorded its presence. Often some of the most common species are the most under-recorded. This fungi will have been growing quite happily for years and years with no-one taking any notice. It just shows how important it is to record your wildlife sightings. There is a great app called iRecord where you can record any species, they also have a website – www.brc.ac.uk/irecord.
Laura Preston, Falls of Clyde Ranger
Help support our vital work and join us today!
Help protect Scotland's wildlife
Our work to save Scotland's wildlife is made possible thanks to the generosity of our members and supporters.
Join today from just £3 a month to help protect the species you love.
---
Preface
A few weeks ago Elaine Rainey the Badgers in the Landscape Project Officer with the charity Scottish Badgers, was out on the reserve with a group of volunteers. They were …