Migrant birds are on their way! Have you seen an osprey yet?
On 16 March 2017 our male osprey at the Scottish Wildlife Trust, Loch of the Lowes Wildlife Reserve arrived back after his long migration north from Africa. The female joined him a few days later and for the fourth consecutive year they successfully raised a family of chicks. Our ospreys and many others are currently making the perilous journey back to Scotland to breed.*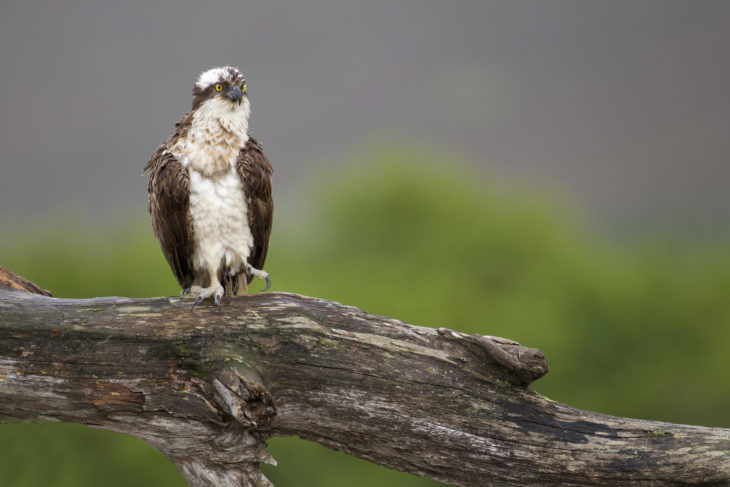 Perthshire isn't the only area to see ospreys, there are now pairs of birds successfully breeding across the country. They don't breed here at the Falls of Clyde but this is the time of year when we look to the skies, hoping to see a glimpse of these giant birds flying overhead. If we are very lucky we may also see them hunt on the river, but that is a very rare and special occasion when it happens. When ospreys migrate, they use rivers very much like how we use roads. Rivers provide them with a network to travel along; a network that also provides them with an abundant supply of fish (their primary diet).
The osprey is not the only bird to return from far off lands. Other birds to listen and look out for include chiffchaff, blackcap and willow warbler to name but a few. These woodland specialists are common here at the Falls of Clyde and we always welcome the sound of bird song, marking that spring is finally here. Have you noticed in the past couple of weeks the increase in bird song? Many of our resident birds have already cornered a patch of woodland as their own territory. I have heard song thrush, blackbird and dunnock males singing throughout the reserve in the hopes of attracting a mate.
*Since writing this post on 15 March – the female arrived back at Loch of the Lowes on 20 March, you can read more about it here.
Laura Preston, Falls of Clyde Ranger
Help support our vital work and join us today!
Help protect Scotland's wildlife
Our work to save Scotland's wildlife is made possible thanks to the generosity of our members and supporters.
Join today from just £3 a month to help protect the species you love.
---
Preface
On 16 March 2017 our male osprey at the Scottish Wildlife Trust, Loch of the Lowes Wildlife Reserve arrived back after his long migration north from Africa. The female joined …