Whenever I take the bus into work, I always enjoy my walk down The Beeches from Lanark to the Falls of Clyde office in New Lanark. The narrow lane down the hill is lined with elder and hawthorn and the birds just love all those berries! My walk down on Monday was a real treat, as I came across a flock of birds including redwing, goldcrest, blue tit and bullfinch.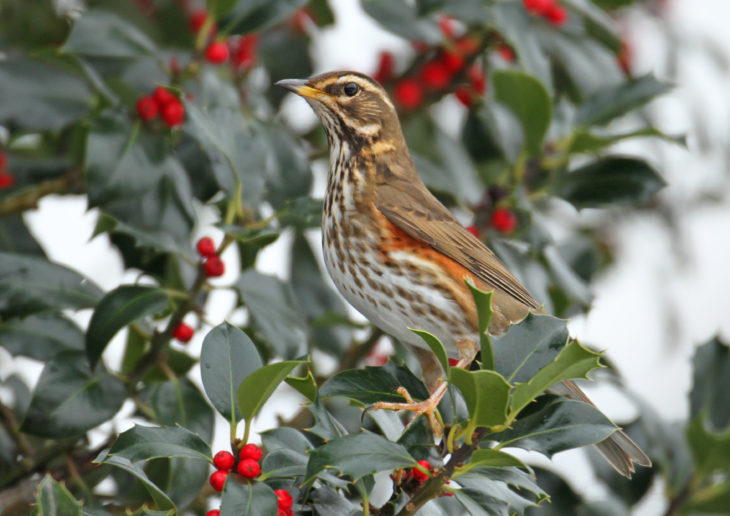 Through October and November on clear, starry nights, the careful listener may detect a thin, hissing 'seeeeip'-like sound at intervals overhead. This is a sign that redwings are in flight, calling to keep in contact with the rest of their flock. They will have set out from northern Europe where they breed and while some will settle here for the winter, many will continue further south the mainland Europe. They travel here because their breeding grounds have become too cold, meaning they must seek warmer climes to find food such as berries and invertebrates.
At the moment there are about 50-100 pairs of redwings that are currently colonising the highlands of Scotland, remaining here throughout the year. They belong in the same family as the resident song thrush and mistle thrush however as their name suggests, they have red wings or patches of red under their wing which is obviously seen in flight. Redwings also have a very obvious pale stripe above the eye and another less pronounced streak below the cheek.
Interestingly, there are actually two subtly distinct types of redwing that are known to visit the UK. There is a population which is consistently bigger and more strongly marked than average. These birds are mainly from Iceland and are 5% longer than the other Scandinavian birds. It would be easy to tell the difference if both were seen at the same time.
Laura Preston, Falls of Clyde Ranger
Help support our vital work and join us today!
Help protect Scotland's wildlife
Our work to save Scotland's wildlife is made possible thanks to the generosity of our members and supporters.
Join today from just £3 a month to help protect the species you love.
---
Preface
Whenever I take the bus into work, I always enjoy my walk down The Beeches from Lanark to the Falls of Clyde office in New Lanark. The narrow lane down …