Did you know over 200,000 sky lanterns are sold in the UK each year?
Did you know over 200,000 sky lanterns (also known as Chinese lanterns) are sold in the UK each year? Chinese lanterns consist of a paper-covered wire or bamboo frame and an open flame heat source. This lifts the lantern into the air where it can travel for miles from where it was released. After the flame has been extinguished the lantern then falls back to Earth.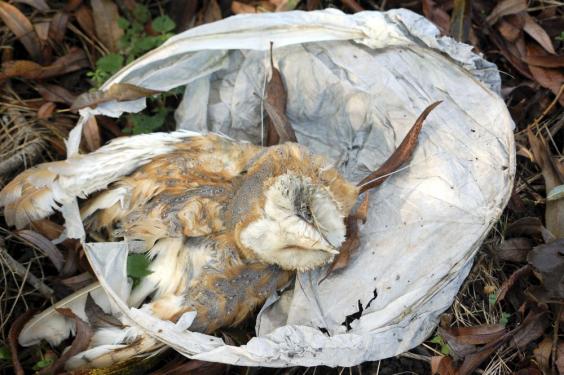 These lanterns can cause serious damage to wildlife and livestock when they eventually fall back to the ground. There have been reported incidents of animals being put to sleep after bolting through fences and becoming so badly injured, they had to be put down – all because of the fright of seeing a lantern. The metal wiring from the lantern frame can end up in feed troughs and be ingested by livestock and wild animals can become tangled in it (as you can see pictured). They also pose a fire risk which can destroy vast areas of land.
Don't be fooled into thinking 'biodegradable' lanterns are safe. These are often made of bamboo and can take decades to degrade and they still pose a fire risk. It is awful to think these animals that become entangled in fallen lantern frames could suffer from stress and injury for days before they finally struggle to get free or starve to death. It is also important to note that land mammals are not the only ones affected, marine life is also endangered by lanterns falling into the sea.
Sky lanterns are actually illegal in many countries including Austria and Germany and some councils across the country have banned the use of them in their events. There are a number of organisations calling for an outright ban of Chinese lanterns including the Marine Conservation Society, Soil Association and RSPCA.
Laura Preston, Falls of Clyde Ranger
Help support our vital work and join us today!
Help protect Scotland's wildlife
Our work to save Scotland's wildlife is made possible thanks to the generosity of our members and supporters.
Join today from just £3 a month to help protect the species you love.
---
Preface
Did you know over 200,000 sky lanterns (also known as Chinese lanterns) are sold in the UK each year? Chinese lanterns consist of a paper-covered wire or bamboo frame and …