Falls of Clyde Highlight of the Week: Snowman Bird Feeder
This week and some of last week has been all about making snowman bird feeders. Well, rather preparing the parts for snowman bird feeders.
We have an event coming up the second weekend of December. It is called Elves Workshop and one of the things we are going to be making are these really cute snowmen. The birds will love us for it.
The event takes place in The Clyde Room in New Lanark and it is for children from the age of 4. The Clyde Room will be decorated with a lot of different Christmas decorations and other fun stuff we can come up with. It is going to be really lovely.
In Danish we have a word called Hygge. It is being internationalized so you've probably heard about it. If you haven't, Hygge is a feeling you have where you are feeling good, cozy often in great company and just feeling all relaxed and nice. It is a feeling that is quite hard to explain since it is very personal and everyone has a different understanding of Hygge. For me it is either watching TV with my family with a lot of candles around the room and some candy or other snacks on the table. Or it is when I'm sitting by the fire watching the flames maybe roasting a marshmallow or two and singing some bonfire songs (I don't know if you do that here, but it is really Hygge). Anyway… what I'm trying to say is that this event is all about Hygge – that's my opinion anyway.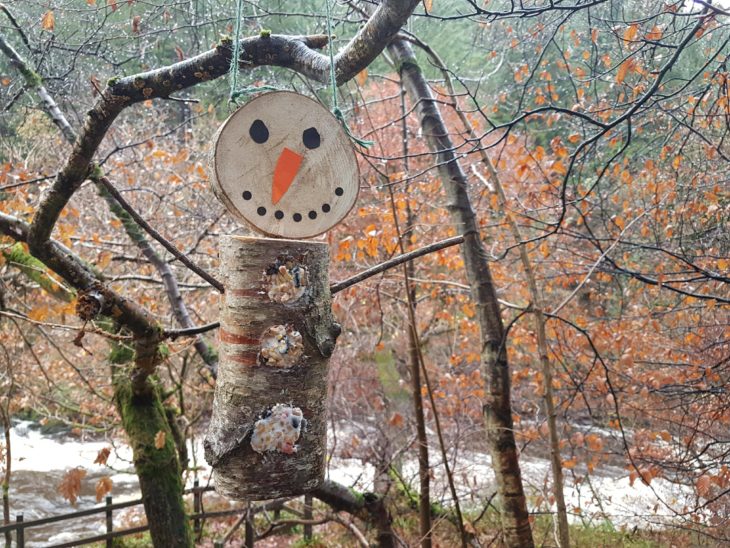 How to make the snowman yourself:
You'll need:
A piece of wood about 10 cm in diameter cut into a 25 cm piece
You need a 6 mm and 10 mm drill bit
You need a 28 mm flat wood drill bit
A slice of wood about 3 cm thick and 15 cm in diameter (it needs to be bigger than the diameter of the body)
2 stables
String
Paper or similar to make the face. You can also use paint
Two twigs that will a 6 mm hole. It doesn't matter if they are a bit smaller
Wood glue
A mix of lard and seeds
A wooden dowel 4 cm long and 10 mm in diameter
How to go about it:
Drill 3 28 mm holes on the front and back of the snowman
Drill a 10 mm hole for the neck in both body and head slice
Drill 2 6 mm hole on each side of the body to make arms
Put two staples on top of the head
Put some wood glue in the neck whole of the head and body and stick in the wooden dowel
Put wood glue in the arm holes and stick in the arm-twigs
Mix the lard and seeds and stick it in the 28 mm body holes
Tie a string to the staples
Draw the face or cut out circles for eyes and mouth and a pointy triangle for the carrot nose
Hang out for the birds to feed
It is very simple and straight forward. It could even be fun to make a very big one. That might not be able to hang, but why should it. Be creative with it. And if you are, please share a picture with us on Facebook or #snowmanbirdfeeder on Facebook, Twitter and Instagram.
Have fun until next time
Carina Marcussen –  Volunteer Assistant Ranger, Scottish Wildlife Trust
Help support our vital work and join us today!
.
Help protect Scotland's wildlife
Our work to save Scotland's wildlife is made possible thanks to the generosity of our members and supporters.
Join today from just £3 a month to help protect the species you love.
---
Preface
This week and some of last week has been all about making snowman bird feeders. Well, rather preparing the parts for snowman bird feeders. We have an event coming up …