Wildflowers and Folklore on the Isle of Eigg Part 2
Eigg July volunteer Holly Sayer returns for part 2 of her 'Foraging for Wildflowers and Folk Lore on the Isle of Eigg' post, this time revealing some of the plants we can forage.
There is an old saying that the tastiest meal is one you've cooked yourself. Following that logic, a meal would probably be even tastier if you've worked hard to find and pick the ingredients yourself.
What better way to keep children amused (and tire them out) than taking them hunting for wild food? If you needed any more motivation then remember that eating a wide range of different, local produce is not only good for your wallet, it is also good for your health.
Forager's Rules
Foraging for ingredients is exciting, but its important to forage responsibly and sustainably to protect you and the local wildlife. So before we start here are some simple rules to forage by:
Be sure: know what you're picking and pulling, never eat a plant or fungus without being completely certain of what you're eating. Use multiple guides to identify a plant and if in doubt, do not eat it.
Seek permission:  The Wildlife and Countryside Act (1981) makes it illegal to forage without landowner permission. Always check with whoever owns the land that they are happy for you to forage. Some sites will have protections on certain species, or only allow foraging for personal use.
Collect mindfully: collect moderate amounts (no more than you can eat) from abundant populations of flowers, fruits or leaves; leave plenty for wildlife to eat or others to collect; do not forage rare or protected species (see here for protected plant list).
Lesser burdock (Arctus minus)
Season: February – November
Habitat: The edges of woodland, meadows, farmer's fields and footpaths; waste ground and roadsides.
Location: Kildonnan coastal path; the forestry tracks and the edges of tracks to Grulin.
Taste: Raw or uncooked the roots have a sweet root vegetable taste similar to sweet chestnut or parsnip.
Foraging tip: Dig up a burdock's roots in its first spring or autumn, before the flower stem grows, as this removes all nutrients and leaves the roots tasting bitter. Be prepared as a burdock's roots go down deep and will not come up easy! The roots can be cooked down with dandelions to create that favourite summer drink; or roast like a parsnip, with your Sunday veg in honey.  Stems of the younger plants can be eaten before they turn woody in May. Simply remove the outside of the stem and use the inside as an addition to a salad, either raw or lightly sautéed.
Wood Sorrel (Oxalis acetosella)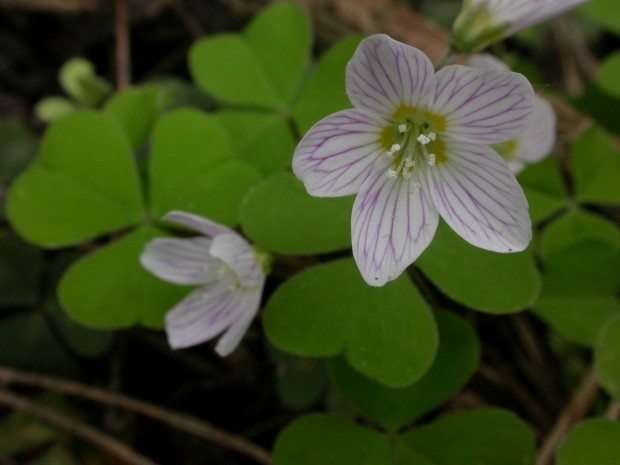 Season: March – December
Habitat: Damp and shady woodland floors or undisturbed hedgerows.
Location: Along the Kildonnan coastal path.
Taste: A sharp zingy taste like Granny Smith apple peel or lemon.
Foraging tip: Rather like a larger version of a clover trefoil, wood sorrel has heart shaped leaves, but with purple centre and vein. In cold conditions the leaves will curl over, tent-like and flatten out in sunlight. Eat raw to enjoy their fresh citrusy taste. Balances well with a simple green leaf salad and vinaigrette.
Meadow Sweet (Filipendula ulmaria)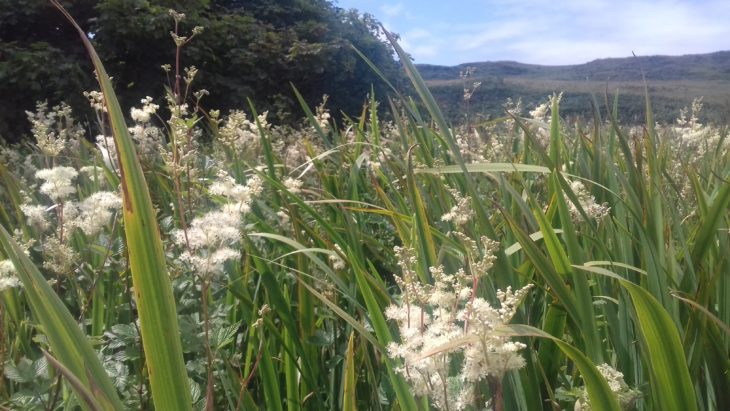 Season: March – September
Habitat: Wetlands; damp meadows or fields.
Location: The fields surrounding Giant's Footstep.
Taste: Sweet
Foraging tip: The tall, fluffy-looking flower has a distinctive sweet smell that draws the senses. A cyanide-free alternative to Elderflower cordial! The stem and leaves retain a medicinal-like taste, so boil down the flowers only, with sugar, water and a squeeze of lemon for a sweet syrup that can be mixed with alcohol or sparkling water.
Elder Berry (Sambucus nigra)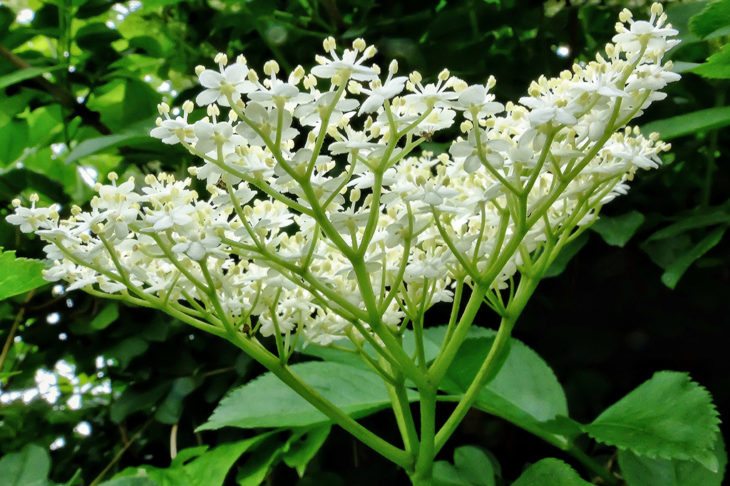 Season: August – September
Habitat: Woodland and hedgerows
Location: The roadside in Cleadale, or along the forestry tracks.
Taste: Bitter, but like rhubarb can be balanced out when paired with a sweeter fruit in a baked dessert.
Foraging tips: The lesser used part of the elder plant, these dark purple, almost black berries are easy to recognise with their fiery red stems. Find them hanging along the hedgerows and disturbed ground near badger sets and rabbit warrens.  Replace blackberries with elder berries to accompany apples or pears in fruit crumbles; cook down with sugar into a syrup to drizzle over baked apples; or use as an alternative to sloes with gin. Elder contains compounds that when consumed are metabolised into cyanide. Always cook the berries or flowers before you eat them and never eat any other part of the elder plant (apart from the flowers) as these are poisonous.
If this post has given you a taste for discovering more about Eigg and Scottish wildflowers, take a look at my previous blog post on the folklore surrounding different wildflowers. If you're interested to know more about the plants and wildlife and are planning to visit Eigg remember  you can join a weekly guided walk with the island's Seasonal Ranger during May to August!
Help protect Scotland's wildlife
Our work to save Scotland's wildlife is made possible thanks to the generosity of our members and supporters.
Join today from just £3 a month to help protect the species you love.
---
Preface
Eigg July volunteer Holly Sayer returns for part 2 of her 'Foraging for Wildflowers and Folk Lore on the Isle of Eigg' post, this time revealing some of the plants …