Wildflowers and Folklore on the Isle of Eigg
This blog post comes from our July Eigg volunteer Holly Sayer who was inspired by all the wildflowers here on Eigg.
Foraging for Wildflowers and Folklore on the Isle of Eigg
The Scottish wildflowers on Eigg are steeped in lore and old legend. In this two part blog I will explore some of my favourite forageable wildflowers and the myths surrounding them. Part 1 will focus on wildflower folklore and part 2 on foraging different plants on Eigg.
FOLKLORE (part 1)
Walking around the Scottish coast in summer you cannot help but stand in awe of the colours of the wildflowers, from the twinkling gold of tormentil, to the silent chorus of blue harebells rippling in the coastal winds.
However, your senses only tell part of story. Uncovering the tales behind the flowers' names and the healing properties in the Scottish folklores add another layer of magic and intrigue.
Common milkwort (Polygala vulgaris)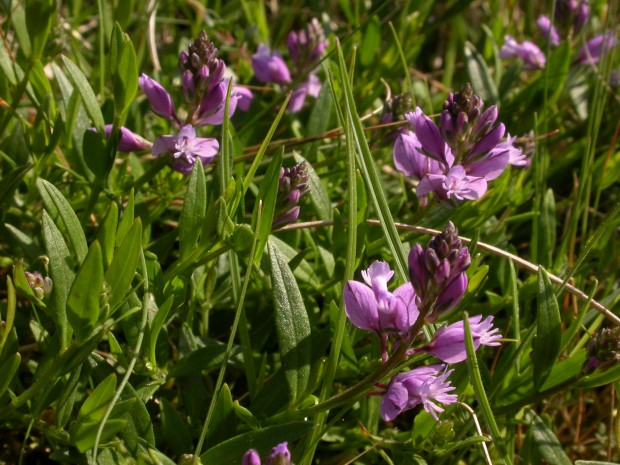 Season: May – September
Habitat: Grasslands
Location: Around the coastal path at Kildonan, or tucked between rocks and grass at Talm.
Folklore: The udder shaped flowers of common milkwort give a hint to the story behind this delicate blue plant's name. An old wives' tale describes how a new mother struggling to breastfeed could can increase her yield of milk by boiling up parts of this bitter tasting plant. It was thought that the flow of her milk could be increased just through digesting it. This probably came from a translation of Dioscorides, the ancient Greek botanist, who named it polugalon meaning 'much milk'.
Heather (Calluna vulgaris)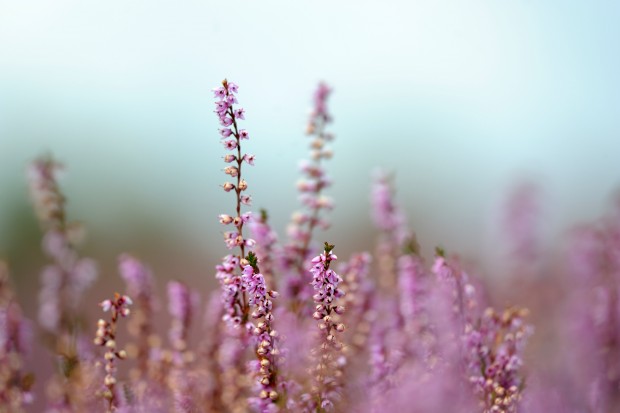 Season: July – September, best in August
Habitat: Heath or moorland, mountainsides and other low nutrient, acidic soils
Location: The Sgurr, the forestry tracks and the ridge
Folklore: In the highlands and islands of western Scotland, purple heather is almost as prolific as the Scottish thistle. Yet, the rarer white heather has many stories surrounding it. Generally it is thought of as a lucky charm or good omen, though no one knows why. Folklore tells of a warrior who leaves to fight in a fearsome battle, promising his hand in marriage to his lover on his return. His highland maiden waits and waits for him, but instead one day a messenger, carrying a sprig of purple heather in consolation, brings her the news of his death. From that point on she is inconsolable and wanders through the wilds of the Highlands, always clutching the heather to her breast and as her tears fall upon the heather it begins to fade in colour, until completely white. It is said that those who find such patches of white heather would be blessed with good fortune.
Hedge woundwort (Stachys sylvatica)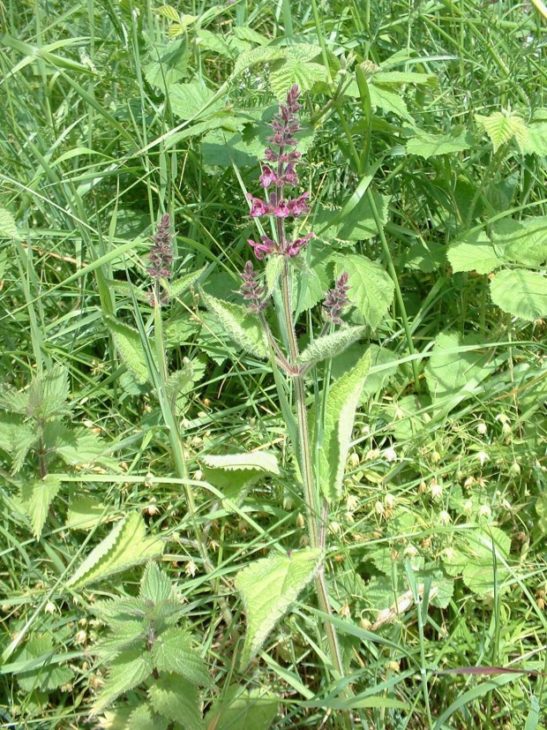 Season: Usually July – August, but can be seen as early as June, or as late as September.
Habitat: The edges of deciduous woodlands and hedgerows, disturbed or waste ground areas.
Location: Look for it on the trail between Kildonnan and the campsites, or along the forestry tracks.
Folklore: With its jagged, heart-shaped leaf this plant is easily mistaken for a stinging nettle when the tall, purple flowers are not in bloom. In fact, rather than causing pain there is a long history of using the thick hedge woundwort to heal. Soldiers, injured in battle and far from home and hearth, once used the leaves to pad out wounds and dress cuts. The plant's antiseptic and healing qualities helped many of them to return home. This makes it perfect for padding your walking boots when you run out of blister plasters! Just be aware that the pugnacious smell will cling to everything it touches.
Harebells (Campanula rotundifolia)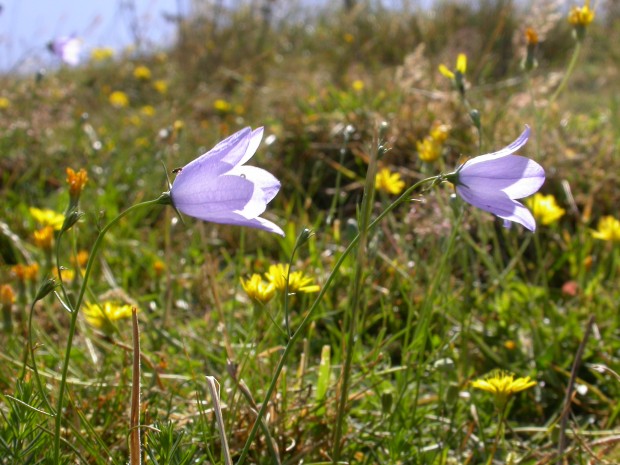 Season: Flowers July – September
Habitat: Roadsides, grasslands and undisturbed habitats.
Location: Along the roadsides, the track at Kildonan and the hillsides at Talm.
Folklore: Known in some parts of Scotland as 'aul' man's bell' or 'dead man's bell', this delicate, blue flower has a strong link in folklore with evil and the 'old man' (the devil). Myths tell that the beauty of these flowers are not for human hands and if the harebell was rung or picked by a human hand, evil spirits would be awoke, enraged and curse those who dared to try take them from the faerie world. Many legends warn children not to play amongst the harebells, or to leave the flowers unpicked and untouched, lest the culprit be struck down dead.
The origin of these stories remain unknown. It's not far fetched to imagine the latter of the tales was concocted by a grumpy gardener fed up with the local children trampling his flowers! The fact that they prevail through word and mouth, mean they will remain shrouded in mystery.
Hopefully this post has given you an idea of what lies beneath your feet around Eigg and Scotland! On the next blog post I'll be tempting your taste buds with a look at the plants you can forage and eat on Eigg.  
If you're interested to know more about the flora and fauna you can join the Seasonal Ranger's guided walk every Wednesday between May and August, or email isleofeiggranger@scottishwildlifetrust.org.uk
Holly Sayer, Eigg Conservation Volunteer
Help protect Scotland's wildlife
Our work to save Scotland's wildlife is made possible thanks to the generosity of our members and supporters.
Join today from just £3 a month to help protect the species you love.
---
Preface
This blog post comes from our July Eigg volunteer Holly Sayer who was inspired by all the wildflowers here on Eigg. Foraging for Wildflowers and Folklore on the Isle of …