Why do butterflies hibernate?
It has been a strange week for butterflies. I've been seeing red admiral flying about early in the morning clinging on to the last of the warm sunshine but I've also seen a small tortoiseshell, already hunkered down hibernating in one of our outbuildings. Butterflies and moths, unlike birds and mammals rely on external heat sources to warm their bodies enough so that they can be active. This means during the cooler months they are unable to move and are forced to remain inactive.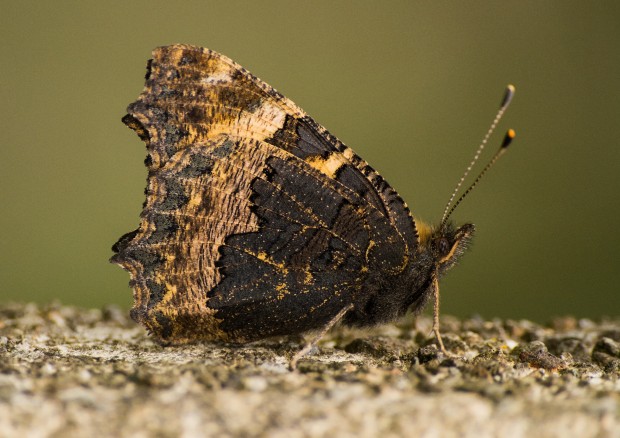 Technically insects don't hibernate, rather they go into a state of dormancy. The majority of butterflies and moths will overwinter or hibernate in their larval stages (caterpillars), followed by the pupae (chrysalis), eggs and lastly as adults. Five of our 59 resident species of butterfly spend the winter as hibernating adults but the ones you are most likely to find hibernating in your house are small tortoiseshell and peacock. Some species like the painted lady butterfly have evolved a completely different strategy for surviving the winter months; they migrate to a warmer place, often flying thousands of miles in the process.
It is possible to buy butterfly hibernation boxes. My thoughts are that this is one of these 'wildlife gardening gimmicks' sold to entice avid wildlife gardeners but they likelihood of them being used are very slim. Any hibernating insect will need a constant cool temperature and therefore a wooden box won't really be up to the job. On any sunny day the temperature inside the box would heat up sufficiently enough to wake up any hibernating butterfly. It is also worth noting that butterflies aren't stupid and they will choose a dark, cool, dry spot like an outhouse, shed, garage, attic etc. If you do want to use one, make sure it is put in a south facing position, in a shaded, dry place!
Laura Preston, Falls of Clyde Ranger
Help support our vital work and join us today!
Help protect Scotland's wildlife
Our work to save Scotland's wildlife is made possible thanks to the generosity of our members and supporters.
Join today from just £3 a month to help protect the species you love.
---
Preface
It has been a strange week for butterflies. I've been seeing red admiral flying about early in the morning clinging on to the last of the warm sunshine but I've …