How to make elderberry cordial
It appears autumn has arrived! How did we get to September already, this year seems to have vanished in a blur of busy-ness. Having had a week off it seems even more apparent the drop in temperature, the downpours of rain and the dropping of leaves from the trees.
Yesterday with our team of practical volunteers we began gathering hawthorn and rowan berries. We will process the berries, extracting the seeds and sow them in our tree nursery ready to be planted back onto the reserve when they are big enough to fend for themselves – safe from pesky deer.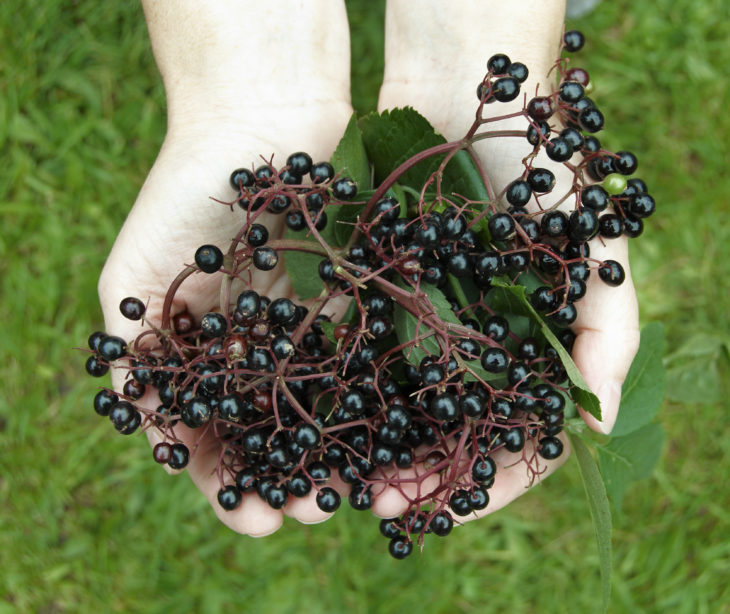 Another berry we are heading out to collect today is the elderberry. Elderberries are practically dripping off the trees at this time of year. Huge bunches are flopping down begging to be picked, and picked they shall be! If you are out walking and fancy making some elderberry cordial, now is the time. And as a bonus – elderberries are said to help prevent flu, which is never a bad thing!
Making the cordial
To make elderberry cordial you will need:
bucket of elderberries
granulated sugar
cloves
First, cut the elderberries just below the stalks, use a fork to remove the elderberries from the smaller stalks into a bowl. Place the elderberries in a saucepan with enough water to cover them and simmer for 20 minutes.
Strain the elderberry mixture through a tea-towel or straining bag, squeezing to make sure you get all the juice out. For each pint of raw juice add 1 lb of granulated sugar and 12 cloves.
Boil the mixture for another 10 minutes. Allow the elderberry mixture to cool, and then bottle in sterilised glass bottles, making sure that the caps have a plastic seal. Add an equal amount of the cloves to each bottle you make up and you are finished! The elderberry cordial syrup will last up to two years.
Laura Preston, Falls of Clyde Ranger
Help support our vital work and join us today!
Help protect Scotland's wildlife
Our work to save Scotland's wildlife is made possible thanks to the generosity of our members and supporters.
Join today from just £3 a month to help protect the species you love.
---
Preface
It appears autumn has arrived! How did we get to September already, this year seems to have vanished in a blur of busy-ness. Having had a week off it seems …