What's creeping through the trees?
This week I was out in our woodlands and I noticed a small bird moving around. I went for a closer look and thought it was going to be a wren. I was wrong however; I was looking at a small shy bird known as a treecreeper. A treecreeper is not particularly rare but they can be so unassuming they often go unseen. Therefore I thought I would bring them to you so you can have a good view of how they look and how they behave.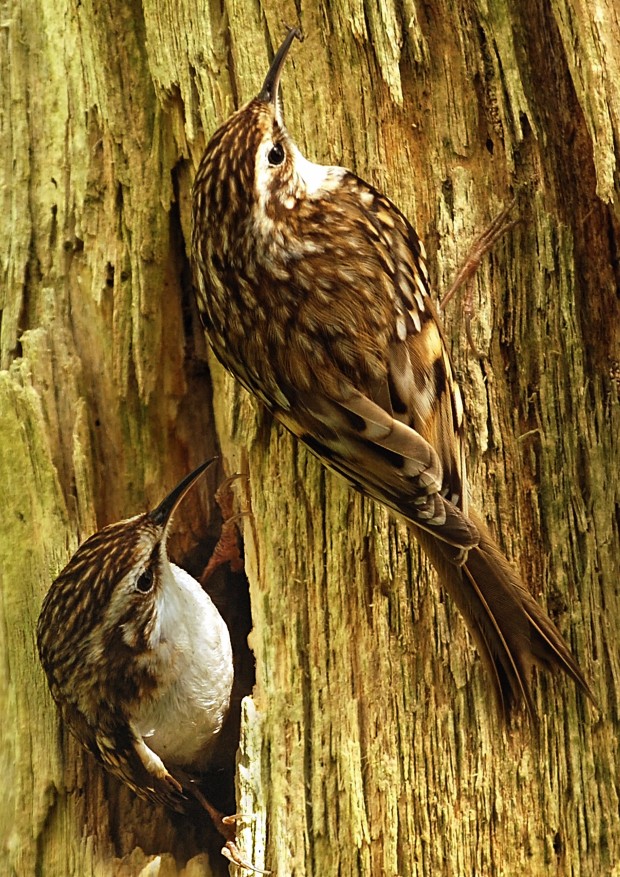 We will start with how it looks; it has a mottled black and brown top with a white underneath. This allows it to camouflage so well with the tree bark. It has a white belly and finished off with a striking and a little bizarre down curved beak. The noise the treecreeper makes also does not help as it makes a sound very similar to insects and so often is overlooked. Then in terms of size you are looking for a bird around the size of a wren which is why I mistook it as one.
Some amazing behavior that this bird shows that can make seeing them so special is how they got their name as they literally creep up trees. Unlike the nuthatch it cannot move back down head first and so will start at the bottom of the tree and slowly spiral its way up looking for insects on the bark. One thing that surprised me this year is finding a nest. This is because I never really gave it any thought in the first place. They tend to nest behind some loose bark; they build a nest up with twigs, moss and grass. They then finish lining with wool or hair depending on what they can find. As you can imagine being behind a piece of bark makes the nest really tiny. Especially when they can have a clutch size of 5-6 meaning that towards the end the nest is pretty packed.
The treecreeper is an amazing bird to see so keep your eyes out. It is always a treat when I see one as they have quite the personality on them. Often if they see you have spotted them they will just freeze on the tree. This is the perfect opportunity to see them, have fun exploring and hope you all see a treecreeper real soon!
Feel free to send in what you find to fallsofclyde@scottishwildlifetrust.org.uk.
Mike Butler – Falls of Clyde Seasonal Ranger, Scottish Wildlife Trust
Help support our vital work and join us today!
Help protect Scotland's wildlife
Our work to save Scotland's wildlife is made possible thanks to the generosity of our members and supporters.
Join today from just £3 a month to help protect the species you love.
---
Preface
This week I was out in our woodlands and I noticed a small bird moving around. I went for a closer look and thought it was going to be a …