It's 'kingfisher season' at the visitor centre!
It's come a little earlier than we expected this year, but it's 'kingfisher season' at the Montrose Basin Visitor Centre again! We're so lucky to be able to get amazing views of kingfishers from our viewing windows – when I started my internship here at the beginning of the year, a male kingfisher was almost a daily sighting. He was regularly seen sat on his perch fishing for sticklebacks, or flying amongst the reeds in the salt pans. But from late March, his appearances started becoming increasingly infrequent, until he was eventually confirmed to be 'gone for the breeding season'. Kingfishers breed in riverbanks, creating nest tunnels in the sandy soil with a slight dip at the end (the nest chamber) to prevent their eggs from falling out. Because the kingfishers that live on the reserve were busy attracting mates, laying eggs, and raising their young, they weren't seen at all from our visitor centre from late March until early July. During this breeding season, you'll have the best chance of catching a sight of a kingfisher from our riverside walk along The Lurgies.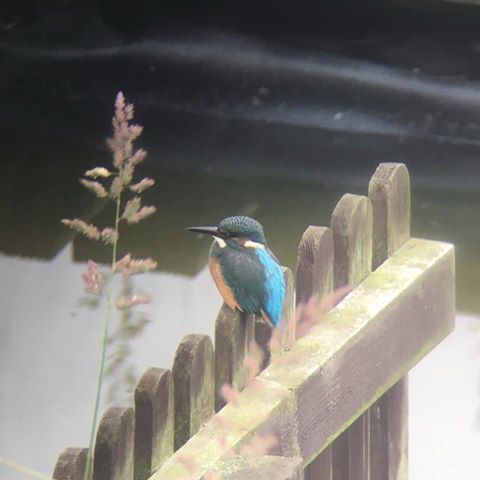 However, on the 7th of July, we had our first kingfisher sighting from the visitor centre window since March, showing that breeding season is coming to an end! They're so much fun to watch. We had a great time following it around with our binoculars and trying to work out whether it was male or female, juvenile or adult. It's easy to tell male and female kingfishers apart – males' bills are entirely black, while the female's lower bill is an orangey red. Although I usually make a point to not rely on stereotypes too much, a good way of remembering this is that the female is wearing lipstick!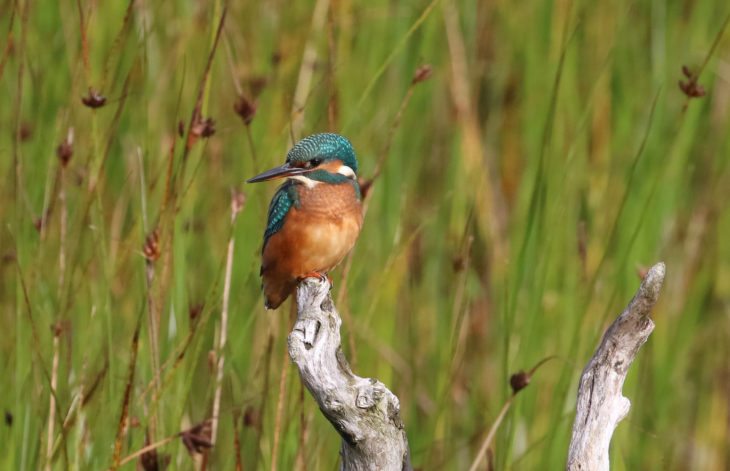 The age of the individual, however, can be a little trickier to work out. Young kingfishers that haven't fledged yet have a white spot at the very tips of their bills (it's theorised that this may help the adults when feeding their chicks), and they have duller plumage, a 'smoky' chest, and dark feet, rather than the bright red feet that adults have. Juveniles can also be described as more 'compact', with the adults looking a little more elegant.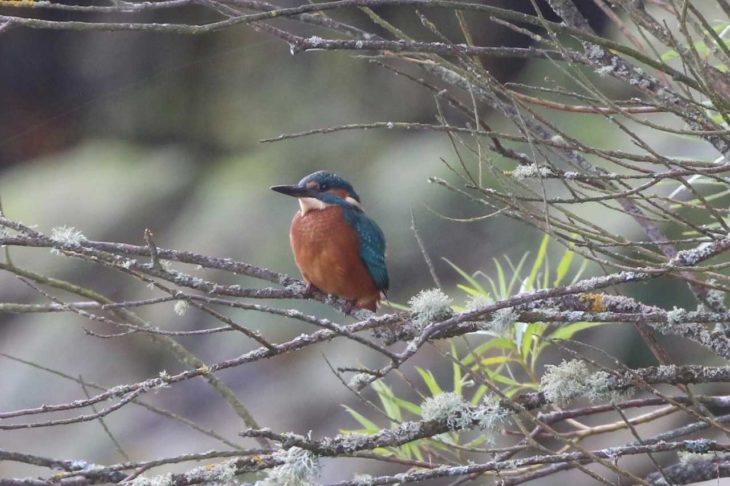 With all this information, we concluded that the kingfisher we had seen was a male, and potentially a juvenile. He didn't have dark feet, but his behaviour suggested he was quite young – it's like he was a newcomer to our visitor centre, exploring all the different perches and areas. He sat by the dipping pond, on the duck nesting tube, on the telegraph wires, and in the bushes before finally settling on the usual perch located in the pond. He also experimented with catching pond snails in the freshwater pond, managing to drop one (either by accident or through his distaste). However, he later managed to catch some fish in the pond full of brackish water. It certainly seems like this visit was a great learning experience for him.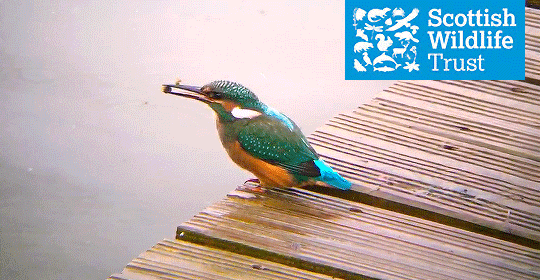 We've been seeing a kingfisher from the visitor centre every other day ever since, so if you're hoping to get a good view of one, it's a great time of year to come to our visitor centre! Usually the kingfisher's first appearance after the breeding season is in August, so we're expecting the kingfisher sightings to only increase in frequency as the year progresses.
– Joanna Peaker (Visitor Centre Assistant)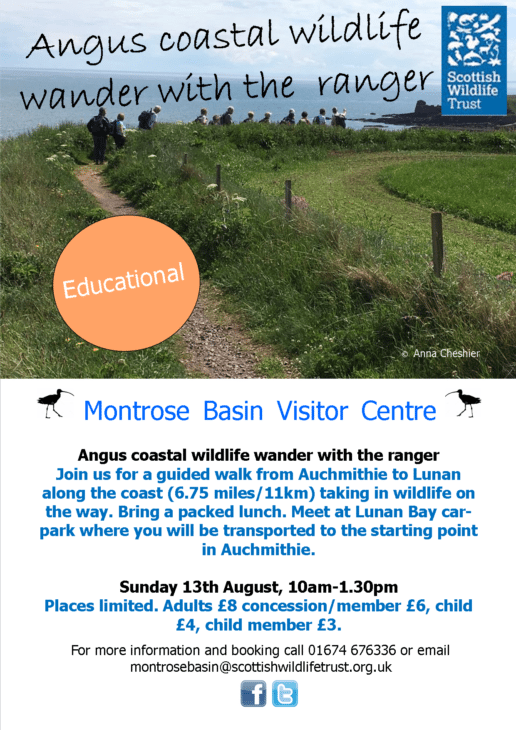 Help protect Scotland's wildlife
Our work to save Scotland's wildlife is made possible thanks to the generosity of our members and supporters.
Join today from just £3 a month to help protect the species you love.
---
Preface
It's come a little earlier than we expected this year, but it's 'kingfisher season' at the Montrose Basin Visitor Centre again! We're so lucky to be able to get amazing …