Dipper Watch at the Falls of Clyde!
Exciting things are happening here at the Falls of Clyde! During the summer we are running a Dipper Watch event on Saturday and Sunday afternoons. For those of you who aren't aware, dippers are fantastic little birds that live on our rivers. They hunt for insects on the riverbed by walking along the river bottom, clinging on with their claws.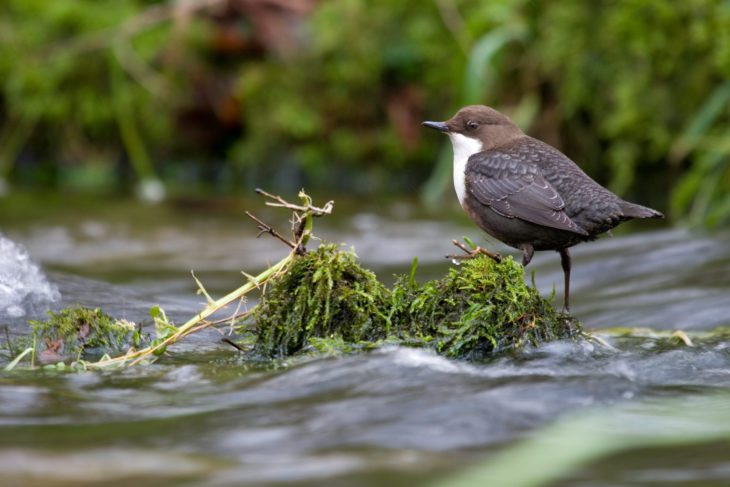 Most birds have hollow bones but dippers don't, this reduces their buoyancy allowing them to stay under the water. The birds can hold their breath for up to 30 seconds while they look for food! They have a preen gland which they use to waterproof their feathers and they have relatively short wings which can be used like flippers to navigate under the water. Dippers really are fascinating wee birds!
They can be found along most healthy rivers. If you have good quality water, you will have lots of freshwater invertebrates and in turn lots of dippers. I am happy to report we have lots here at the Falls of Clyde. As you can see from the photo, they are quite unassuming in appearance. They are incredibly well camouflaged against a river backdrop. However it is still possible to spot them once you get your eye in. Keep a look out for birds flying to and from rocks, also look out for the large white chest.
Our Dipper Watch will be situated near the beginning of the reserve, we will have a scope set up with binoculars and information about the birds on the river. We will also have volunteers and staff available to chat to visitors. If you are interested in volunteering please get in touch with me by emailing lpreston@scottishwildlifetrust.org.uk. For more information about dates for the Dipper Watch you can visit our Facebook page (you don't need an account) www.facebook.com/thefallsofclyde.
Laura Preston, Falls of Clyde Ranger
Help support our vital work and join us today!
Help protect Scotland's wildlife
Our work to save Scotland's wildlife is made possible thanks to the generosity of our members and supporters.
Join today from just £3 a month to help protect the species you love.
---
Preface
Exciting things are happening here at the Falls of Clyde! During the summer we are running a Dipper Watch event on Saturday and Sunday afternoons. For those of you who …