The osprey chicks at Loch of the Lowes are now 10 and 5 days old and are growing very quickly. The male (LM12) has been fishing more frequently, often bringing in very large fish. You can see the extent of the chick's growth when comparing their current size to the size of the last egg, which still remains in the nest.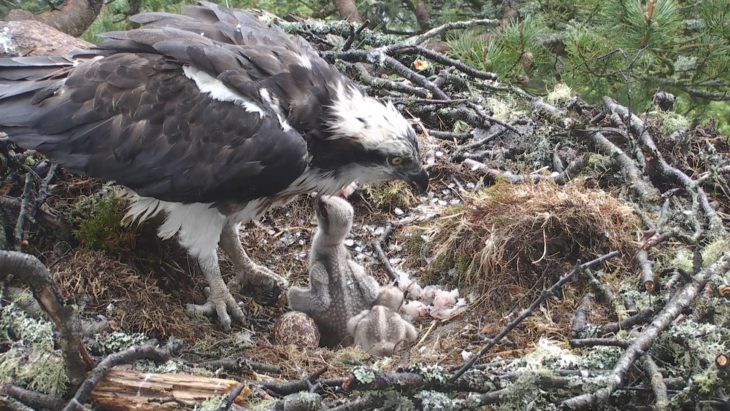 It seems unlikely that the third egg will hatch at this point. This is disappointing but the positive is that there are still two healthy osprey chicks. It is not uncommon for eggs to fail to hatch, or for newly hatched chicks to die within their first few days. Two ospreys fledging the nest would still be a great success, so we hope that things continue to go smoothly for the two chicks and their parents over the coming weeks.
At the moment the chicks are covered in a grey down (very fine, small feathers). They will start to grow true feathers at around three weeks old1. The female (LF15) has been attentive with her young, feeding them up to ten times a day.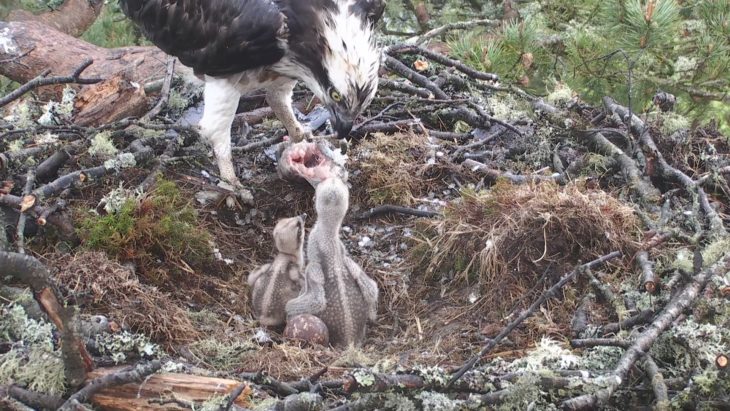 There is some sibling rivalry during feeding time and the older chick often gets fed first, while the younger one has to wait its turn. Compared to other raptors, sibling aggression among ospreys is minimal and the females are careful to feed each chick in their brood1. It is only during adverse weather conditions that prevent the male from fishing (such as prolonged heavy rain) that the younger chick or chicks will struggle, as food will be limited.
The male does not feed the chicks but he has been seen feeding the female a few times since the first chick hatched.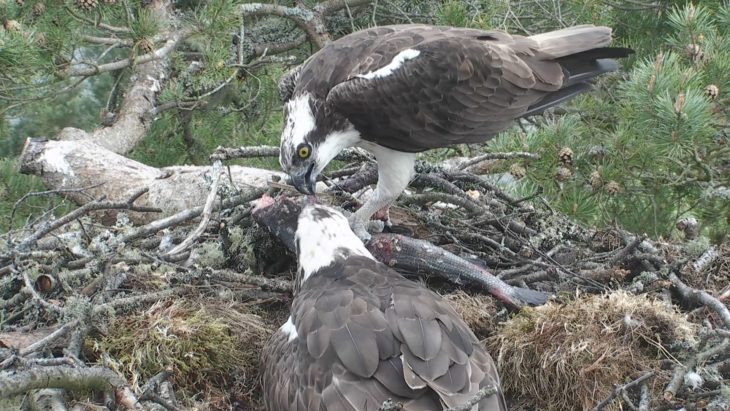 Jane Hamilton – Species Protection Officer
1) Dennis, R. 2008. A Life of Ospreys. Chapter 5: The Breeding and Ecology of the Osprey; the growing family (pp. 75-78).
Help protect Scotland's wildlife
Our work to save Scotland's wildlife is made possible thanks to the generosity of our members and supporters.
Join today from just £3 a month to help protect the species you love.
---
Preface
The osprey chicks at Loch of the Lowes are now 10 and 5 days old and are growing very quickly. The male (LM12) has been fishing more frequently, often bringing …