Falls of Clyde Recent Sightings- 17-23 April 2017
Hey everyone,
The latest updates of sightings from on and off the reserve. This week has been a great week for finding spring migrants throughout the reserve. There have been plenty of swallows, sand martins and house martins throughout the reserve, mainly flying over the meadow and outside the office.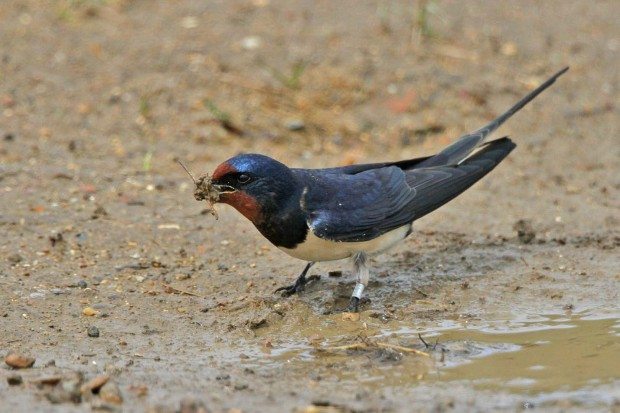 We did not manage to carry out moth trapping this week, but never fear we have found some moths alongside other invertebrates. We have a recording of two water carpets and a Hebrew character. For butterflies we have counted two orange tip butterflies, a single peacock butterfly and one large white butterfly. Other species we have recorded includes buff-tailed bumble, white-tailed bumblebee, tree bumblebee and a couple of bee flies. The bee fly has adapted to look like a bee but is in fact a fly- amazing!
For our flowers in bloom we have wood anemone, dandelion, great wood rush, lesser celandine, marsh marigold, dogs mercury, cuckoo flower, alternate leaved golden saxifrage, opposite leaved golden saxifrage, red campion, common dog violet, blackthorn, wood sorrel, bluebell , wild strawberry, pink purslane and finally moschatel are all out.
Moving onto our mammals there have been sightings of our three roe deer and grey squirrel. There have also been sightings of our pipistrelle bats.
To our birds we have seen and heard other spring migrants such as blackcap and willow warbler. I have seen sparrowhawk hunting starlings in the meadow on the blue route on the reserve. In the woodlands there have been sightings of jay, great spotted woodpecker, long tailed tit, coal tit, wren, blue tit, great tit and blackbird. On the river there have been sightings of two cormorants, three dippers fighting over territory, grey wagtail, grey heron and a pair of goosander. We also had a late night fly-over of 69 pink footed geese.
Finally off of the reserve we have had many reports of nuthatches this week where a pair has been seen at Cartland Bridge. At Stonebyres Smallholdings there have been reports of swallow, treecreeper and siskin. An osprey was seen flying over the north over A8 at Old Monkland Cemetery, Coatbridge.  Then last but not least a mealy redpoll and four brambling reported at Glebe Farm, Kirk o' Shotts.
Feel free to send in your local sightings to fallsofclyde@scottishwildlifetrust.org.uk.
Mike Butler – Falls of Clyde Seasonal Ranger, Scottish Wildlife Trust
Help support our vital work and join us today!
Help protect Scotland's wildlife
Our work to save Scotland's wildlife is made possible thanks to the generosity of our members and supporters.
Join today from just £3 a month to help protect the species you love.
---
Preface
Hey everyone, The latest updates of sightings from on and off the reserve. This week has been a great week for finding spring migrants throughout the reserve. There have been …