Sand martin bank, wildflower trail and an update about our peregrines (or lack thereof)
On Friday evening I went to Hamilton to deliver a talk about Peregrine falcons to the Hamilton Natural History Society. It's always nice to meet other wildlife enthusiasts and the societies members did not disappoint! They meet once a month for a talk or an outing. You can find out more about them by visiting their website – www.hamiltonnaturalhistory.org.uk.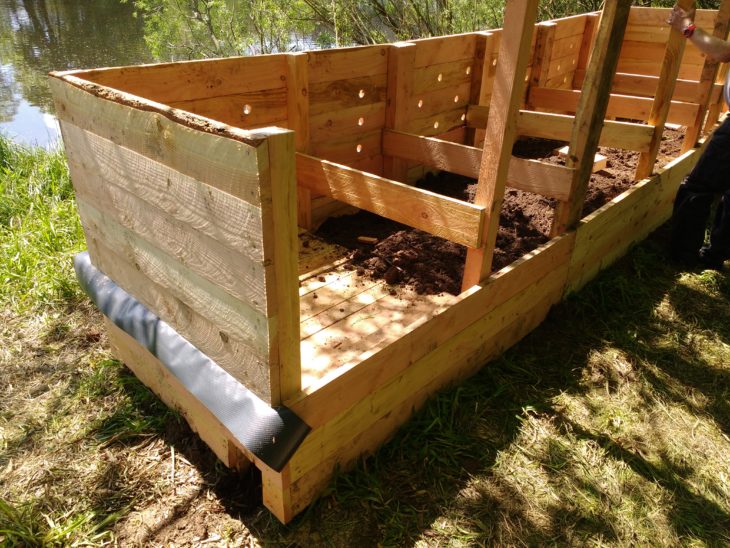 A burning question for regular visitors to the Falls of Clyde at this time of year is, are there any peregrines? Sadly we haven't seen any on the reserve and in March they would usually be nest scraping and pair bonding, with the male providing gifts of food to the female. We would then expect egg laying to occur towards the end of March. It seems very unlikely at this late stage that we would have any birds nesting on the reserve.
Last year we built a sand martin bank with the expectation that it would be in use this summer. Just above Bonnington Weir on the left hand side, you will see a large wooden box with around forty holes in it. We regularly have sand martins feeding on insects over the river at this point. It was therefore an ideal location for a nesting bank. An added bonus is the inbuilt otter holt which you can see in the photograph. You can also see the black skirting around the bottom which will help reduce predation by stoats and other mammals trying to steal eggs and chicks.
Now that spring has finally arrived we are beginning to see lots of wildflowers emerging. This includes coltsfoot, lesser celandine, marsh marigold, dog's mercury and golden saxifrage. As is usual for this time of year, we will be setting up our self-guided wildflower trail along the boardwalk. Take a look next time you visit!
Laura Preston – Falls of Clyde Ranger, Scottish Wildlife Trust
Help support our vital work and join us today!
Help protect Scotland's wildlife
Our work to save Scotland's wildlife is made possible thanks to the generosity of our members and supporters.
Join today from just £3 a month to help protect the species you love.
---
Preface
On Friday evening I went to Hamilton to deliver a talk about Peregrine falcons to the Hamilton Natural History Society. It's always nice to meet other wildlife enthusiasts and the …