Community has access to improved paths thanks to Cartland
Work has been completed on a major pathway improvement in the popular Cartland Craigs woodland, Lanark.
Working through adverse weather, contractors were on site for three weeks, to transform a previously steep and muddy slope into an easily traversed and enjoyable path for users.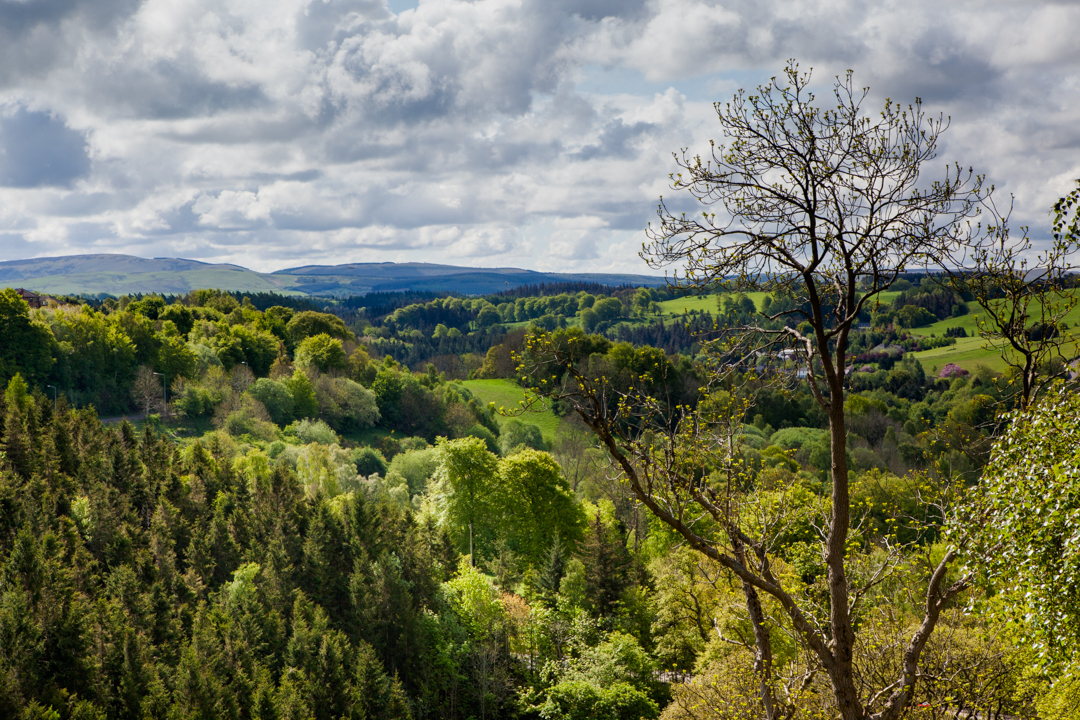 The work, including the design of steps, drainage and surfacing, has greatly enhanced the experience for visitors to the Nature Reserve as they descend from the spectacular heights of Cartland Craigs down to the intimate landscape of Mouse Bridge. This previously difficult section of the route will now be easy to walk throughout the year.
Cartland Craigs is largely managed by Scottish Natural Heritage (SNH), who commissioned the path improvements as part of the Heritage Lottery Fund supported Clyde and Avon Valley Landscape Partnership (CAVLP) programme.
The Craigs are part of the wider Clyde Valley Woodlands National Nature Reserve (NNR) which stretches between New Lanark and Chatelherault, including six woodlands altogether. The other woodlands are the adjoining woodland Cleghorn Glen, Chatelherault Country Park, the Falls of Clyde, Mauldslie Woods and Nethan Gorge.
SNH Clyde Valley Woodlands Reserve Manager, Martin Twiss, says, "Cartland Craigs is a particularly dramatic gorge woodland with spectacular views into the chasm of the Mouse Water far below and the aerial view across the dizzying spans of the Thomas Telford designed Cartland Bridge."
He continues, "The essential pathworks project means that more people will now be able to enjoy this amazing woodland, easily accessible from Lanark."
The National Nature Reserve supports an ancient woodland that hangs high above the waters below and is the home to a rich array of wildlife, including great spotted woodpeckers, badgers and carpets of shimmering bluebells in May. The evidence of ancient Castle Qua can also be found hidden amongst the trees – the archaeological investigation of which will be the focus of another CAVLP Heritage project later in 2017.
Donna Marshall, CAVLP Programme Manager says, "The paths network in the Clyde and Avon valleys are an important asset in providing benefits of improved health and well-being for local communities and we are therefore delighted to have been involved in funding this vital improvement work within Cartland Craigs."
She continues, "It's part of the wider programme of access improvements which include the recent Clyde Walkway Community Links programme of works that have improved access to the Clyde Walkway for communities in Ashgill, Braidwood, Crossford, Dalserf, Larkhall, Lanark, Law, Nemphlar and Rosebank."
Access to Cartland Craigs can be taken from the adjacent Cleghorn Glen, or North-East from Cartland Bridge.  Find out more at clydeandavonvalley.org or nnr-scotland.org.uk.
For further media information, please contact:
Sarah O'Sullivan, Communications Officer, Clyde and Avon Valley Landscape Partnership Sarah.osullivan@clydeandavonvalley.com / 01555 663 430
Rebecca Crawford – Falls of Clyde Assistant Ranger, Scottish Wildlife Trust
Help support our vital work and join us today!
Help protect Scotland's wildlife
Our work to save Scotland's wildlife is made possible thanks to the generosity of our members and supporters.
Join today from just £3 a month to help protect the species you love.
---
Preface
Work has been completed on a major pathway improvement in the popular Cartland Craigs woodland, Lanark. Working through adverse weather, contractors were on site for three weeks, to transform a …