How do you take a photograph of 80 thousand geese?
.
Every year at Montrose Basin we are fortunate enough to have an influx of one of natures most spectacular sights and sounds. In late September, Pink-footed geese begin to arrive from Eastern Greenland and Iceland, a journey that can take them 2 days to fly.
They choose to land in the Basin for a number of reasons. One being that they have a bountiful supply of food nearby and they are also safe from predators, when they roost in the north east part of the Basin. Whether the tide is high or low, tens of thousands of ink-ing Pinkies will descend on the Basin, much to the delight of the residents of Montrose. A sure sign that autumn has arrived.
So with such a spectacle how do you capture the beauty as an amateur photographer? We asked one of our dedicated volunteers to give us a quick guide on 'how to photograph large flocks of geese'. He was the man responsible for the widely publicised photo below, so I'm sure you will agree that I asked the correct person.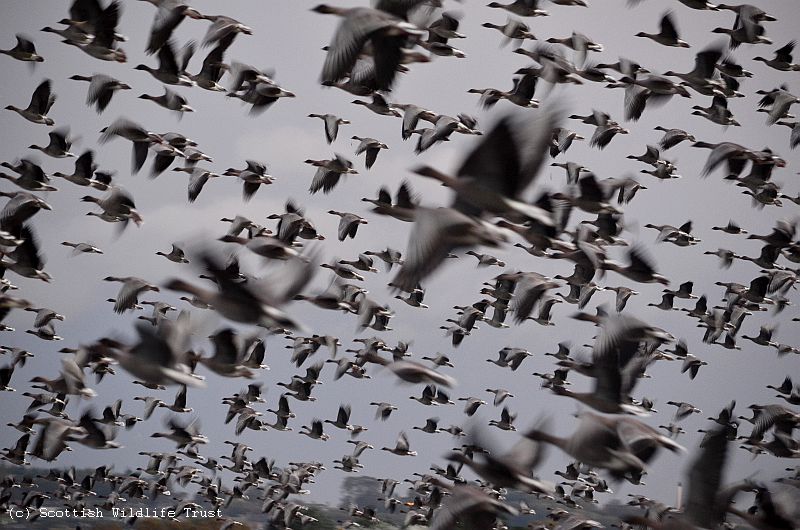 First thing to remember is: no one really wants to see pictures of the rear end of geese flying off, so you want to have them approaching you, or flying across your camera view.

Geese taking off away from the photographer ©Scottish Wildlife Trust

In general, geese try to take off into the wind, as it gives them 'lift' and gets them into the air more easily. So, you need to be upwind of the geese, or possibly a wee bit to either side of the wind direction, but definitely with the wind blowing on to the geese, whether they are on the Basin, or in a field.
The other essential is the position of the sun, relative to the geese. If the sun is right behind them, there's a good chance your camera will darken down automatically, to compensate for the bright light shining into it. You will not like your pictures if the geese are all big black shadows, because the sun's behind them.  So, you need the sun behind you, or at least, generally lighting up the front of the flock as they fly past you.
So, with the sun, more or less, behind you and the wind blowing on to your back or side, how do you know when they are going to take off and give you that picture? You have no control over that and this really is the difficult bit, as it can take hours of waiting.  You must be prepared to wait for the magic moment, when it happens and if you don't have your camera out and ready to go, it will all be over so quickly, and you will not be very happy if you missed the shot. Too late to check camera settings after they've gone.
You need to think about getting close to where you want to be, as soon as it is light enough for the pictures. 8 am is early enough in autumn/ winter, when the birds are here as the sun isn't all that high – and you need light!
Be prepared for failure, as the geese do what they want. They aren't taking off and landing all the time, to give you another chance of getting it right, so you need to be ready. Sometimes a large group gets up and simply flies around a wee bit and then just settles back down again in a slightly different part of the Basin.

Geese at Tayock all moving in different directions. ©Scottish Wildlife Trust

Best lens for the job, is NOT a wide angle lens, as it makes the birds appear to be further away than your eye sees. A standard, or telephoto type lens, has the effect of 'compressing' the geese and showing how dense the flock is.
Best general advice is: wrap up warm and be prepared for a long wait and no success. However, when it all comes together, it's worth all the cold, frustration and early rise.
Writing and photographs by Montrose Basin volunteer – Harry Bickerstaff
Prelude and editing by Montrose Basin Visitor Centre Assistant Manager – Emma Castle-Smith
 
Help protect Scotland's wildlife
Our work to save Scotland's wildlife is made possible thanks to the generosity of our members and supporters.
Join today from just £3 a month to help protect the species you love.
---
Preface
. Every year at Montrose Basin we are fortunate enough to have an influx of one of natures most spectacular sights and sounds. In late September, Pink-footed geese begin to …