Some rare treats for a bird-watcher!
Last week we continued some much-needed work on our paths, particularly on parts of our Woodland Trail (shown with blue arrows on way-markers in the Reserve). After one hard day of digging, I was rewarded with a sighting of a nuthatch. This was very exciting as this bird is a rare sight at Falls of Clyde.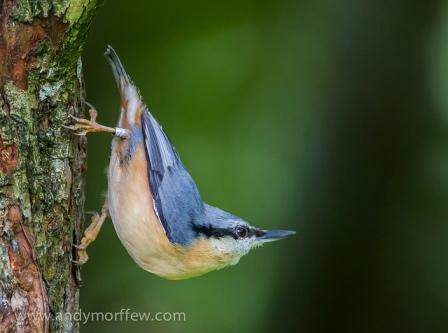 Nuthatches are resident all year round in England and Wales, but are only occasionally seen in Scotland. You will see them in woodlands, walking up and down a tree trunk.
If you spot a bird moving up and down the trunk of a tree, it could also be a treecreeper, so it's best to get a closer look. Look for the black eye-stripe and orange or buff coloured belly of the nuthatch. The treecreeper is a mottled brown, with a long, curved beak – great for probing into nooks and crannies for tasty bugs!
As an extra rare treat, I also got to see a kingfisher last week! What made this even more special was how close it was – right in front of the visitor centre.  You really need to see one of these little birds in person to fully appreciate how striking their bright blue plumage is; they really do look like a winged jewel flitting over the river.
As is usually the case with this elusive bird, you hear it before you see it. Listen out for a very high-pitched call and then keep your eyes peeled for that flash of blue! They usually fly fast and low over the water, but luckily for me, the one I saw landed on a rock and sat there happily as I made a mad dash for my binoculars! Kingfishers are on the Amber List, as they're not doing too well in Europe, so we are very happy that they have found a home at Falls of Clyde.
Sarah Cooper – Seasonal Ranger, Scottish Wildlife Trust
Help support our vital work and join us today!
Help protect Scotland's wildlife
Our work to save Scotland's wildlife is made possible thanks to the generosity of our members and supporters.
Join today from just £3 a month to help protect the species you love.
---
Preface
Last week we continued some much-needed work on our paths, particularly on parts of our Woodland Trail (shown with blue arrows on way-markers in the Reserve). After one hard day …