Look to the skies and you might see an osprey!
Over the past couple of weeks I have had some amazing osprey sightings near my home of Biggar. I saw one fishing on the Tweed near Dawyck Botanical Gardens on the 13th August and one at Wolfclyde near Symington on the 20th August. Now is the perfect time of year to see them travelling south on their long migration to West Africa. Ospreys are relatively slow in their migration compared to other birds. They like to take their time, stopping at their favourite feeding grounds before moving on.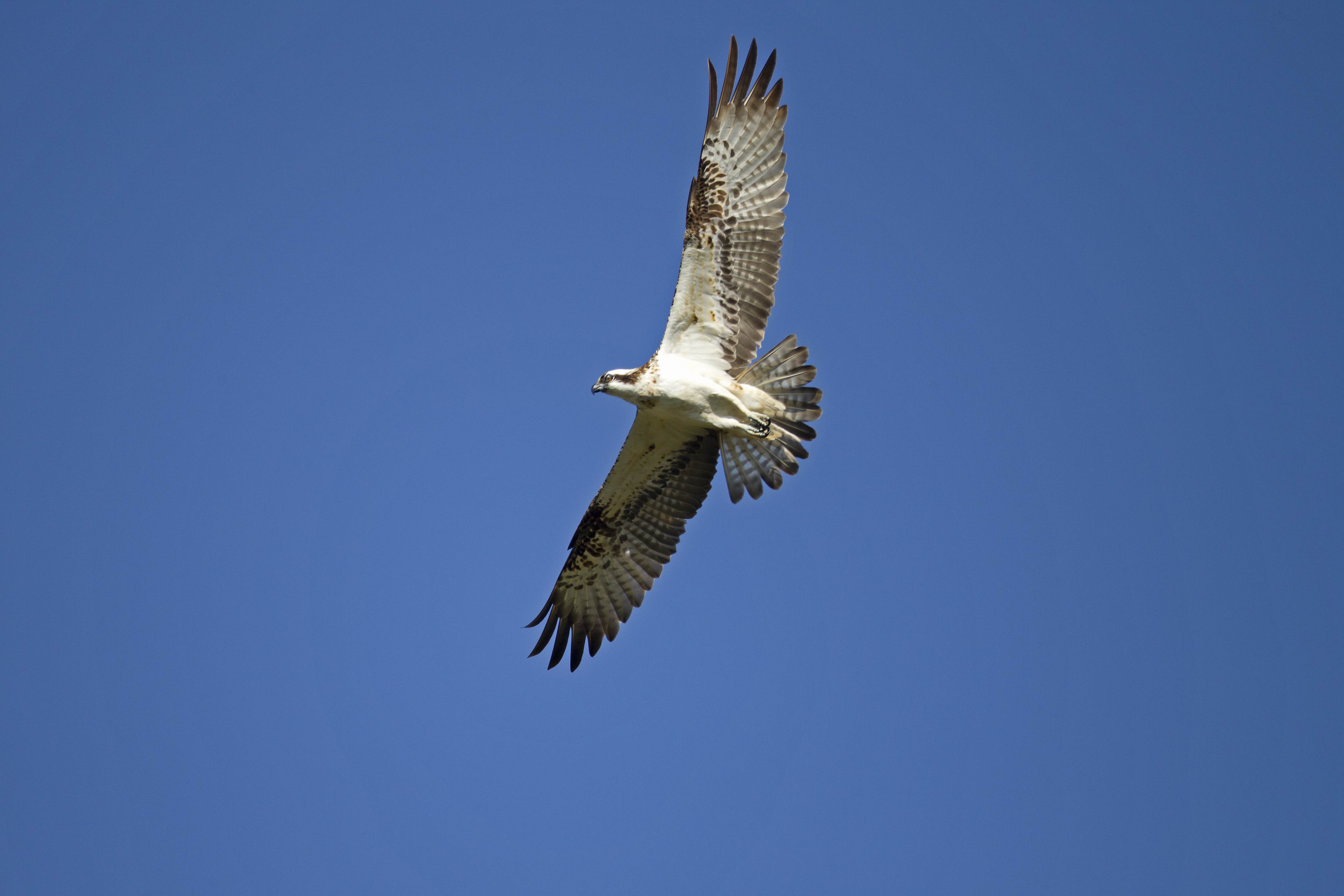 I am sure some of you are wondering why they migrate. Their primary food source is fish. During the spring and summer months in Scotland our lochs and rivers are flowing freely and the fish live near the surface of the water. In winter the watercourses can often freeze over and the fish move to deeper water. This lack of a winter food source means they need to migrate to warmer climes where food is readily available. So the next question in your mind might be – why do they not just live in West Africa all year round? The day length in West Africa is only 12 hours, which does not give very much time for ospreys to fish for food for themselves and their young. In Scotland, during the summer we have 22 hours of daylight, giving plenty of opportunities to catch fish!
Finally, how do you spot an osprey in flight? Seen in flight from below, the osprey has white or slightly mottled underparts. The long wings are angled, bending at the 'wrist' which has a black patch contrasting with the white wing linings, and at a distance it could be mistaken for a large gull. Both my sightings were near large rivers which ospreys will use like motorways and as a pit stop for food.
Laura Preston – Falls of Clyde Ranger, Scottish Wildlife Trust
Help support our vital work and join us today!
Help protect Scotland's wildlife
Our work to save Scotland's wildlife is made possible thanks to the generosity of our members and supporters.
Join today from just £3 a month to help protect the species you love.
---
Preface
Over the past couple of weeks I have had some amazing osprey sightings near my home of Biggar. I saw one fishing on the Tweed near Dawyck Botanical Gardens on …