Bubbling rivers and spectacular waterfalls
Scottish Power have opened the weir gates up at Bonnington Weir for a couple of weeks as they have turned off some of their systems, to carry out some important maintenance. This means that the river is in full flow through the gorge at Falls of Clyde, which is a real treat for our visitors!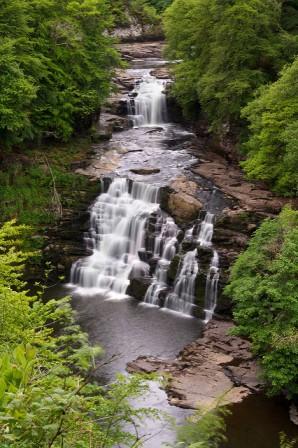 If left to flow naturally, the river level would still fluctuate, so it is not cause for alarm if there is only a trickle falling over Corra Linn. Usually, the best time to see the Falls in full flow is about a day or so after heavy rainfall, when the rainwater that has fallen in the surrounding area has gradually seeped its way down to the gorge through the ground. However, if you want to see the Falls at their most spectacular, now is the best time to visit!
In other river news, some visitors to the reserve have asked me why the water is foamy sometimes. Are the otters having a bubble bath? Are the dippers washing their dishes? Although some types of foam can be the result of pollution in the water, fortunately, this is not the case at Falls of Clyde! The water foams up like this because of natural 'surfactants'. These are molecules from things like twigs and leaves which have fallen into the river and eventually decomposed and broken down. These microscopic little bits of debris will trap air, which forms bubbles.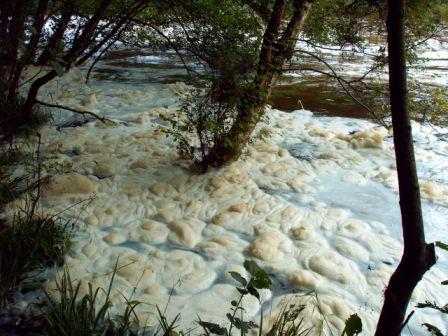 The foam doesn't stay around forever and it appears every once in a while, usually after rain or if the wind has whipped up the surface water. When it occurs, it is usually seen near the Falls of Clyde Visitor Centre, or at the bottom of Corra Linn. This kind of foamy reaction has made news headlines in the past, when a similar phenomenon has happened at sea on a much larger scale.
Bubbly or not, now is the best time to see the Falls, so visit soon!
 
Sarah Cooper – Seasonal Ranger, Scottish Wildlife Trust
Help support our vital work and join us today!
 
Help protect Scotland's wildlife
Our work to save Scotland's wildlife is made possible thanks to the generosity of our members and supporters.
Join today from just £3 a month to help protect the species you love.
---
Preface
Scottish Power have opened the weir gates up at Bonnington Weir for a couple of weeks as they have turned off some of their systems, to carry out some important …