My final few days at Falls of Clyde are now upon us and, I have to say, it has been a wonderful summer. We have had a lot of wildlife to watch over the past few months, from badgers to bats, deer, foxes, baby rabbits, ospreys, sparrowhawks, kingfishers, herons, wildflowers, spiders, dragonflies, a myriad of butterflies, bumblebees and hoverflies – you name it!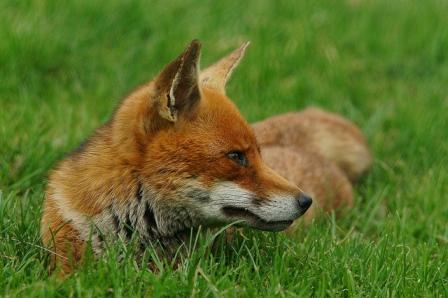 To keep all our wildlife and visitors happy, we've been doing a lot of work on the reserve. You may have noticed, if you have visited recently, that we have been gradually improving some of our slightly muddier paths. The Woodland Trail is looking much better already and we're not done yet. We've also taken out a few conifers, to let a bit of light into the woods and to encourage a more varied mix of tree species to grow. This will be much better for our wildlife in the long term.
Myself and our interns, who were here earlier in the summer, were lucky enough to carry out some butterfly surveys and bird nest box monitoring. Have a look through earlier blog posts, in late May, to see pictures of the chicks we found!
Our Wildflower Trail has now finished for the summer, but there are still a few flowers to see along the boardwalk and more on the rest of the reserve.
Last week, I led our final Badger Watch of the year and the badgers did not disappoint! Four came out in total, including two cubs. They ventured fairly close to the benches – we didn't need our binoculars! A couple of badgers disappeared into the undergrowth and we could hear them behind us… we were surrounded by badgers! It was a perfect way to end the Badger Watch season, as well as my own season here.
Sarah Cooper – Seasonal Ranger, Scottish Wildlife Trust
Help support our vital work and join us today!
Help protect Scotland's wildlife
Our work to save Scotland's wildlife is made possible thanks to the generosity of our members and supporters.
Join today from just £3 a month to help protect the species you love.
---
Preface
My final few days at Falls of Clyde are now upon us and, I have to say, it has been a wonderful summer. We have had a lot of wildlife …