I saw a pine marten! (but not at the Falls of Clyde)
Recently, I have been volunteering my time with Saving Scotland's Red Squirrels (SSRS). SSRS is a partnership project led by the Scottish Wildlife Trust. It's a project to stop the decline of Scotland's core red squirrel populations. Working closely with local communities, the project is seeking to improve conditions for red squirrels across Scotland, and combat the spread of the non-native grey squirrel. To find out more visit www.scottishsquirrels.org.uk.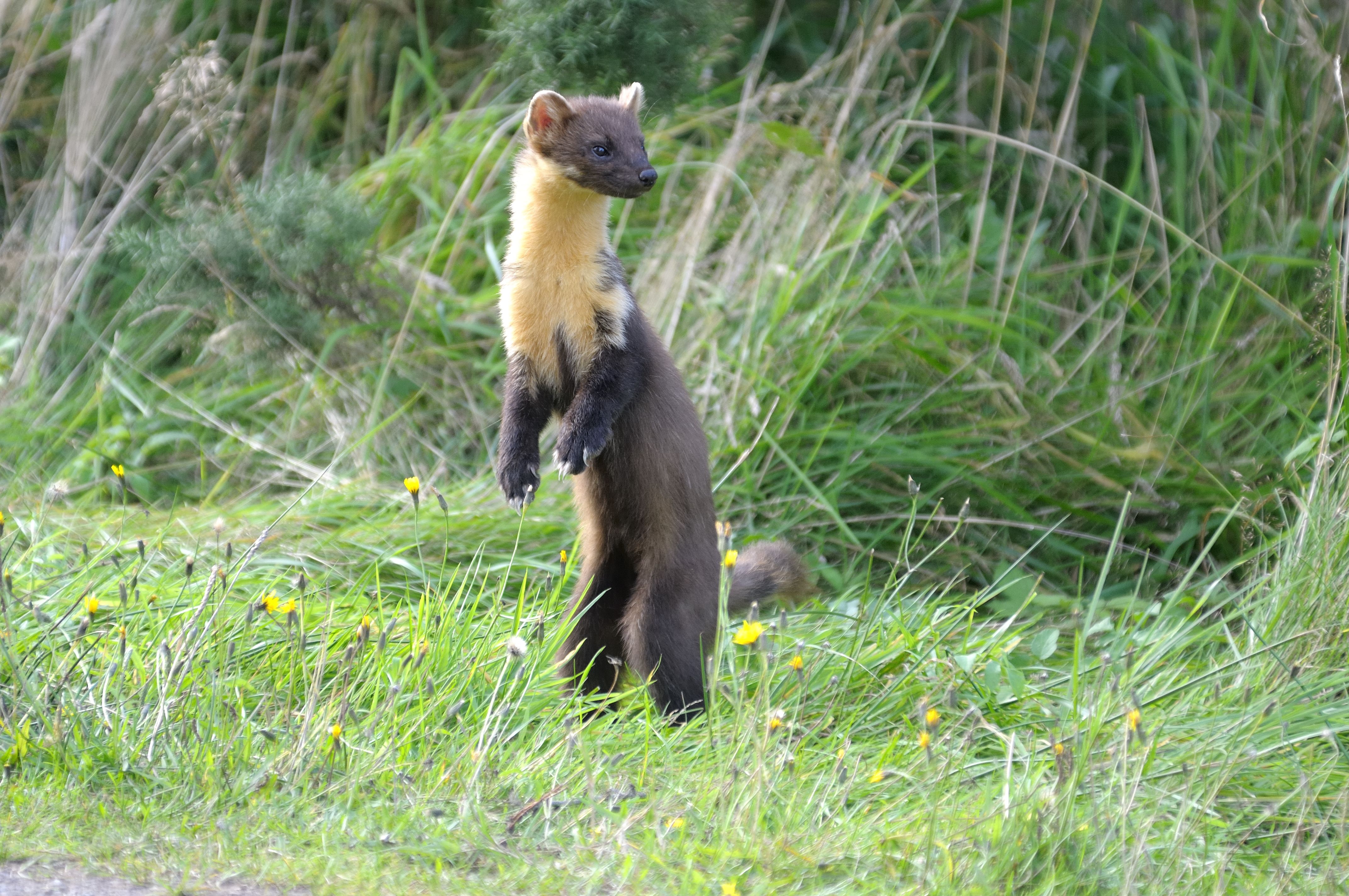 I have been helping a Grey Squirrel Control Officer in the Borders, setting out traps and monitoring red squirrel populations. It has been an incredibly rewarding experience to know that the work we do is directly helping save red squirrels. The traps are checked twice daily and last week we caught two reds which we promptly released. One literally brushed its tail against my hand as I held the door open to set it free, I haven't grinned so much in ages!
We also caught two other very exciting creatures – I had never seen a pine marten before and these guys were amazing! The wonderful thing about pine martens is that they are great at controlling grey squirrels. Reds and pine martens have adapted to live together for thousands of years. Reds are small, light and can climb to the end of branches where pine martens can't reach them. Reds can then feed in peace, knowing they are safe. Greys however are bigger, heavier and often spend time on the ground – easy prey for a pine marten. Greys have nowhere safe to hide and can become stressed out, looking for danger rather than feeding. The result is that the greys that do survive are often in poorer condition and may breed less successfully. Pine marten's were once heavily persecuted, but now their population is slowly increasing. It is only a matter of time until we have them here at the Falls of Clyde!
Laura Preston – Scottish Wildlife Trust, Falls of Clyde Ranger
Help support our vital work and join us today!
Help protect Scotland's wildlife
Our work to save Scotland's wildlife is made possible thanks to the generosity of our members and supporters.
Join today from just £3 a month to help protect the species you love.
---
Preface
Recently, I have been volunteering my time with Saving Scotland's Red Squirrels (SSRS). SSRS is a partnership project led by the Scottish Wildlife Trust. It's a project to stop the …