An account of yesterday's ringing
It's hard to believe that our chicks are already at the right age and size to be ringed – it only feels like yesterday when we were all glued to the camera watching the first chick hatch back in May!
But for the ospreys at Loch of the Lowes, yesterday was the time and thanks to the skills of our ringer it was a brief and successful ringing. LF15 took to the air for a short time, circling as she watched the events unfold beneath her. She then settled in a nearby tree keeping a close watch of her chicks who were all visible in the nest for the duration. LM12 however seemed even less concerned, arriving with a fish for the nest before realising it was currently occupied by a human as well! This didn't seem to put him off though, as he was witnessed perched in a neighbouring tree eating it himself.
Shortly afterwards, the female returned back to the nest to find all 3 chicks exactly where she'd left them with the addition of a new leg band. The male soon followed, bringing with him the remains of the fish which were offered as dinner to the young ospreys. Normal life soon resumed, with no lasting effects of the brief human visitor!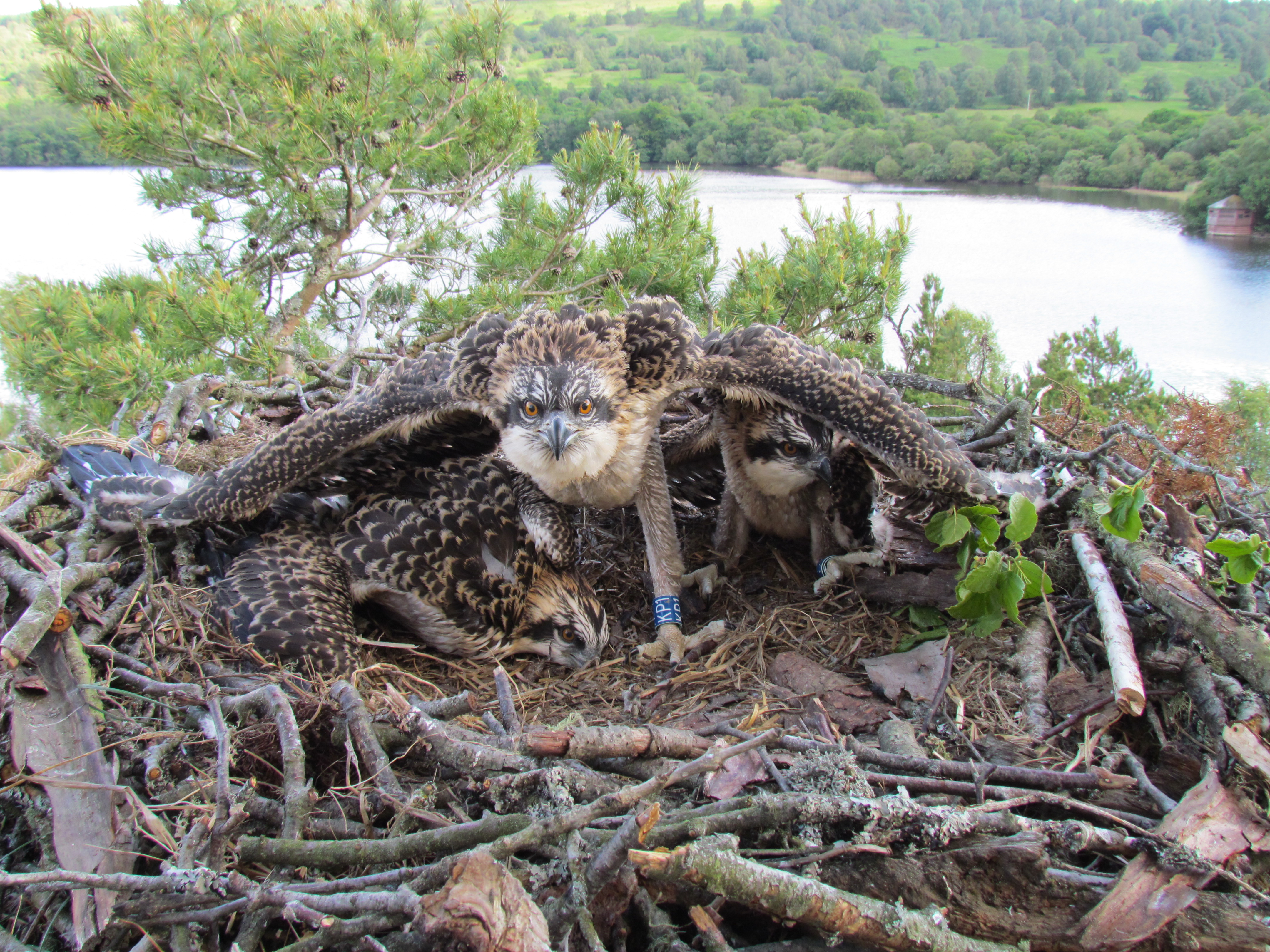 We are delighted to be told that the chicks all appear to be a good size and in great condition and based on wing length we believe to have 2 females and 1 male. The females received the rings Blue KP0 and KP1, with the male being KP2.
They still have a few weeks of growing and developing their wing muscles before we hope to witness all three chicks fledge successfully. But now we have an accurate way to identify each individual, we will watch with great interest how each of them progresses through their final months on the reserve.
Charlotte,
Perthshire Ranger.
Help protect Scotland's wildlife
Our work to save Scotland's wildlife is made possible thanks to the generosity of our members and supporters.
Join today from just £3 a month to help protect the species you love.
---
Preface
It's hard to believe that our chicks are already at the right age and size to be ringed – it only feels like yesterday when we were all glued to …