Remembering Morgan Glen alive with the sound of music
Help revive the vibrant social history tucked into the deep gorge of Morgan Glen, Larkhall, by joining a FREE archaeological event on Saturday 5 and Sunday 6 March.
Morgan Glen was once a bustling hub for Larkhall social occasions, such as dances and pageants. Join CAVLP Heritage, the Friends of Morgan Glen and the Larkhall Community Growers to rediscover the history of this beautiful, hidden place by recording memories, stories and lost archaeology.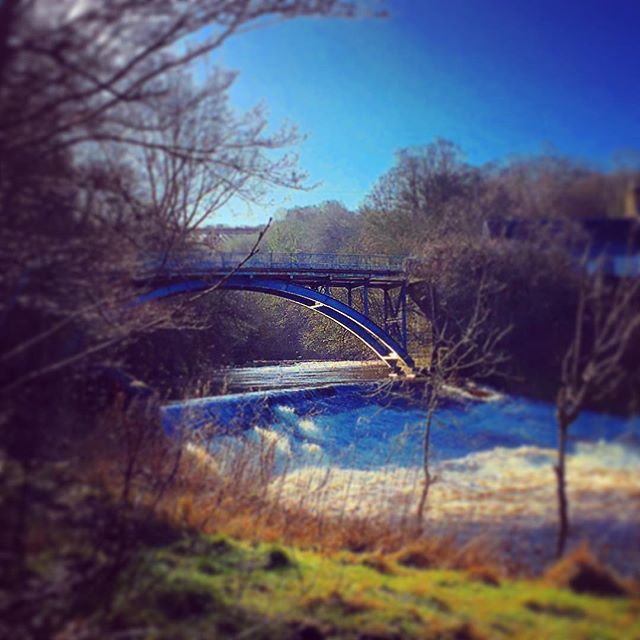 No experience of archaeology is necessary – FREE training will be provided and there will be activities for people of all ages and abilities, including photography, archaeological survey, oral history recording and creative map making.
Do you have memories or photos of visiting the band stand for dances and pageants? Did you work at the Avonbank bleach works? Did you traverse the viaduct? Have you memories of Broomhill House? If so, bring them along on Saturday 5 and Sunday 6 March.
"Morgan Glen has a rich concentration of important archaeological sites, which can tell us a great deal about the history and heritage of the Larkhall area, as well as the now lost industries in this part of Scotland," explains CAVLP Heritage Officer Dr Paul Murtagh.
He continues, "Sites such as Broomhill House, the viaduct and the bandstand remain important landmarks today, which people can remember in their former glory. We want to record the physical archaeological remains as well as stories and memories from people who have worked, played and lived around them. We are particularly keen to hear from people that have memories of the dances and pageants that took place at the bandstand, now lost in the woodland, but once at the heart of the community on summer weekends."
The Friends of Morgan Glen have been working to enhance the Glen for a number of years and are keen to encourage people to explore this special place.
Ann Rankin of the group explains, "Morgan Glen is an important site environmentally as a Site of Special Scientific Interest (SSI) and Special Area of Conservation (SAC). The social history of the woodland is equally as important – and the kindness of John Morgan, proprietor of the nearby Applebank Inn will be forever remembered in the name Morgan Glen. He bought the land as a safe place for his wife to walk, but stated that it must be left to the people of Larkhall for their entertainment and enjoyment after her passing in 1932. The woodland became a centre of entertainment for 'Larkie' folk, who would spend weekends playing music and dancing 'down the glen' on the dance floor that they built in the natural amphitheatre."
The FREE archaeological training is part of a wider project, Capturing the Past, which is funded by the Heritage Lottery Fund supported Clyde and Avon Valley Landscape Partnership (CAVLP) and Historic Environment Scotland, and managed by Northlight Heritage. The project seeks to research and record a variety of local sites of archaeological interest, so there are a plethora of opportunities to get involved in numerous sites of archaeological interest throughout the Clyde and Avon valleys. Sites researched so far include Hoolet Row at Chatelherault Country Park, St Ninian's Kirkyard in Stonehouse and McIvor's Bedding Plants in Craignethan Glen.
A series of FREE, hands-on learning opportunities relating to the historical working lives of people in the Clyde and Avon valleys are also available from the CAVLP Heritage team and run concurrently with the Capturing the Past project until August. MapCRAFT, Tasting Through Time, Sheep to Shawl and Brick by Brick courses explore the mapping, agricultural, horticultural and industrial heritage unique to the area. Designed to fit in with the Curriculum for Excellence, Duke of Edinburgh and John Muir Awards as well as Badge Activities for Guides, Scout and the Boys and Girls Brigade, courses can be tailored to meet the needs of any age group and ability and can last between 2 to 4 hours.
The FREE weekend event at Morgan Glen, Larkhall, will offer volunteers a chance to try out archaeological survey and photography to record sites, and to help enhance the record of this important historical glen. Further events and training weekends will take place throughout the spring and summer.
Saturday 5 and Sunday 6 of March – Archaeological survey and celebration of Morgan Glen
Morgan Glen, Larkhall. Meet at Car Park at Millheugh and follow sign to the Glen.
11am – 4pm, adults, children and families all welcome. FREE. For more information and to book a place, call 1555 661555 or email Paul and Karen at cavlp.heritage@gmail.com.
Share this story on Facebook or on Twitter
Help protect Scotland's wildlife
Our work to save Scotland's wildlife is made possible thanks to the generosity of our members and supporters.
Join today from just £3 a month to help protect the species you love.
---
Preface
Help revive the vibrant social history tucked into the deep gorge of Morgan Glen, Larkhall, by joining a FREE archaeological event on Saturday 5 and Sunday 6 March. Morgan Glen …