Catching lepidoptera, it's mothing
Hi,
If I were to ask you to picture a moth in your mind then I guess many will have produced an image of a tiny brown winged insect, some may have also had the moth emerging from the darkest depths of a wardrobe. For anyone who has witnessed moth trapping then your image may have differed as you have been enlightened to the huge variety of shapes, sizes and colours that moth species exhibit in the UK.
During my spell at the Falls of Clyde I have regularly captured moths using a special trap which emits a light which proves irresistible to these nocturnal flyers. The beauty of 'mothing', as it is referred to by enthusiasts, is that you never know what might turn up in your trap the following morning. For me catches have included creatures like the phoenix, flame shoulder and true-lovers knot, which after having their photograph taken are released unharmed back into the wild.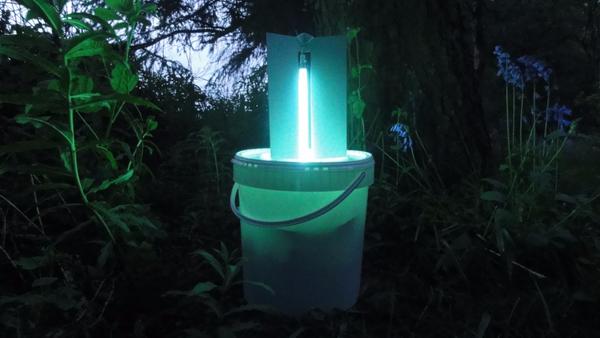 Heath Moth Trap with a special actinic bulb producing blue light which is really attractive to moths (C) Adam Jones.
This week sees the return of Moth Night from the 10-12th September, an event organised by Butterfly Conservation and Atropos which celebrates the recording of moths in the UK. The event has a theme of migration and as luck would have it the current forecast predicts a spell of south easterly winds which could be perfect for bringing moths over the North Sea from the continent.
So why not have a go at watching the moths in your garden this week, you don't even need a special light trap as some species can be seen flying during the day such as the migratory Silver Y, or you could try making wine ropes by soaking small lengths of twine in a solution of sugar and wine.
For more details on Moth Night 2015 check out this link.
Adam Jones – Scottish Wildlife Trust, Falls of Clyde Seasonal Ranger
Help support our vital work and join us today!
Help protect Scotland's wildlife
Our work to save Scotland's wildlife is made possible thanks to the generosity of our members and supporters.
Join today from just £3 a month to help protect the species you love.
---
Preface
Hi, If I were to ask you to picture a moth in your mind then I guess many will have produced an image of a tiny brown winged insect, some …