Falls of Clyde Recent Sightings 28th April-4th May
Hi,
In Laura's latest blog she talked about the Ranger team's search for rare plants on the reserve. This task also provided the perfect opportunity to admire some of the common species currently flowering on the reserve. The white blooms of bird cherry and wood sorrel were certainly at their best however, one of my favourite plants at the moment is, moschatel Adoxa moschatellina.  Don't feel silly if you suddenly put on a French accent when pronouncing moschatel as the name derives from the French moscatelle which itself is linked to the word moscata meaning 'musk'.   Moschatel is quite unique as the flowers are spaced on five sides of the flowering stem which is where the local name of townhall clock comes from.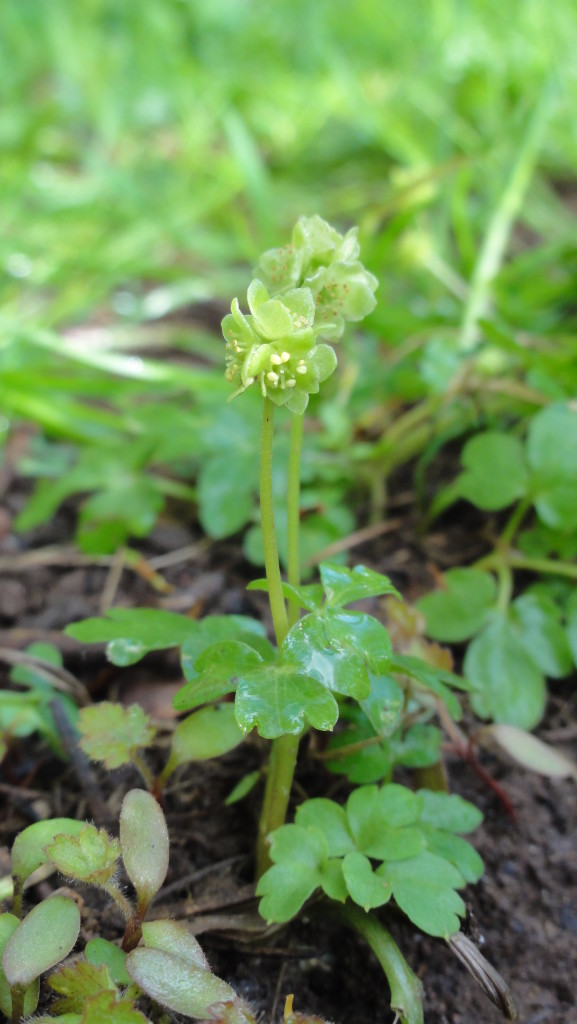 Look out for townhall clocks when  strolling around the reserve (C) Adam Jones
On the migrant bird front our first common sandpiper of the year was recorded upstream from Bonnington Weir (28th) with another bird observed from the Visitor Centre (1st). Rain during the middle part of the week brought 'air plankton' to lower altitudes resulting in a feeding frenzy of c.70 swallow and sand martin over the River Clyde (Bonnington Weir, 28th). The first garden warbler of the year was found in scrub near Corra Linn (1st). Single pairs of canada geese and teal were seen early doors upstream of Bonnington Weir (1st).
Other interesting sightings included, a pair of bullfinch (Bonnington Pavilion, 2nd), two male blackcap (Bonnington Weir, 29th), a single roe deer (dipping pond, 2nd), a mink (Bonnington Weir, 2nd) and orange-tip buttefly (dipping pond, 1st).
Weather Watch
A number of low pressures systems are predicted to pass through the United Kingdom during the next week. None of the pressure systems quite reach mainland Europe which would drag a greater number of birds across the North Sea, therefore in terms of migrant birds it could be a slow week. However the urge to get to breeding grounds is strong at this time of year so I'd suggest visitors should keep their eyes open for the first swift of the year.
Adam Jones – Scottish Wildlife Trust, Falls of Clyde Seasonal Ranger
Help support our vital work and join us today!
Help protect Scotland's wildlife
Our work to save Scotland's wildlife is made possible thanks to the generosity of our members and supporters.
Join today from just £3 a month to help protect the species you love.
---
Preface
Hi, In Laura's latest blog she talked about the Ranger team's search for rare plants on the reserve. This task also provided the perfect opportunity to admire some of the …