Falls of Clyde – Christmas tradition
For the past twenty years we have been providing our local primary school with a Christmas tree. I have only partaken in this tradition for four years but to me it really signifies the beginning of the festive season. I am not one hundred percent certain, but I'm pretty sure that our school thinks we just go out into the woods with our trusty axe, fell a beautiful 8ft tree, sling it over our shoulders and off we go. I wish it were that easy! In fact my boss and I wander through the woods looking at the tops of huge conifers trying to decide from our terrible ground level viewpoint, which would have the best top. Invariably we have to fell a few to find one good enough!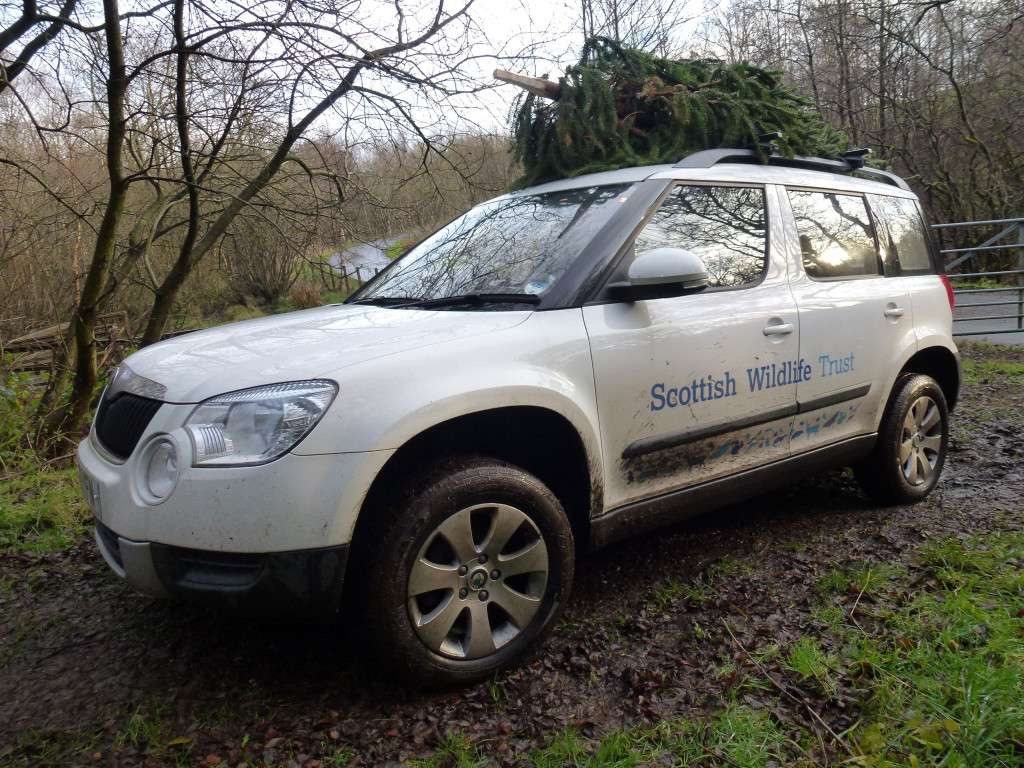 In woodland such as ours, it often isn't easy to find a gap to fell a tree into. If you don't give them enough room you can sometimes damage the beautiful top you were looking for which is what happened with one of ours yesterday. Instead of an 8ft Christmas tree we ended up with a 4ft one which had snapped as it came down. Do not fret though as it has found a lovely home in my front room! We did eventually find the perfect tree for the school and it will be delivered to its new home shortly.
Now, as a conservation charity we would not fell these trees unless it was of conservation value.  Felling these trees (along with others) every year creates gaps in the canopy allowing for other native broadleaved species to flourish. It is part of our long-term management strategy to replace the conifers we have with naturally regenerated native broadleaf trees, which are more beneficial to Scotland's wildlife.
Laura Preston – Scottish Wildlife Trust, Falls of Clyde Ranger
Help protect Scotland's wildlife
Our work to save Scotland's wildlife is made possible thanks to the generosity of our members and supporters.
Join today from just £3 a month to help protect the species you love.
---
Preface
For the past twenty years we have been providing our local primary school with a Christmas tree. I have only partaken in this tradition for four years but to me …