What bird sounds like a football rattle?
What I love about Scottish weather is that it can be absolutely bucketing it down in the morning and then gloriously sunny in the afternoon. This evening I am sitting up at the peregrine watch site and on my way here I was given some spectacular views of mistle thrush flying overhead. I know they were mistle thrush because there was a group of them which rarely happens with song thrush. They also made a very distinctive call (sounds like a football rattle) which again is different to the song thrush.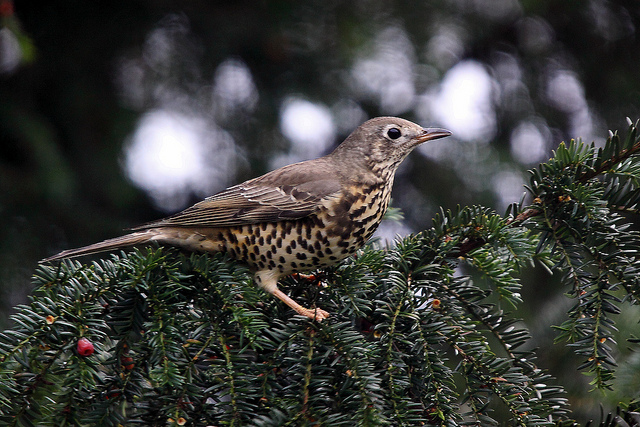 Song thrush and mistle thrush do look quite similar but there are some features to look out for which I thought I would share with you today. The mistle thrush is slightly larger and greyer, has bolder rounded black spots on its chest (compared to the song thrush with 'arrow head' spots), white underneath the wing (song thrush has an orange/buff underwing) and a longer tail.
They share similar habitats to the song thrush though. They like woodland, parks and even gardens but I generally see them in open parkland and on woodland edge. Maybe it's just because they are easier to spot out in the open! As their name might suggest, they like mistletoe and their main diet consists of fruit and seeds. If you have trees in your garden with mistletoe on them then you are bound to be visited by a mistle thrush.
They don't have many predators but our peregrines would be one of them. They're much more substantial than the other members of the thrush family – blackbirds, fieldfare and redwing to name a few. Our peregrine watch site closes on Sunday 15th June so if you would like to see them you only have a few weeks left.
Laura Preston – Scottish Wildlife Trust, Falls of Clyde Ranger
Help protect Scotland's wildlife
Our work to save Scotland's wildlife is made possible thanks to the generosity of our members and supporters.
Join today from just £3 a month to help protect the species you love.
---
Preface
What I love about Scottish weather is that it can be absolutely bucketing it down in the morning and then gloriously sunny in the afternoon. This evening I am sitting …